Irish people sign Falun Gong petition
Activists petitioned Dubliners to support their cause against the "brutal and inhumane persecution" of Falun Gong practitioners in China.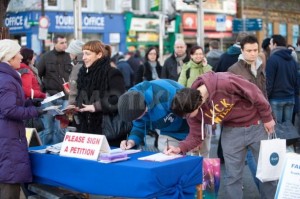 December 17, 2011
Dubliner's doing their Christmas shopping in the city centre saw an unusual sight on Saturday afternoon when Falun Dafa (known as Falun Gong or simply Dafa) practitioners meditated and performed spiritual exercises in the middle of O'Connell Street. According to Falun Gong activists practitioners of Falun Dafa are able to "reach very high realms, enlightening to the true meaning of life, and finding the path of return to their origins and true selves".
Many passers by stopped to sign a petition, organised by the Falun Gong activists, to highlight the plight of Falun Gong practitioners in China.
According to the group China "banned Falun Dafa in July 1999 and launched a brutal persecution against those who practice it. Since then, more than 3292 have died at the hand of Chinese police. Millions have been affected, losing family members, jobs and basic freedoms, simply because they wish to peacefully exercise their freedom of belief".
In seeking support for their cause in Ireland, Falun Dafa practitioners have highlighted the "great support from the Irish government and people" who helped secure the release of Zhao Ming and Liu Feng from Chinese detention.
________________________________________________
To see many more pictures from the event, read the article on the Demotix website by clicking here.