Chinese State Security Demanded NASDAQ Eject Network, Cable Says
Independent TV station critical of Chinese regime shown the door
By Matthew Robertson
Epoch Times Staff
January 24, 2012
Serene Lee, a reporter with the New York-based New Tang Dynasty Television, used to do daily financial reports from the NASDAQ studio in Times Square. One day her security card stopped working. It had been canceled. She didn't need to come anymore; there was no more space.
That was five years ago. But a diplomatic cable made public by WikiLeaks late last year may shed light on what lay behind Lee's ejection.
On Jan. 26, 2007, NASDAQ's chief representative in China, Lawrence Pan, was called in to the China State Security Bureau for questioning. He was interrogated about NASDAQ's "supporting Falun Gong" in the United States, and by the end of the session had promised to do something about it, according to the leaked cable.
Falun Gong is a popular Chinese spiritual practice that has been persecuted in China since 1999—outside of China the Chinese regime wages war against the practice using media and diplomatic channels.
New Tang Dynasty Television, which NASDAQ was accused of supporting, is known for its open coverage of Falun Gong issues in general and of the suppression of the practice inside China in particular.
"Supporting" Falun Gong meant, in effect, allowing NTD to report from NASDAQ's headquarters.
"NTD has extensive reports on Chinese human rights abuses, including the persecution of Falun Gong," said Samuel Zhou, NTD's senior vice president of public relations and development, in a telephone interview. "And we're probably the only Chinese-language television station to do that. That's why the CCP is unhappy about this station."
James Ogilvy-Stuart, NASDAQ's director for Asia Pacific, based in Hong Kong at the time, made Pan's detention known to American diplomats, who wrote an official urgent letter to the Ministry of Foreign Affairs asking for verification, explanation, and immediate access to Pan, according to the cable. They received no official response.
By the end of Jan. 26 Pan had been released, and Ogilvy-Stuart circled back with the American diplomats. He said that Pan, in order to secure his release, "may have pledged" to Chinese authorities that NASDAQ would revoke NTD's access to its New York headquarters. This refers to its MarketSite Broadcast Studio where, from Monday to Friday, a brief opening ceremony is held and broadcast onto a screen in Times Square; NTD was covering those ceremonies.
In mid-February 2007 Lee, NTD's reporter covering NASDAQ, was asked to leave. They were the only Chinese station reporting from the studio daily. "They were quite welcoming of us," said Serene Lee, in an interview with NTD. "They knew that we had a global viewership, they liked us being there, and they required us to be there every day."
Neither James Ogilvy-Stuart nor Lawrence Pan, both of whom no longer work at NASDAQ, responded to requests to elaborate or corroborate the story as depicted in the cable.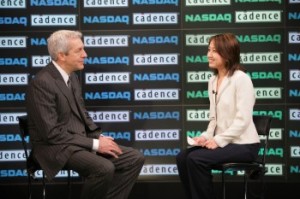 Samuel Zhou attempted to explain what would motivate Chinese authorities to detain a NASDAQ staffer in order to expel an NTD reporter from the company's headquarters in New York.
"NTD aims to bring truthful and uncensored information into and out of China. The Chinese Communist Party does not want U.S. corporations to be acquainted with NTD and learn about the real happenings in China," he said.
Zhou said that as U.S.-based companies, both NTD and NASDAQ share common values of freedom of expression and a free media. "It's regrettable that NASDAQ gave in to communist pressure," Zhou said.
If the cable is accurate, it would fit into a pattern of attempts at harassment and interference in NTD's operations by Chinese authorities, spanning years. Reporters Without Borders, a Paris-based press advocacy group, in 2007 provided a transcript purporting to show that the satellite company Eutelsat had succumbed to pressure from Beijing and stopped carrying NTD's signal.
In September of 2007, eight months after Lee was ejected from NASDAQ's studio, NASDAQ opened its first representative office in China, after having had a presence in the country for over a decade.
A press release by the company said the announcement "that NASDAQ has been granted permission to open a formal business office in China is a milestone for our company," quoting Robert Greifeld, president and chief executive officer.
Allowing NASDAQ a representative office was "a voluntary opening-up initiative on the Chinese side," according to an unnamed official with the China Securities Regulatory Commission, quoted in The Economic Times.
On NTD being asked to leave NASDAQ's headquarters, or the timing of the opening of the Beijing office, Joe G. Christinat, vice president of corporate communications at NASDAQ, had no comment.
__________________________________________
To read this article on The Epoch Times website, click here.