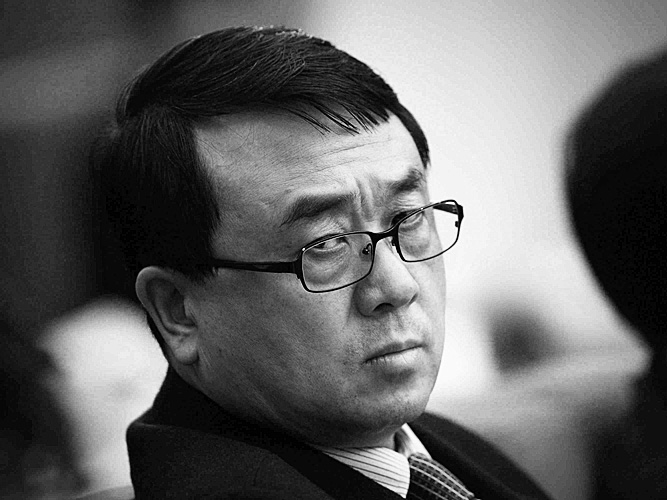 Arrest of Chongqing's Top Cop Suggests City's Communist Party Leader in Jeopardy
Shake up taking place in highest ranks of Chinese regime
By Zhang Tianliang
Epoch Times Staff
February 13, 2012
The shock in Chinese political circles triggered by Wang Lijun's arrest has just begun. On Feb. 2, Wang was removed from his duty as chief of the Public Security Bureau in Chongqing, Sichuan. Rumors on the Internet say that Bo Xilai, Wang's former superior who promoted him and trusted him with important tasks, quickly distanced himself from Wang before the Central Commission for Discipline Inspection decided to investigate Wang. If true, that would certainly fit with Bo's perfidious personality. However, there is no chance the Commission will only want to investigate Wang.
Wang has been Bo's right-hand man and led the charge in cracking down on the mafia. After Bo was appointed Secretary of the Chongqing City Communist Party Committee in December 2007, he moved Wang from Jinzhou in the northeastern province of Liaoning to Chongqing in June 2008. With Wang's help, Bo cleared the old official network in Chongqing, mainly former officials under the previous party secretary, in the name of combating the mafia.
This indicates how Bo had relied on Wang. If Bo had a chance to become a member of the Central Politburo Standing Committee, he would definitely keep Wang with him. In other words, if Bo could not save Wang, he likely cannot save himself from whatever is coming.
Bo's Dangerous Mistakes
Everyone knows that Bo does not get along with other high-ranking Chinese Communist Party (CCP) officials. On June 11, 2011, Bo led 500 members of a "red song troupe" to perform in Beijing. None of the nine members of the Standing Committee of the Political Bureau showed up. Bo made a big mistake by unwittingly disclosing to the Chinese people how isolated he is among the high level officials.
After he got back to Chongqing, on Oct. 5, he placed a calligraphy autograph by Deng Ken, Deng Xiaoping's younger brother, on the front page of the Chongqing Daily, as a way of indicating Deng's support for him.
The next day, he published an exclusive interview with Hu Jinxing, the current Chinese leader Hu Jintao's cousin, on the second page of the Chongqing Daily. In the interview, Hu Jinxing highly praised Bo's accomplishments. Bo made a second mistake. Apparently he could not obtain Hu Jintao's support which is why he went to Hu Jinxing.
On Nov. 10, while Hu Jintao was in Hawaii attending the APEC meeting, Bo held a large scale military maneuver in Chongqing. This was a Bo's third mistake and exposed his die-hard determination. While Hu was out of China, Bo showed Hu his capability to mobilize the military. No matter how Bo praises the CCP and cracks down on the mafia, Hu may or may not fear him as a rival. But this time, Bo sent out the message that he has enough ability and determination for a military coup.
At this point, that the two sides would put all their cards on the table is inevitable.
Many people may not have noticed Xinhua's report on Jan. 15, but it is significant. Two high-ranking military officials—Xu Caihou and Guo Boxiaong, Vice Chairmen of Central Military Committee, and Li Ji'nai, Director of the General Political Department of the People's Liberation Army—declared that the military should "follow Chairman Hu's command." They also said their statement was to ensure that CCP's 18th National Congress can convene successfully and that the military will, at any time under any circumstance, listen to Hu's command.
After the military deployment was finished, on Feb. 2, Wang Lijun was removed from his position as chief of the Chongqing public security bureau.
Broken Alliance, Rapid Fall
If we analyze the chain of events chronologically, I'd like to make an assumption. Hu Jintao had already decided to get rid of Bo Xilai, and he planned to target Wang Lijun first. If Bo were to risk his own life to protect Wang, based on an agreement to cover each other's tracks, they might still have a chance to fight against Hu. However, Bo finds betraying others so quick and easy that he immediately abandoned Wang Lijun to protect himself.
Wang was in danger of being killed at anytime after being abandoned by Bo, because he knows too much about Bo's secrets. Therefore, the most crucial measure for him to protect himself was to leave Chongqing.
Shortly before I started to write this article, Victoria Nuland, the spokesperson of U.S. state department confirmed that Wang Lijun indeed had a conversation with U.S. consular officials in Chengdu.
I believe that Wan Lijun knew very well that it was impossible for the U.S. consulate to grant him political asylum. He most likely went to the consulate to make a scene and attract world attention. By leaving Chongqing and staying long enough in the U.S. consulate, Wang insured his safety for the time being by getting Beijing to intervene.
Several overseas news outlets have reported that the mayor of Chongqing Huang Qifan came down to Chengdu with 70 police vehicles trying to abduct Wang back to Chongqing. However, it was the disciplinary committee of the Chinese Communist Party that took Wang Lijun away. Therefore, Wang flew directly to Beijing from Chengdu's Shuangliu airport on Feb. 8 in the morning, claiming in an open letter being circulated under his name, that he would put up a life and death struggle with Bo Xilai.
Even being a member of Politburo of the CCP Central Committee cannot guarantee one's safety. Chen Xitong, former Party Secretary for Beijing, and Chen Liangyu, former Party Secretary of Shanghai were both taken down under the guise of anti-corruption though the real reason for their fall was more likely political infighting.
The end that awaits Bo is far worse than not being able to make it to the Standing Committee of the Political Bureau. Because Bo has proven himself to be cruel and vicious, doesn't have any allies in the top circle, and has tried to survive in the CCP while breaking the rules of the CCP gang, I wouldn't be surprised to see his political career come to an end or see him arrested over this incident.
The Epoch Times reported on Feb. 8: "According to leaked U.S. diplomatic cables on Wikileaks, when still Commerce Minister, Bo Xilai was angling for Vice Premier when he got shot down by Wen Jiabao at the 17th Party Congress because of international lawsuits filed against Bo by Falun Gong practitioners around the world. Bo was demoted to Party Secretary of Chongqing City as the last stop of his political career," said the cable.
Bo Xilai brutally persecuted Falun Gong practitioners as mayor of Dalian city, Governor of Liaoning, and Minister of Commerce, and Wang Lijun has always been his most active henchman. They both committed crimes against humanity by systematic live organ harvesting from Falun Gong practitioners. Their fall is happening as part of a political struggle, but it also represents a rough sort of justice for the wrongs they have done, against Falun Gong practitioners and others as these two climbed the ladder up the ranks of the CCP.
Read the article on The Epoch Times website.
Read the original Chinese article.