Falun Gong spiritual practitioners protest at Chinese Consulate
89.3 KPCC Radio
Los Angeles, CA
By Corey Bridwell with Paige Osburn
February 15, 2012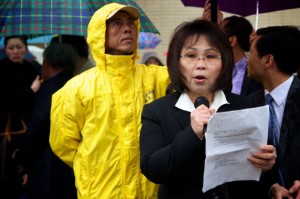 Despite a torrent of rain, around 70 people rallied in front of the Chinese Consulate Wednesday afternoon to protest persecution of the Falun Gong spiritual sect by the Chinese government.
Local practitioners of Falun Gong, a set of spiritual teachings currently suppressed in China, gathered to protest the Chinese government's 12-year-long persecution of the sect. The crowd held banners and spoke through megaphones for about two hours Wednesday afternoon — and no one attempted to stop them.
"[Falun Gong] is a spiritual meditation practice," explained Ying Nian Wu, a professor of statistics at UCLA and spokesperson for the local Falun Gong chapter. "The main excuse of the Communist regime for the persecution is that there's so many people, tens of millions of people, practicing Falun Gong. The regime feels threatened."
Protestors claim that more than 3,500 people have been confirmed killed by Chinese Communist Party (CCP) police.
While there is no official ban, practitioners accuse Chinese police of rounding up loads of them through "financial incentives" and forcing them into prison camps and "brainwashing classes."
"If they refuse to denounce their beliefs, they will be tortured to death," said Wu.
The demonstration comes just one day before Xi Jingping, the expected future leader of the Party, is slated to visit L.A. as part of his United States tour.
Yet, according to Wu, while the protestors condemned the regime as a whole, they did not entirely condemn Xi Jingping.
"The Communist regime is a criminal gang. Why should I have any expectations for a criminal gang?" asked Wu. "But, of course, as a person, Xi Jingping, I don't treat him like a gang member. If I treat him as a person then I hope he has a conscience and I hope he follows his conscience to do something that a person, a human being, should do."
_____________________
To read the article on KPCC website, click here.