Trial Set for Chinese Police Chief Who Triggered Scandal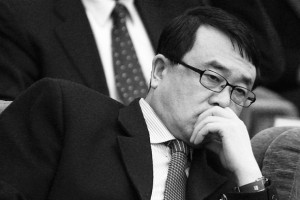 By Jack Phillips, Epoch Times Staff
September 15, 2012
Wang Lijun, the former Chongqing police chief who attempted to defect to a U.S. Consulate in February, will begin his trial on Tuesday for defection, bribe-taking, and abuse of power.
Wang's attempted defection revealed a deep rift between high-level Chinese Communist Party officials, and triggered the eventual downfall of Bo Xilai, the former head of Chongqing who himself is under investigation and is accused of abusing power, corruption, nepotism, and creating a cult of personality around Maoist revivalism. Bo's wife received a suspended death sentence for killing British businessman Neil Heywood.
When Wang attempted to defect to a U.S. consulate building in February, he may have told officials there about high-level Chinese officials' involvement in the harvesting of organs of living Falun Gong practitioners. Falun Gong, also known as Falun Dafa, is a form of meditation that has been persecuted by the Chinese regime since mid-1999.
A national security reporter, Bill Gertz, was told in March that Wang may have given information about Bo and Chinese security czar Zhou Yongkang's planned coup against Xi Jinping.
Wang will be tried at a court in the southwestern city of Chengdu, the AFP news agency reported. "Wang Lijun's case will be heard on September 18," a spokesperson for the Chengdu Intermediate People's Court said.
Earlier this month, the state-run Xinhua news agency reported that Wang may have told diplomats that Gu poisoned Heywood. At the time, Heywood's death was blamed on excessive alcohol consumption.
"He consciously neglected his duty and bent the law for personal gain so that [Gu] Kailai would not be held legally responsible," the news agency said, adding that he will be charged with taking "massive bribes," using illegal surveillance methods, and "bending the law for selfish ends."
The state-run news agency described the evidence against Wang as "concrete and abundant."
Wang's trial comes just weeks ahead of the once-in-a-decade leadership transition that will see Chinese Communist Party leaders Hu Jintao and Wen Jiabao step down to make way for the new guard. Security chief Zhou Yongkang is also expected to retire.
Bo Xilai was originally tipped to become a member of Politburo Standing Committee–the highest ruling body in the country. Due to Wang's attempted defection, he was stripped of his post as head of Chongqing and has not been seen in public for several months since the scandal broke.
Donald Clarke, a professor of Chinese law at George Washington University, said in a blog post that defection may be punished with a five-year sentence, but if Wang revealed state secrets, he could get a much longer sentence or even the death penalty. He officially was not charged with divulging state secrets.
"In a more transparent system, you might chalk this up to the government's reluctance to produce evidence about those secrets, but I'm not sure that's the answer in China," Clarke wrote. "There can hardly be any question that if Wang opened his mouth in the US consulate, he probably is guilty of this crime."