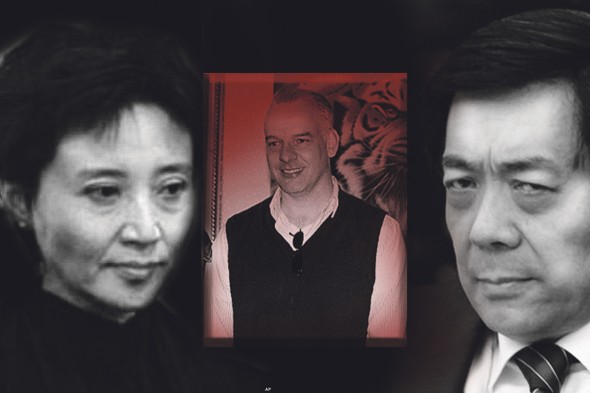 Evidence That Wife of Disgraced Official Traded in Bodies, Group Says
By Lisa Huang & Jack Phillips
Epoch Times Staff
There is new evidence that Gu Kailai, the wife of disgraced former Chinese Communist Party (CCP) politician Bo Xilai, was involved in selling the organs of prisoners of conscience, including adherents of the persecuted Falun Gong meditation practice, according to a report from a human rights organization.
The World Organization to Investigate the Persecution of Falun Gong, or WOIPFG, said in a recent report that Gu, who was convicted of killing British businessman Neil Heywood, was profiting from selling bodies to body plastination factories. Body plastination involves replacing body fluids with certain plastics in order to preserve them. 
A source previously told The Epoch Times that Gu profited from the plastination of bodies while her husband Bo Xilai was mayor of Dalian. Bo was later made head of the Chongqing mega-city but was sacked earlier this year after his right-hand man Wang Lijun attempted to defect to a U.S. consulate, triggering factional strife in the regime. 
Bo advanced through to nearly the top echelon of the Chinese regime by following the charge of former CCP leader Jiang Zemin to persecute Falun Gong adherents, as recalled by journalist Jiang Weiping. 
[ad]
"You must show your toughness in handling Falun Gong much like the toughness shown by Hu Jintao in handling the 1989 Tibetan riot; it will be your political capital," Jiang Zemin told Bo years ago, according to Jiang Weiping, who was later arrested and sentenced to seven years imprisonment.
Bo was this year stripped of his position and Communist Party membership for corruption and nepotism. 
Bo, Gu, and Wang were involved in the selling of bodies and harvesting of organs from Falun Gong practitioners, the WOIPFG report said.
"Falun Gong practitioners were victimized in several ways. One was having their organs forcibly removed, and being killed in the process," Wang Zhiyuan of the WOIPFG said, according to the New York-based New Tang Dynasty Television. 
"Secondly, Wang Lijun had a center to research legal injections where Falun Gong practitioners were experimented on and killed. Also, others were tortured to death, or killed directly so their bodies could be used for plastination."
Wang cited several pieces of evidence, including taped phone calls that the group says incriminate Gu. An investigator posed as Liaoning Province Communist Party secretary Xia Dereng, calling Dalian police chief Sun Guangtian. Dalian is in Liaoning.
In the recorded phone call exchange, the two said:
Investigator: "A lot of things have happened. No matter what, do not reveal that Bo Xilai's wife Gu Kailai, was selling bodies of Falun Gong practitioners, in case anyone asks."
Sun Guangtian, Dalian police chief: "Who are you?"
Investigator: "My surname is Wong."
Sun Guangtian: "Party Committee Secretary Xia's secretary is surnamed Wong?"
Investigator: "Yes, I was transferred here recently."
Sun Guangtian: "Oh."
Investigator: "Are you able to do this?"
Sun Guangtian: "Oh, go on."
Investigator: "If other departments ask about this, make sure you don't reveal anything."
Sun Guangtian: "Hmm, what else do you want to tell me?"
Investigator: "Also, Secretary Xia wants me to tell you to make sure those from the Dalian Public Security Bureau back then also keep things a secret."
Sun Guangtian: "Please tell Secretary Xia to trust me; I will make sure this is carried out."
WOIPFG believes the statements from Sun are a tacit admission to knowledge of the atrocities. Later, the WOIPFG contacted an official with the 610 Office, an organization that was created by Jiang Zemin to enforce the persecution of Falun Gong. The phone call exchange between an investigator and the 610 Office official, who was identified only by the surname of "Zhao," reads:
Investigator: "Don't you know you guys are a criminal group? Once the persecution ends, have you thought about what will happen to you? Look at Gu Kailai … on the surface."
Zhao, the 610 Office official: "Gu Kailai was selling organs of Falun Gong"
Investigator: "What did you say?"
Zhao: "I said, Gu Kailai, she was selling organs of Falun Gong people."
Zhao: "It wasn't just Falun Gong either."
The rights group also contacted Sui Hongjin, the assistant professor with the Dalian Medical University and who set up the Plastination Company of Dalian Medical University, was a former general manager of the Von Hagens Dalian Plastination firm, which specializes in body plastination. He was also part of another plastination company, the Dalian Hongfeng Biological Technology firm. 
Sui told the WOIPFG investigator that many of the bodies his companies received are from the Dalian Municipal Public Security Bureau.
The recording reads as follows:
Investigator: "What was the main source of the bodies your company used?"
Sui Hongjin: "We received dozens [of bodies] from the Public Security organs … that was … from the Public Security Bureau."
Investigator: "From the Public Security Bureau, how many bodies have you received?"
Sui: "I don't remember. Probably dozens of them."
Investigator: "What Public Security Bureau?"
Sui: "Dalian City. The Dalian City Public Security Bureau."
Premier Exhibitions, which receives bodies from Sui's Plastination Company of Dalian Medical University, issued a warning to visitors of its body exhibitions after the connection was discovered. 
Sui Hongjin also did business with more than 100 world-renowned museums and from that, received more than 200 million yuan (US$32 million), reported the Bandao Daily in November 2010. 
According to the WOIPFG, Sui Hongjin has exported at least 1,000 plastinized specimens made from Chinese bodies to the United States and Europe for exhibition.
Editor's Note: When Chongqing's former top cop, Wang Lijun, fled for his life to the U.S. Consulate in Chengdu on Feb. 6, he set in motion a political storm that has not subsided. The battle behind the scenes turns on what stance officials take toward the persecution of Falun Gong. The faction with bloody hands—the officials former CCP head Jiang Zemin promoted in order to carry out the persecution—is seeking to avoid accountability for their crimes and to continue the campaign. Other officials are refusing any longer to participate in the persecution. Events present a clear choice to the officials and citizens of China, as well as people around the world: either support or oppose the persecution of Falun Gong. History will record the choice each person makes.
The Epoch Times publishes in 35 countries and in 19 languages. Subscribe to our e-newsletter.