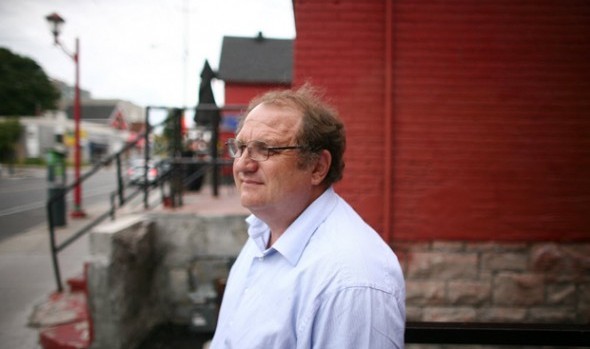 Parliamentary reporters (Canada) wrestle with status of Chinese news agency
By Lee Berthiaume, Postmedia News
November 28, 2012
Published in The Gazette (Montreal Edition)
OTTAWA – The federal government isn't alone in its struggle to figure out what to do about a Chinese state-owned company.
[Caption for photo to the left :Writer Mark Bourrie pose for a photograph in Ottawa's chinatown Tuesday, Aug. 21, 2012 in Ottawa. Bourrie, who is also a contributing editor at Ottawa Magazine and author who recently worked for Xinhua, the Chinese state-run news agency. He is speaking out now about the inner workings of an agency he said is at least partially devoted to espionage for the Chinese government. Photograph by: Dave Chan, Postmedia News]  
The Parliamentary Press Gallery, the self-governing body to which hundreds of journalists who cover Parliament Hill belong, is taking a close look at Chinese news agency Xinhua.
At issue is whether Xinhua, which has been a gallery member since 1979, has misused its privileged access to Parliament Hill and political events to gather information about Chinese dissents for the communist government. Reporters cannot normally attend press conferences or other daily events on Parliament Hill without a press gallery pass.
The case raises important questions about the role of foreign state-run media in Canada, of which Xinhua is only one.
It also comes as the federal government is reviewing a Chinese state-owned energy company's effort to purchase Calgary-based petroleum producer Nexen, highlighting this country's ongoing dilemma on how to deal with China.
And depending on how the Parliamentary Press Gallery rules, it could have consequences for Canadian journalists working in China.
The investigation was prompted by a complaint from former Xinhua correspondent Mark Bourrie to the gallery in April.
That was followed in September by an article Bourrie wrote for Ottawa Magazine describing the two years he worked for the agency.
Bourrie says most of his work with Xinhua was routine, but he alleges the agency tried to use its position at various times to identify and track Chinese dissidents such as Falun Gong practitioners in Canada.
His most explosive allegation, however, was that he and Xinhua bureau chief Dacheng Zhang used their press gallery credentials this past April to get into a press conference with the Dalai Lama, which was held at the Civic Centre in Ottawa, not on Parliament Hill.
Bourrie alleges Zhang told him the material was not going to be used for a story.
"Xinhua was therefore using our parliamentary press gallery ID to gather information on critics of China," Bourrie alleges in his article. "If Xinhua would not carry any journalism on the Dalai Lama's visit, we were there under false pretences, pretending to be journalists but acting as government agents."
Bourrie quit Xinhua the same day.
Zhang declined to comment for this story, but he has previously denied Bourrie's allegations.
"Nobody told him to pretend to be a journalist and act for a foreign power," Zhang told the Canadian Press in August. "That is his Cold War ideology."
Still, Bourrie's accusations were considered serious enough to warrant a closer look, which is why the press gallery's executive committee has spent the past few weeks trying to hear from both sides — without success.
Bourrie has declined to appear before the committee, saying that what he has written stands for itself, while Xinhua has hired a law firm. Postmedia News was unable to reach the lawyer despite several attempts.
The executive committee is expected to discuss the matter Wednesday, but it may be forced to make a decision without hearing from either side.
The press gallery's constitution states that a member can be expelled if a member "uses his membership or the facilities of the Gallery to obtain a benefit other than by journalism."
Xinhua has not been accused of anything illegal.
Rather, former Canadian diplomat to China Charles Burton says the issue is whether Xinhua met the press gallery's standards for journalism.
He believes the fact Xinhua is essentially an arm of the Chinese government automatically puts it in a position that is not only foreign to Western news agencies, but puts it in potential conflict with them.
"Certainly there's systemic incompatibilities between the two systems," Burton said. "The fact that Xinhua is a function of the Chinese party-state means they have a mandate that is different from our understanding of what journalists do."
Xinhua isn't the only state-run media outlet on Parliament Hill.
Russian news agency ITAR-TASS and the Vietnam News Agency also have accreditation through the gallery.
Former CBC Ottawa parliamentary bureau chief Christopher Waddell, who is now a journalism professor at Carleton University, says the Parliamentary Press Gallery has long had questions about the interests and mandates of state news organizations.
Yet while Burton feels the Xinhua reporters should be treated like Chinese diplomats, Waddell questions what real benefit they gain from being members of the Parliamentary Press Gallery.
"As journalists, I'm not sure they would have access to things that would be beyond what a normal person would have access to," he said.
"Fifteen years ago, the press gallery had access to a lot of things that it was difficult for the average person to get a hold of because you couldn't simply go online and download a copy of a report or something that happened."
This isn't the first time Xinhua has found itself under the microscope.
Emails emerged in September 2011 that indicated a flirtatious relationship between Xinhua reporter Shi Rong and Conservative MP Bob Dechert, who is parliamentary secretary to Foreign Affairs Minister John Baird.
Rong ended up returning to Toronto while the government stood by Dechert, but not before a furore erupted over whether national security had been compromised.