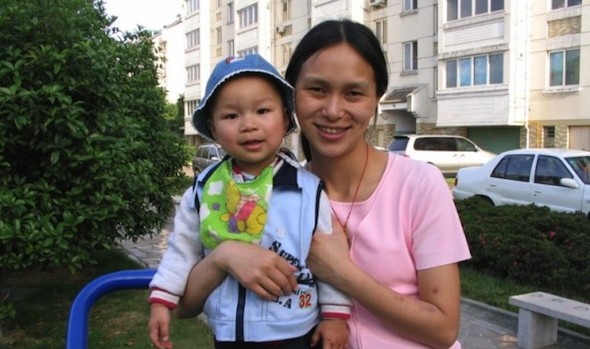 'Rescue My Grandson From China'
By Justina Reichel
Epoch Times Staff
Grandmother begs Immigration Canada to help 8-year-old harassed by authorities
A Calgary grandmother who says her eight-year-old grandson is being harassed by Chinese authorities is beseeching Immigration Canada to help bring the boy to Canada.
Jinling Huang says it has been distressing for her grandson, Guo Yu, since birth because his mother is being targeted for practicing Falun Gong, a spiritual discipline severely persecuted by the Chinese regime.
Yinghua Chen has been separated from her son since 2009 when constant harassment and intimidation by Chinese authorities forced her to flee her home and go into hiding.
Huang says that on his way to or from school, Guo is constantly followed and harassed by Chinese Communist Party (CCP) agents who interrogate him in an effort to find out where his mother is located.
"They are leaders in charge of the community—always Communist Party members—and they follow the child. They often seize him to interrogate him and will not let him go for a long time," said Huang through a translator.
She says the agents forced Guo to write a "guarantee statement" saying he was against Falun Gong and against his mother practicing the discipline.
"He was terribly scared. He often cries alone, hopelessly missing his mother."
Guo is also separated from his father, Wen Yu, who felt the boy would be safer living with his grandparents.
Huang says Wen is constantly followed by CCP agents when he leaves his home, and his phone is tapped so that police can listen in if he tries to contact Chen. She says the monitoring became even more intense in the lead-up to the recent 18th party congress, the regime's most important leadership shuffle.
"[The CCP] is watching the families of prisoners of conscience very closely," she says, adding that Guo is scared to go back to his father's home or be with his dad "because the Gestapo-like police threatened him several times."
Huang has collected over 1,600 signatures for a petition to Immigration Minister Jason Kenney, asking for his help to rescue her grandson and son-in-law and bring them to Canada.
Chen's Case Not Unusual in China
Although tragic, the family's story is not unique in China, where millions of Falun Gong practitioners are persecuted for their faith.
Falun Gong rose to popularity in China in the early 1990s, when its healing benefits, simple slow-moving exercises, and principles of truthfulness, compassion and forbearance resonated with many Chinese people.
In 1999, former Communist Party head Jiang Zemin—said to be consumed with jealousy over Falun Gong's popularity and fearing his own legacy would be overshadowed—started a state-wide persecution of adherents of the practice that continues today.
Huang, who immigrated to Canada in 2008, now lives in Calgary with her husband. Her son, Yingyi Chen, lives in Nanaimo.
Huang started practicing Falun Gong in China in 1998, a year before the persecution was launched. She says despite the terror and violence waged against practitioners in China, both she and her daughter refused to yield to pressure to give up their belief because they experienced many benefits from Falun Gong.
Chen was arrested in 2003 for distributing material exposing the facts about the persecution. She was taken to a detention centre in Jia Xing City, Zhejiang Province, where she was tortured by prison guards who were instructed by CCP authorities to force her to renounce her beliefs.
Chen responded by going on a 39-day hunger strike, during which prison guards instructed other inmates to force-feed her with a tube that damaged her stomach and caused massive internal bleeding.
On the brink of death, Chen was released after her brother in Canada, backed by B.C. MP James Lunney, petitioned the Canadian government to intervene.
Released, but Harassment Continues
When Chen returned home, her health improved quickly and she became pregnant with Guo. The police never stopped harassing her, however. Huang says police raided Chen's home over 20 times, often in the middle of the night.
When the police realized their pressure would not sway Chen, they changed their strategy and began to target her husband and parents-in-law.
Wen, a successful IT engineer, was abruptly fired from his job after CCP authorities pressured his employer to terminate him. He was also evicted from his apartment and constantly monitored by police.
When Wen found another place to live, Huang says the police encouraged his next-door neighbour to watch, harass, and even beat Wen in order to intimidate him. Other neighbours were forced to install cameras to monitor him or face having their salary or bonus deducted.
Chen's parents-in-law were so afraid for their family's safety that they persuaded her to go into hiding. Chen has been on the run ever since, and her name is on the "wanted" list in China's State Security Bureau.
Huang says she does not know where Chen is now. She has tried to bring Wen and Guo to Canada to stay with her, but their visa applications were rejected.
According to a letter Huang received from the Canadian consulate, Wen "does not have sufficient funds, including income or assets to carry out his stated purpose in going to Canada or maintain himself while in Canada and effect his departure."
"I am so worried about [Wen and Guo]," says Huang. "I haven't seen them for three years and it's impossible for me to go back to China to visit them because the Chinese regime is continually persecuting Falun Gong."
"I really hope Minister Kenny can do something."
The Epoch Times publishes in 35 countries and in 19 languages. Subscribe to our e-newsletter.