Nataly Teplitsky takes to street to protest organ selling in China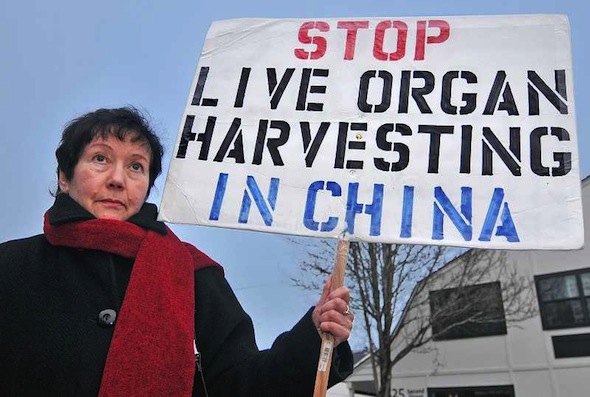 Nataly Teplitsky is a small woman but she carries a big sign.
The Lake Oswego resident takes her sign to Pioneer Square in Portland to protest organ harvesting — the practice of the Chinese government executing prisoners and removing their organs to sell. Of course, Teplitsky has a lot of interesting conversations with people she encounters.
"For some it is eye opening," she said. "Some cry. Some want to give donations."
Other reactions are far from sympathetic.
"The worst are the Chinese people," Teplitsky said. "They're so ignorant about what is going on. It shows how brainwashed they are. I tell them, 'I am an old lady standing in the cold. Why would I try to deceive you? People have been killed like this for 12 years and you don't even want to talk about them?'"
Teplitsky is especially concerned with how this policy affects the Falun Gong, a group that has been persecuted for the past 13 years. She says that thousands of the spiritual discipline's members have been imprisoned by China, executed and had their organs taken for sale on a thriving market.
"Organ harvesting is a horrific crime," Teplitsky said. "Eight thousand Falun Gong practitioners a year have been murdered for their organs."
This cause is so dear to Teplitsky because she credits Falun Gong for changing her life.
"I was born in Russia," Teplitsky said. "I was a materialist. I was an atheist. I spent half of my life that way. I earned a Ph.D. and did research.
"I looked into different philosophies and tried them all. I kept searching until I found Falun Gong, and I benefited from every aspect of what they had to teach. I am healthy, I take no pills, my perception of life changed. Falun Gong is a very benign and righteous practice of the body and mind."
Millions of other people around the world had their lives changed by Falun Gong in the same way, and in 1992 the movement began in China, where Tipletsky said, "It spread like fire." However, in 1999, under the direction of then Communist Party Chairman Jiang Zemin, a policy of severe persecution of the Falun Gong began and it continues to this day. Falun Gong members are being imprisoned, tortured, sent to re-education camps and executed. Why?
Teplitsky said, "The Chinese Communist Party is founded on violence, lies and oppression. The core values of Falun Gong are truthfulness, compassion and tolerance, which is the exact opposite of what the Communist Party stands for."
This suppression has reached an even higher stage, Teplitsky said, with the removal of organs of Falun Gong prisoners — not just one organ but all organs.
"There are hundreds of underground concentration camps where they are kept like cattle," Teplitsky said. "People in the United States wait years to get an organ and die. But in China they can buy an organ right away, and now this terrible holocaust is happening. It has been called, 'A new form of evil on this planet.'"
The crusade to stop the persecution of Falun Gong and the harvesting of organs is gaining much momentum. Recently, 106 members of the U.S. Congress wrote a letter to Secretary of State Hillary Clinton to request that all information about the persecution be released, and a petition drive with the goal of getting 25,000 signatures is now under way. When completed, it will be presented to President Barack Obama.
One of those petition gatherers is Teplitsky. Every so often she and her associates say, "Let's go to Pioneer Square," and they again confront people with their cause. She has given up her career as a scientist to become an investigative reporter for The Epoch Times, a newspaper that now operates in 35 countries and in 20 languages.
Teplitsky even brings the cause right to Lake Oswego, her home of eight years. She recently spoke before the Lake Oswego City Council, urging the councilors to support the Falun Gong petition drive.
"People are awakening," Teplitsky said. "But there are still so many people who haven't heard about this."