Hong Kong Chief Executive Named as Communist Agent
Communist organizations said to suppress rights in Hong Kong
By Lin Yixiang, Epoch Times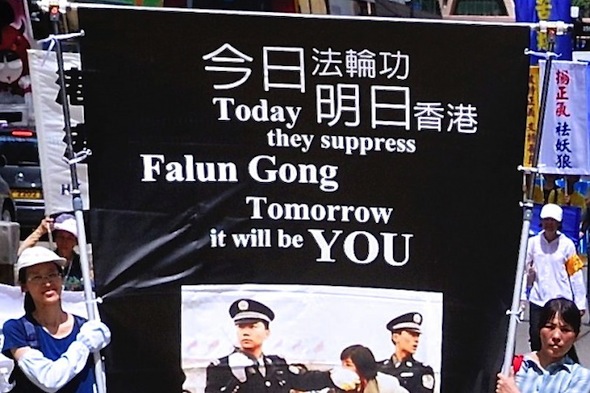 HONG KONG—Practitioners of the spiritual discipline Falun Gong joined together with democracy activists and legislators in naming Hong Kong's chief executive as a Chinese Communist Party agent responsible for campaigns of harassment, intimidation, and violence.
The dramatic charges were made Sunday afternoon at a rally held at the doorstep of Hong Kong's main government building, following a parade of 700 people that marched for two and one-half hours through Hong Kong's streets.
Mr. Kan Hung-Cheung, spokesperson for the Hong Kong Falun Dafa Association, enumerated a list of grievances that Falun Gong practitioners had suffered at the hands of a group called the Hong Kong Youth Care Association.
The Association had verbally assaulted and physically provoked practitioners, blanketed Hong Kong with banners slandering Falun Gong, interfered with practitioners' attempts to tell others about the persecution of Falun Gong in mainland China, and brought false legal charges against practitioners.
The Association's activities, Kan said, have for the past year become not only offensive but unacceptable in a free society.
Kan explained that in April public pressure eventually forced the Association to lessen its harassment, but then a department of the Hong Kong government, the Food and Environmental Hygiene Department, began confiscating Falun Gong practitioners' banners and other materials, depriving the practitioners of the rights of petition and freedom of speech.
Kan then named Hong Kong's chief executive, Leung Chun-Ying, as being largely responsible for these abuses. He said that Leung was not only an underground Communist Party member, but the spokesperson of the Jiang Zemin faction in Hong Kong.
Jiang Zemin is the former head of the Chinese Communist Party (CCP) who launched the persecution of Falun Gong in 1999. His faction has been identified with attempting to maintain and extend that persecution ever since.
Using colorful language adopted from retro CCP propaganda and featured on the rally's banners, Kan said that Leung Chun-ying "is basically a running dog for the Jiang faction of the Chinese Communist Party who is promoting the persecution of Falun Gong in Hong Kong."
The accusation that Leung Chun-ying is an underground Communist Party member is not new. Six days before the March 25, 2012 election of Leung as chief executive, a book by a former underground Communist Party member was published that outed Leung as being a long-standing CCP member in Hong Kong.
After Leung Chun-yin won election, People's Daily, the mouthpiece of the CCP, ran a discreet congratulations for Leung Chun-ying, something usually only done for cadres.
On April 1, 2012, an estimated 15,000 Hong Kongers took to the streets protesting his election, saying they did not want a CCP member to run Hong Kong.
Communist Interference
Hong Kong Legislative Council member Mr. Lee Cheuk-yan spoke to the rally by means of a voice recording. He condemned Leung Chun-ying for allowing communist organizations to suppress the freedom of speech of political dissenters and organizations. He also recounted recently seeing three instances of violence involving Youth Care Association members.
Legislative Council member Mr. Wu Chi-wai also spoke to the rally via voice recording and said that Leung Chun-yin is taking advantage of gaps in the legal system to interfere with the normal rights of expression of Hong Kong groups.
The Hong Kong Youth Care Association is not the only communist-linked group said to be interfering with the rights of the people of Hong Kong, at the behest of Leung Chun-ying.
Ms. Hung Ling-yu is the convener of the Hong Kong Civil Human Rights Front, which sponsors an annual protest rally on July 1 that has on several occasions involved hundreds of thousands of protesters.
Hung said that Leung was appointed chief executive by the CCP and has set out to suppress social organizations by establishing "care associations" to publicly interfere with civilian activity. "Members of Caring Hong Kong Power [another pro-CCP organization in Hong Kong] have begun to interfere with our street forums, standing on tabletops and swearing loudly," Hung said.
Several Hong Kong democracy activists spoke of being interfered with and physically attacked by communist organizations.
Richard Tsoi, vice-chairman of the Democratic Party and vice president of Hong Kong Alliance in Support of Patriotic Democratic Movements in China, condemned the "care associations" for destroying the one country-two systems in Hong Kong—the system according to which Hong Kong functions as a part of the People's Republic of China while maintaining its tradition of civil and political rights.
Hong Kong will not stand for this type of violence, Tsoi said, as he called for the people of Hong Kong to stand up for their core values and morals.
The Hong Kong Youth Care Association was also at the rally. They were gathered at one end of the courtyard outside the government building, they used a sound system and megaphones to broadcast shouted words or recorded statements attacking Falun Gong at a volume that one rally participant described as "very, very loud, terribly loud."
Former legislative council member Feng Zhihuo said that while the Youth Care Association uses violent tactics, it is no match for the determination of people's souls.
"Those who use immoral tactics to try to suppress people never succeed," Feng said. "They cannot destroy these Falun Gong practitioners' souls." Feng added that if the Association members continued harming others, they themselves would eventually suffer harm, according to moral law.
Lee Cheuk-yan in his remarks spoke of the Hong Kong people bringing justice to Leung Chun-ying in a different way. He urged the public to join in the July 1 parade, demand that Leung Chun-ying step down from office, and push for general elections in Hong Kong. In 2012 the July 1 parade attracted an estimated 400,000 marchers, the largest turn out so far.
Translated by Xiangyu Ding & Virginia Wu. Written in English by Stephen Gregory
Read the original Chinese article.