International Press Organization Executive Warns Hong Kong: Protect Press Freedom
Harassment of Epoch Times called 'completely unacceptable in a democratic society'
By Zhang Le, Epoch Times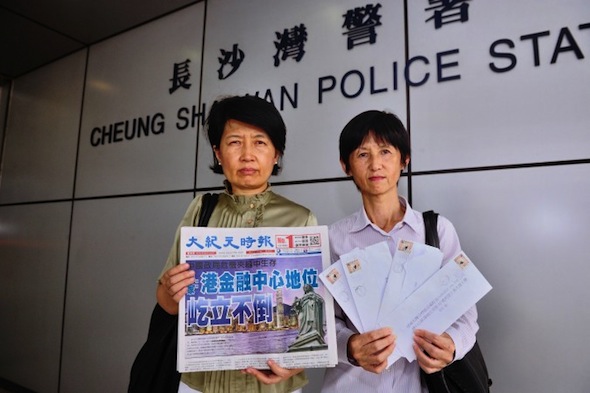 PARIS—After a recent campaign of bogus phone calls meant to discredit the Hong Kong Epoch Times, a departmental head for Reporters Without Borders warned the Hong Kong government the city's reputation would suffer if actions are not taken to improve freedom of the press.
The phone calls were made to Epoch Times staff and advertising clients on Sept. 11 and 12. They consisted of a tape recording that began by saying the call was from the Epoch Times.
The recording then changed to the same tape that the Hong Kong Youth Association has been blasting for months from loudspeakers in Hong Kong. The Hong Kong Youth Association is affiliated with the Chinese Communist Party's (CCP) 610 Office, an extra-legal Party organization created specifically to persecute the spiritual practice of Falun Gong.
That tape repeats the propaganda the Chinese regime has used to demonize Falun Gong. The phone calls were part of an attempt, which also included letters, faxes, and text messages, to damage the Epoch Times reputation and scare off its advertisers.
Benjamin Ismail, head of the Asia Pacific Region for Reporters Without Borders (RSF), an international press freedom organization headquartered in Paris, told the Epoch Times that this harassment is completely unacceptable in a democratic society.
The Hong Kong government should respond to this incident, Ismail said, and the Hong Kong police should investigate.
Ismail linked the harassment to Epoch Times reporting on the attempts to suppress Falun Gong in Hong Kong.
"These acts of harassment and attacks on Epoch Times and other media that report Falun Gong incidents in Hong Kong are cause for concern. That slander is part of the CCP's overall policy on persecution of Falun Gong," Ismail said. "Unfortunately, it is difficult in these attacks to identify not only the perpetrators but also the backers or partners."
"We fear that in the long term, more and more groups and individuals affiliated with the CCP will seek to harm the relatively free atmosphere of the Hong Kong press," he added.
Ismail pointed out that Hong Kong was ranked 58th out of 179 countries and regions in the World Press Freedom Index 2013. According to RSF, it was ranked 54th in 2012. Ten years ago, it was ranked 18th.
"For now, Hong Kong can hope to go back up in the index if authorities do what's needed," said Ismail.
"But if the freedom of reporters and media, regardless of their affiliation or viewpoints, is under continuous threat, Hong Kong's ranking will drop next time," he said. "Then the image of Hong Kong and its situation will suffer."
"Hong Kong authorities should take prompt action to sustain Hong Kong's mainstream climate—press freedom and free flow of information," Ismail urged.
Translation by Amy Lien and Rebecca Chen. Written in English by Sally Appert.
Read the original Chinese article.