Congressional Commission Calls on China to Cease Harassing US Journalists
Entire news bureaus of the New York Times and Bloomberg face expulsion from the mainland
By Gary Feuerberg, Epoch Times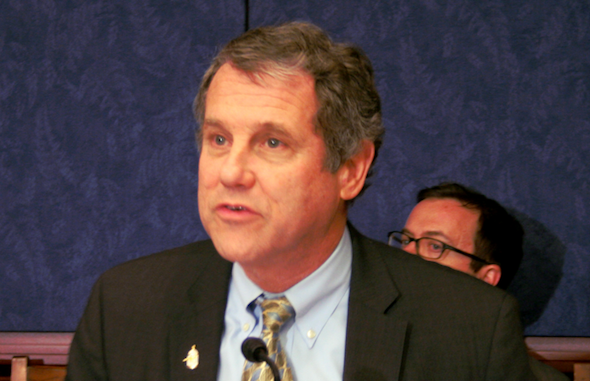 WASHINGTON—The Chinese regime is applying unprecedented pressure on foreign journalists based on the mainland to cease covering stories that displease the authorities.
Foreign journalists in China are accustomed to being interrogated and lectured; they work under conditions of surveillance, harassment of themselves and their sources, and physical threats and occasional beatings. The newest tactic by the regime is to withhold, or threaten to withhold, journalist visas required by all foreign journalists to work in China.
The Congressional-Executive Commission on China (CECC) held a roundtable discussion, Dec. 11, on Capitol Hill, to discuss the ramifications of these troubling developments. U.S. Senator Sherrod Brown from Ohio, chairman of the CECC, opened the discussion with a statement:
"Today we are call on China to immediately cease its policy of harassing foreign journalists. They have denied and delayed visas, and blocked the websites of foreign media in China … We ask and demand China back-off these policies. If the situation does not improve, we must consider other steps that Congress can take to address the issue."
Chairman Brown said that the world's most populous nation and the United States' second-largest trading partner is too important to us and the world to accept "closing the country off from the rest of the world."
"It is imperative that we have a complete and accurate picture of what is going on [in China]," he said. This can't be done without foreign journalists, because "China's own journalists are hamstrung by severe censorship," he said.
Brown mentioned the possible violation of fair trade rules when China blocks access to the websites of the New York Times, Bloomberg, Reuters, and the Wall Street Journal.
Sen. Brown emphasized that the media appearing at the roundtable were invited at the Commission's request; none had solicited to come. None of the journalists would grant interviews to media following the roundtable discussion.
Entire News Bureaus
At this moment, all the correspondents for the New York Times and Bloomberg News—23 journalists—have not been able to renew their annual residency visas as the year-end rapidly approaches. If these are not renewed, the journalists and their families will have to pack up and leave quickly.
Websites of both news organizations have been blocked in China after publishing articles describing the hidden assets and financial dealings of the relatives of China's top leaders.
Hannah Beech, East Asia correspondent and China bureau chief for Time magazine, wrote in Time-World blog, "Previously, individual journalists have been punished for their enterprising reporting. This year, entire news bureaus from specific publications are being pursued."
New York Times' Executive Editor Jill Abramson stated that the situation is the most serious in years and threatens the Times ability to provide independent and comprehensive reports of China.
"The Times could be left without reporters in mainland China for the first time in nearly three decades," she wrote in a statement prepared for the CECC.
China's New Leadership
There has been an unmistakable hardening of Chinese authorities towards foreign journalists since around November when Xi Jinping assumed leadership. An example is Paul Mooney, an American free-lance journalist. For his next job, he was going to work for Reuters when Reuters was informed Nov. 8, after an eight-month wait, that his application for a journalist visa had been denied. Thus, ended his 18-year career as a foreign correspondent in China.
In statement prepared for the Congressional-Executive Commission (CECC), Mooney said China loosened up its controls on the foreign media in the run up to the Olympics in 2008. Soon after the Olympics was over in 2009, however, "we began to see an increasing number of foreign journalists who faced extended delays in getting their visas approved."
While the reasons were not given by the regime, these journalists had reported in the past year on sensitive issues, and so it was clear to them why they were being targeted, Mooney wrote.
In an interview to the Committee to Protect Journalists (CPJ), Mooney said, "Their decision to keep me out of China now is an indication of how much the Chinese leadership has regressed in recent years. This is the worst atmosphere for freedom of expression that I can remember since the early 1990s."
Mooney said the crackdown on freedom of expression is not limited to journalists. "In the past few months some 300 Chinese rights, activists, dissidents and others have been detained or arrested."
Past Expulsions, Long Waits
In recent years, some foreign journalists in China have already been denied journalist visas.
Sarah Cook, senior analyst at Freedom House, said that last year, "When American television correspondent Melissa Chan's visa renewal was refused, al-Jazeera English had to shutter its presence in China because no visa was granted for a replacement."
Mooney was scheduled to speak but health issues prevented him from attending the roundtable. He submitted a statement, which has been quoted earlier, for the record. He said no reason was given for the denial of a visa renewal.
But Mooney said it was evident what bothers the regime from his 90-minute visa interview at the Chinese Consulate in San Francisco in April. They were concerned about his views on human rights, rule of law, the Dalai Lama, and Tibet. Mooney quoted the consular official, "If we allow you to return to China, we hope your reporting will be more objective."
Chris Buckley has been living in Hong Kong for a year separated from his wife and daughter in Beijing because he has yet to receive a new journalist visa and his visa from his previous employer expired, according to Abramson. He was hired by the Times in the fall 2012.
Also a new Times hire, Philip Pan, China bureau chief, has been waiting more than 18 months, wrote Abramson.
Fear and Self-Censorship
"During my last two years working in Beijing, from 2010-to 2012, I was not given the normal one-year visa, but instead three and six-month visas. Few journalists get such limited visas and the purpose is to make reporters self-sensor in order to be allowed to remain in China," states Mooney.
Beech was only able to renew her annual visa on Dec. 31, 2011, the same day that her visa expired. The process of renewal dragged on for months. She was made to worry a lot. She had displeased the Chinese Foreign Ministry for writing about the self-immolations of Tibetans. She went into a region that was technically off-limits to foreign journalists. She and other journalists have had to write "self-criticism letters" for violating these rules.
Beech got her visa renewed for a year, but she was made to wait to the last day, and had to listen to a lecture on Tibetan Buddhism to correct her supposed ignorance on Tibet.
Mooney said in the CPJ interview that he knew of two instances of renewals given on Dec. 31. If the journalist visa is revoked, he or she has "less than a day to pack up and fly out."
Reporters know they are often followed and phones are tapped. "When traveling, journalists sometimes turn off their phones or frequently change their phone cards to limit the ability of the police to monitor them," according to Mooney.
Mooney told the CPJ that when he was renewing his visa two years ago, the security officials insisted that he also bring his wife along for the interrogation. Mooney said his wife is not a journalist and the intimidating questions, which he's accustomed to, frightened his wife. The next year, a police officer who monitors him when renewing the visa, told Mooney that he had followed him and described the Chinese friends Mooney had been with.
"Pure scare tactics," Mooney said.
Though no reporter wants to admit he or she self-censors, the evidence of acquiescing to the China authorities' wishes is apparent, according to Cook. She said it was probable that in the past year, hundreds of Falun Gong adherents had been detained and sentenced to prison, in some cases up to 12 years. Yet the major news outlets have avoided coverage of the increased repression, she said.