Report by State Department Highlights Abuse in China
By Matthew Robertson, Epoch Times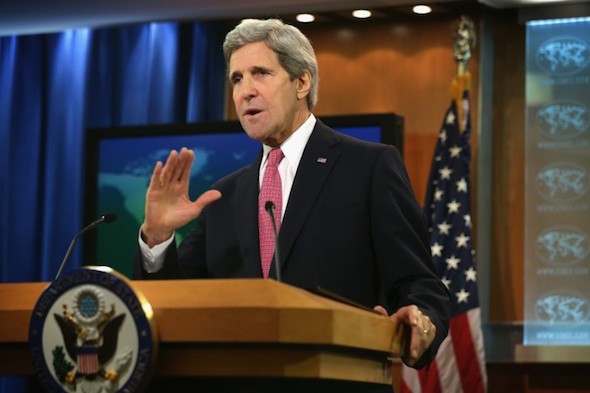 In its dealings with the People's Republic of China, the U.S. government typically tries to emphasize cooperation, and the ways in which both countries have common interests. Every year, however, the stark difference between them becomes very clear, with the publication of the State Department's human rights country reports.
The reports are published at once and cover nearly 200 countries, including Canada, Germany, and Switzerland. But it is always the chief abusers like China, and other dictatorships, that contain the most action and attract the most attention.
"As in previous years, citizens did not have the right to change their government, and citizens had limited forms of redress against official abuse," the report says.
Then it lists some of the abuses that Chinese citizens may be dealt by the communist regime: "extrajudicial killings … enforced disappearance and incommunicado detention … torture and coerced confessions of prisoners; detention and harassment of lawyers, journalists, writers, bloggers, dissidents, petitioners, and others who sought to exercise peacefully their rights under the law; a lack of due process in judicial proceedings; political control of courts and judges," and on and on it goes.
The report on China, which in total runs to over 50,000 words, breaks the abuses down by category: Arbitrary or unlawful deprivation of life, disappearances, denial of fair public trial, arbitrary interference with privacy, family, home, or correspondence, and torture "and other cruel, inhuman, or degrading treatment or punishment."
The report fleshes out specific cases that transpired over the last year, including those of a petitioner who was beaten to death by police; an activist who was put into re-education through forced labor for two years for demanding that communist officials disclose their financial assets; and a dissident who was sent to jail after being put through a kangaroo court.
'Tiger Bench,' 'Death Bed'
The Chinese Communist Party's representatives said that China is a country ruled by law, that those who are punished have broken it, and that China abides by international human rights agreements.
The case of Cao Shunli, therefore, appears somewhat ironic in light of those claims.
Cao was arrested by police in September 2013 at the Beijing Airport as she was attempting to board a plane to Geneva, Switzerland, to participate in training sessions before the Universal Periodic Review of China at the UN Human Rights council.
Her family was not notified of what happened to her. Five weeks later the authorities confirmed that she was detained on charges of "unlawful assembly."
After being placed in custody, she was denied medical treatment. The detention center even took away her medication. Her existing liver disorder and the terrible food and conditions of the detention center devastated her health. By November, two months after being locked up, she had tuberculosis in both lungs, liquid accumulating in her liver, and uterine tumors.
She is now reported to be in a critical condition at a hospital in Beijing. Her lawyer said she is "comatose and on a ventilator."
The report says that from 1998 to 2010, over 40,000 people were put into public security-operated mental institutions, which are sometimes used to punish dissidents.
Peng Lanlan, a Beijing activist who demanded information about the authorities' "National Human Rights Action Plan," was tortured by being tied down to a "tiger bench."
The tiger bench is a small, long iron bench less than a foot off the ground. The victim is forced onto it sitting upright, with their hands tied together behind the back and the knees tied down to the bench. Then bricks are forcibly placed under the victims feet, causing the knees to bend upward in an unnatural way, bringing excruciating pain that can result in broken bones.
Chinese security officials, who operate largely outside the purview of the law, have devised dozens of these techniques of torture for those that the Communist Party deems enemies of the state. Apart from the tiger bench, there is the "death bed," or "roasting a whole sheep," which means using electric batons to shock the victim until their skin is burnt and blistered.
Falun Gong, Hong Kong
These means of torture are reported to be commonly used against practitioners of Falun Gong, a spiritual practice whose persecution by the Chinese authorities is noted throughout the State Department's report on China.
The campaign against Falun Gong has persisted for 14 years now in China, but this year the State Department noted some additional efforts against Falun Gong communities overseas. A pro-Party front group has been established in Hong Kong to harass practitioners, and those who have come to their defense have found themselves framed and attacked.
The department notes that immigration authorities in Hong Kong have denied visas to individuals disliked by the Chinese authorities, without providing an explanation. Many in Hong Kong think the PRC is attempting to extend its own rights abuses there, the report noted.