HUMAN RIGHTS: The 1989 Tiananmen Square massacre remembered
by Peter Westmore, June 21, 2014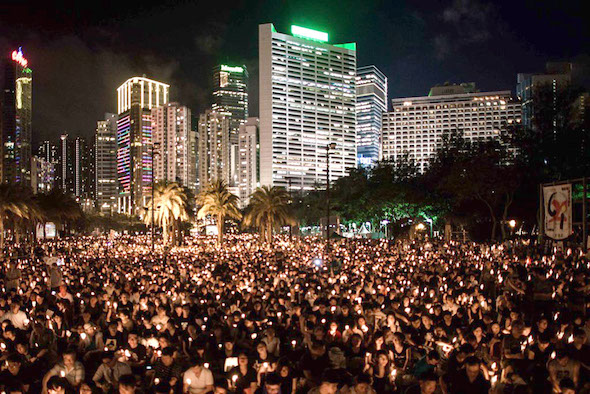 Despite determined efforts by the Chinese regime to prevent it, hundreds of thousands of people attended rallies around the world to mark the 25th anniversary of the killing of hundreds of Chinese students in Beijing's iconic Tiananmen Square in 1989.
The candle-lit vigils were also held because the communist regime has refused to acknowledge the terrible event. In recent months, Beijing has, despite the economic liberalisation of the past three decades, increased its repression of the Chinese people and limited travel and internet freedom.
The largest and most impressive rally was held in Victoria Park, Hong Kong, where an estimated 150,000 people gathered, including Cardinal Joseph Zen, bishop-emeritus of Hong Kong.
Candle-lit vigils took place in most other countries, including Australia, where they were held outside Chinese consulates.
In the lead-up to the anniversary of the Tiananmen Square massacre, the Beijing authorities imposed draconian restrictions on its population.
Visitors in Beijing reported a very heavy military presence around the city. The authorities detained many human rights activists and even a visiting Australian artist of Chinese origin.
Online censors stepped up their already extensive blocking or deleting of websites and postings that referred to the bloodshed in 1989. Apart from its strict censorship of newspapers and television, the Beijing government went out of its way to ignore the event, but gave an oblique hint that it was following things very closely.
It responded angrily to a media release by the United Nations High Commissioner for Human Rights who, on the anniversary, called on the Chinese authorities to release human rights activists and others unjustly detained.
The Chinese government news agency, Xinhua, published an article which declared, "The so-called press release made by UN high commissioner for human rights, Navi Pillay, grossly goes against her mandate and constitutes a grave intervention of China's judicial sovereignty and internal affairs."
The communist regime's complete disregard for human rights is well documented.
The January 2014 report of Human Rights Watch (HRW) noted that, in March 2013, when Xi Jinping assumed the presidency of China, his new administration "proposed several reforms to long-standing policies, including abolishing one form of arbitrary detention, known as re-education through labour (RTL), and changes to the household registration system". The report added: "It staged high-profile corruption investigations, mostly targeting political rivals."
However, hopes for a relaxation of government repression have been dashed.
Human Rights Watch said: "The government remains a one-party state. It places arbitrary curbs on expression, association, assembly and religion; prohibits independent labour unions and human rights organisations; and maintains Party control over all judicial institutions.
"The government censors the press, the Internet, print publications and academic research, and justifies human rights abuses as necessary to preserve 'social stability'.
"It carries out involuntary population relocation and rehousing on a massive scale, and enforces highly repressive policies in ethnic minority areas in Tibet, Xinjiang and Inner Mongolia.
"Though primary school enrolment and basic literacy rates are high, China's education system discriminates against children and young people with disabilities. The government obstructs domestic and international scrutiny of its human rights record, insisting it is an attempt to destabilise the country."
Falun Gong practitioners, who use the traditional meditational practices of Buddhism and espouse the principles of "Truth, Forbearance and Compassion", continue to be systematically persecuted.
Thousands of practitioners have been executed in prison, and their organs (hearts, lungs, kidneys, corneas, etc.) harvested for the huge organ-transplant industry which has grown up based on the availability of prisoners.
Another human rights organisation, Human Rights Without Frontiers, based in Europe, recently reported on the increase in repression of religious organisations, particularly Christian ones, in Zhejiang province, just south of Shanghai, and facing the East China Sea.
It said: "Since 2013, when Zhejiang was slated to become a hub of economic development by 2020, a campaign has been enacted to 'beautify' the region by removing the illegal structures.
"The campaign is called the 'Rectify Three, Demolish One' campaign intended to halt violation of building regulations, a move to 'make space' for development. According to the provincial government, these demolitions affect all communities and private dwellings without distinction.
"But it is a fact that the campaign is targeting mainly Christian sites." Among the buildings targeted for demolition are both Catholic and Protestant churches, as well as meeting places for the underground church.
The human rights organisation added, "The fact that the demolition of churches is part of a wider plan was clearly revealed by the Secretary Xia Baolong who, in an interview with Xinhua on February 17, denounced the 'hostile forces of the West' [that had allegedly] infiltrated the Christian communities."