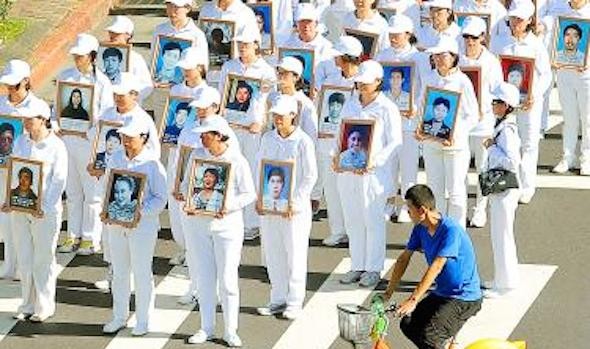 Falun Gong members remember dead
ONGOING PERSECUTION:Practitioners urged officials not to meet with Jiangsu party boss Qiang Wei, citing his role in the persecution, and threatened a lawsuit
By Loa Iok-sin / Staff reporter
[Photo caption: Falun Gong members and supporters hold photographs of victims of Beijing's campaign of repression against the movement during a parade in Taipei yesterday. Fang Pin-chao, Taipei Times]  
More than 1,000 Falun Gong practitioners yesterday marched the streets to remember those fellow practitioners who are suffering or who lost their lives under Chinese government persecution, while calling on the public to give them a hand in the fight against the Chinese Communist Party (CCP).
Led by a group of drummers, the Falun Gong practitioners held banners condemning CCP persecution of practitioners in China, enacted scenes of Chinese police torturing Falun Gong practitioners and harvesting their organs while they are still alive, while others marched quietly in yellow uniforms.
The group paraded from Taipei 101 to Ketagalan Boulevard in front of the Presidential Office, where a rally was held under the hot Taipei afternoon sun.
"Today marks the 15th anniversary of the CCP's persecution on Falun Gong," human rights attorney and Falun Gong practitioner Theresa Chu (朱婉琪) told the crowd on Ketagalan Boulevard. "As we remember those who have lost their lives or are suffering because of their beliefs, we lament that there are millions of others in China who are not aware of what's truly happening to Falun Gong practitioners, that millions of people have not withdrawn from the CCP and that there are still people who are giving the CCP a hand in its persecution of Falun Gong practitioners."
Chu called on the government to refuse to welcome the visits of Chinese officials who play a role in persecuting Falun Gong.
"Monday [this] morning, the CCP chief of Jiangsu Province, Qiang Wei [強衛], is set to arrive in Taiwan. We urge government officials at both the central and local levels to cancel their scheduled meetings with Qiang, as he was one of the first officials to follow former Chinese president Jiang Zemin [江澤民] when he launched the persecution against the Falun Gong in 1999," Chu said. "If government officials still see him, we will file a lawsuit for torture and crimes against humanity against him in the Taipei High Court at 2pm tomorrow."
Taiwan Falun Dafa Association chairman Chang Ching-hsi (張清溪) said that the CCP's persecution of Falun Gong practitioners since 1999 has been unbelievably brutal.
"Since 1999, as many as 3,769 practitioners — and these are only those whose names have been recorded — have lost their lives, while more than 100,000 have been sent to labor camps," Chang said. "The CCP also harvests organs from living Falun Gong practitioners for transplants, even though China has ratified the UN Convention Against Torture and is a member of the UN Commission on Human Rights."
Academia Sinica associate research fellow and Sunflower movement leader Huang Kuo-chang (黃國昌) accused politicians in Taiwan of not showing enough concern for Falun Gong practitioners.
"There are political parties that are longing for a friendly relationship with China and parties saying they don't have any historical conflicts with China," Huang said. "But whatever your view on China is, you should speak out against the CCP's violation of the most fundamental universal human rights values, especially when this regime has never given up its ambitions on Taiwan, and threatens Taiwan's freedom and democracy."
In addition to speeches, Falun Gong practitioners remembered and showed support for their fellow practitioners in China with a candle-lit vigil and music performances.