Chinese Regime Seeks to Force World's Press to Heel
Pressure on ad agencies, threats, and thugs used against independent media
By Joshua Philipp, Epoch Times | August 15, 2014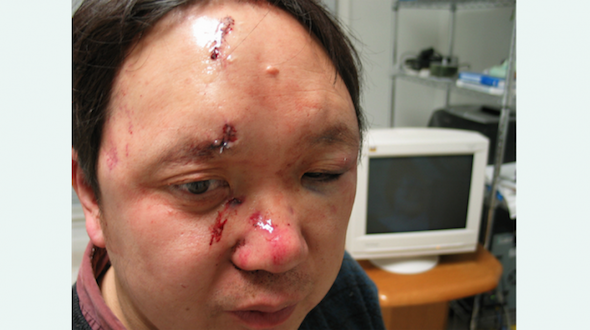 A local car dealer ran an advertisement with Epoch Times. Soon afterward, the headquarters of the car manufacture in the United States got a call from the local Chinese Consulate.
The incident happened 10 years ago, yet the effect lasts till today. It was this incident, the representative of one ad agency said, that convinced his company that working with Epoch Times will bring pressure from the Chinese Consulate.
The Chinese Communist Party (CCP) wants to silence independent, Chinese-language media. Using pressure to cut off ad revenue is one key tactic used by the CCP, along with other, less subtle means.
The choke point for ad revenue is the ad agency, which has the ability to funnel advertisers to media outlets. There are half a dozen ad agencies in the United States that place advertisements for most major companies in the Chinese-language press.
Epoch Times has met with representatives from a number of these companies. During a recent meeting, the representative of one company summed up the general problem.
"Ok, let's say I place my clients' ads in your media," the representative said. "What should I do when I receive phone calls from the Chinese government?"
A representative from another ad agency was even more direct.
"It's very hard to be the first person," he said, when asked to work with Epoch Times.
"My clients all have multinational businesses. Businesses in China," he said. "It's hard for me to recommend."
Ads Pulled in Hong Kong
Epoch Times is not alone in having its ad revenue squeezed by pressure from the Chinese regime.
One week in November 2013 state-owned Chinese companies and other large companies suddenly stopped advertising in the independent Hong Kong newspaper AM730. The paper saw HK$17 million or around US$2 million in annual ad sales vanish, according to the paper's founder, Mr. Shih Wing-ching.
"I think they are using the same tactic on all other media," said Shih Wing-ching in a phone interview.
Around the same time that AM730 saw its ads suddenly get pulled, two big Hong Kong banks stopped advertising with the pro-democracy Hong Kong newspaper Apple Daily.
Mark Simon, a commercial director at Next Media, the parent company of Apple Daily, told The Wall Street Journal that HSBC and Standard Chartered pulled their ads under pressure from Beijing. The advertisers brought Apple Daily $3.6 million in 2013.
Jimmy Lai, the owner of Next Media, did not respond to requests to comment made by phone and email.
The Cost of Independence
Apple Daily has been a vocal supporter of democratic activists in Hong Kong.
According to Simon, the advertisers pulled out due to Next Media's coverage of protests against mainland China's increasing influence in Hong Kong.
AM730′s Shih believes that his paper earned Beijing's animosity because "quite a lot of our columns attack the policies of mainland China, both in Hong Kong and in the mainland."
"It's not difficult to understand why they do this," Shih said. "They try to influence you, and the media is extremely powerful."
"They try to make people believe that if you're not doing something they like, they can stop your advertising," AM730′s Shih said.
John Tang, the CEO of Epoch Times knows why the Chinese regime attempts to pressure companies into not advertising with his paper.
"The Chinese Communist Party knows that we are a paper that will tell the truth about what is happening in China, and that frightens it," Tang said.
"We were founded by people who had known repression in China," Tang said. "We had experienced a media environment where the CCP controlled what people could know and wanted to bring honest reporting about China to the people of China and to the world."
"The Chinese people trust us," Tang said. "When the SARS outbreak happened, they knew Epoch Times would tell them what was really happening."
In 2004 Epoch Times published an editorial series, "Nine Commentaries on the Communist Party," that provides an uncensored history of the CCP. It has given birth to a movement to renounce any association with the Party. To date, 174 million people have done so.
Thugs Unleashed
Pulling ads is just one way the Chinese regime tries to silence independent media. More thuggish tactics are also employed.
In July 2013, AM 730′s Shih was attacked in his car. The month before, a car rammed the gate of the home of Apple Daily's Jimmy Lai. In what could have been a scene from a Mafia movie, an axe and a knife were left behind. Three weeks before that, two men beat iSun Affairs publisher Chen Ping as he emerged from his office.
In February 2014, the liberal-leaning editor of the Chinese-language daily Ming Pao, Kevin Lau, was attacked by men with knives, leaving him in critical condition. Some Hong Kong observers said this was a typical Triad-type attack meant to send a message by maiming, not killing, the victim.
In late July, Home News, one of Hong Kong's largest pro-democracy websites, pulled its entire archive of articles offline. All that was left was a single message from one of its founders, Tony Tsai, that vaguely referenced a growing environment of "political pressure" and "fear" in Hong Kong.
John Tang, Epoch Times CEO, said he has seen firsthand how the CCP tries to intimidate journalists.
Tang pointed out that a few months after Epoch Times started in 2000, a few dozen staff members were arrested in China. Some served prison terms of over 10 years. Some were severely tortured.
"Thugs have tried several times to break into our print shop in Hong Kong," Tang said. "In 2006, thugs broke into the home of our IT director, held him at gun point, tied him up, and beat him pretty badly. All they took were his computers."
"Our paper's websites get attacked, and our reporters sometimes get death threats," Tang said.
International Media Censors Itself
For decades the CCP has sought to dominate Chinese-language media outlets. Recently, English-language media outlets have begun to face some of the harsh choices that Epoch Times, AM730, and Apple Daily have faced.
Of course, international journalists have known for a long time that there were strict rules on how one could report on China. The CCP rewarded media outlets whose coverage pleased it, and punished those that didn't.
But this was mostly done behind the scenes. In late 2013, the CCP's efforts at intimidation became public.
In November 2013 the Chinese regime threatened to cut off Bloomberg's financial terminals inside China over an investigative piece, and Bloomberg pulled the piece, according to the New York Times. In December 2013, reporters from Bloomberg and New York Times had their visas temporarily denied over critical news reports.
These efforts by the CCP to censor the coverage of the Chinese regime have sparked long-running debates outside China over whether a media outlet should sacrifice its principles in order to be able to operate inside China.
For AM730′s Shih, this is a question that has only one answer.
Shih said that maintaining his paper's independence is not a matter of whether doing so is difficult or easy. It is a matter of principle. "I would rather close my company than be used by others," Shih said.
Epoch Times John Tang said, "By reporting honestly on China, we are helping China move to a better future. Everyone should put aside their fears and support that."