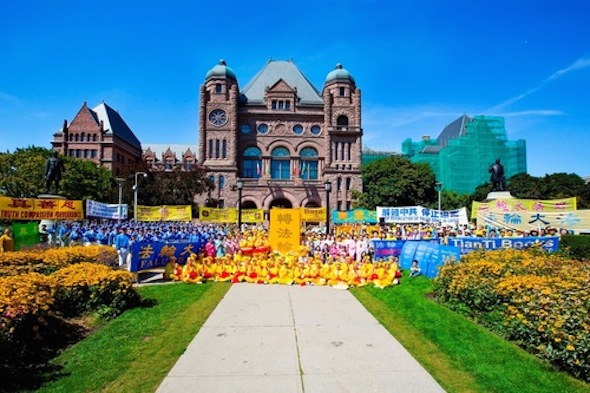 Toronto: Government Officials and Citizens Express Solidarity with Falun Gong
August 26, 2014 | By Zhang Yun, a Minghui correspondent in Toronto
(Minghui.org) "There are many many people across the world who say you [Falun Gong practitioners in China] have courage. We admire that. You have principles. We admire that," Con Di Nino, former Canadian Senator and long-time supporter of Falun Gong, said at a rally on August 24, 2014. He cited the above message to practitioners in China as the most important reason for his attendance.
Over 1,000 Falun Gong practitioners joined the rally, which was held near Toronto's City Hall. The event included a large-scale demonstration of the Falun Gong exercises, and was followed by a parade.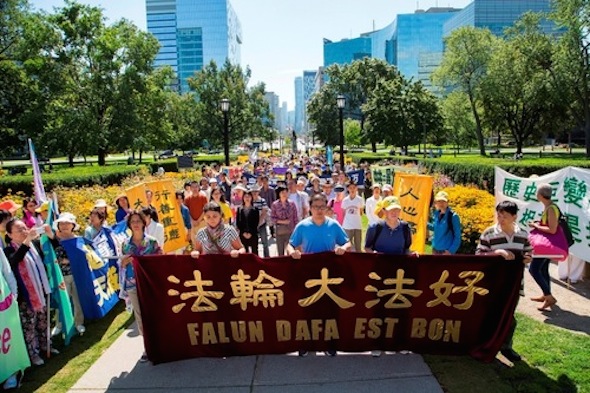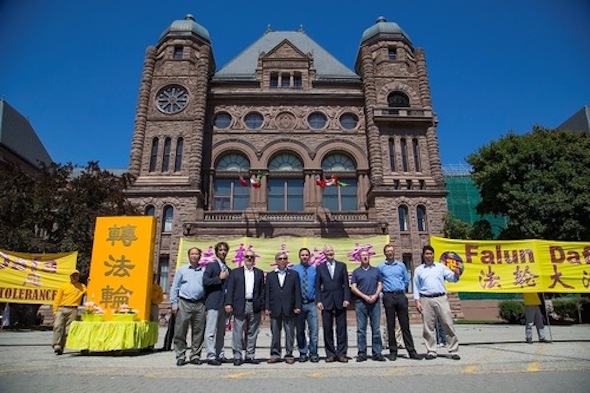 Four Reasons for Supporting Falun Gong
"In Canada, we as citizens have the right to peacefully protest and promote the causes that we believe in. It's a right that if we don't use, we will lose. So I say to you, you keep on doing it, and I will keep on coming back with you," Senator Con Di Nino shared with attendees his reasons for supporting Falun Gong (also known as Falun Dafa).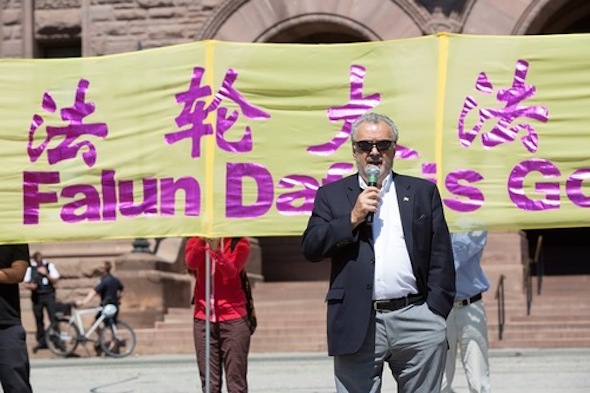 "The second reason I do this is for you. It's solidarity with each and every one of you, and those who cannot be here today. Because you have to know that you are not alone. There are many Canadians who believe in fundamental principles and freedoms… I and many many others support you, and we applaud you for your courage and commitment."
His third reason was to "tell the communist party, the government in China, that what they are doing is wrong. That denial of rights to their citizens, denial of rights to their people, is the lowest of actions by governments. They have to know that there are people who support you… We support Falun Dafa. We support their rights, their practice, their spiritual beliefs."
His fourth and most important reason was to express his support for practitioners in China. On the day that the Chinese gain freedom, he said, "I hope to celebrate together with you."
"Falun Dafa Is on the Side of the Future"
Senator Thanh Hai Ngo said he attended this event because, "We are witnessing a slaughter in China, one of the biggest crimes against humanity of the century."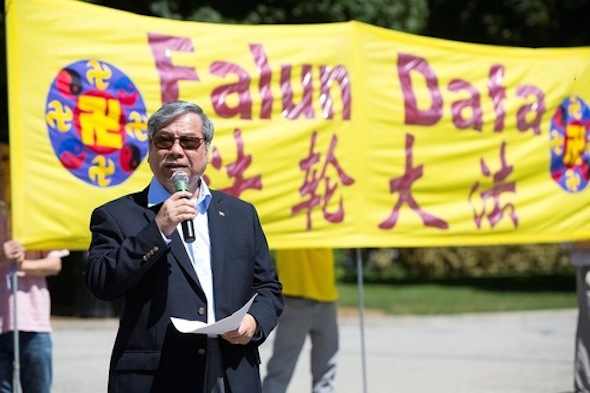 "Tens of thousands of Falun Dafa practitioners and thousands of faith believers are now languishing in prisons across China, where they are often tortured and even harvested for their organs. After 15 years of repression by the Chinese Communist Party, we cannot remain idle and tolerate such expectations. We must remind China that its political and economic future be strongly connected to the vision of Falun Gong practitioners, who only seek to exercise their fundamental human rights," Senator Ngo said.
John Parker, Toronto City Council member, said in his speech, "We know that those who oppress you, those who stand in your way, those who arrest and murder your followers, they know in their heart of hearts that you are on the right side of history. And that is why they fear you because they know that you are on the side of truth, you are on the side of light. You are on the side of good, and you are on the side of the future."
"The path of history is to draw us out of a world of darkness, a world of ignorance, a world of oppression, and to lead us towards a world of truth, a world of compassion, and a world of forbearance. That is the path of history and the path you are on with Falun Dafa," said Parker, commending Falun Gong practitioners for playing such a role.
Calling for an End to the Brutality
Benjamin Dicher, Toronto Councilor candidate, said that as "one of the cradles of human civilizations," China is struggling and suffering today.
"Today, China is struggling. It is suffering, not for economic benefits or rewards, but a struggle for its identity. For 65 years, the Chinese people, this pacifist, disciplined, respectful culture, has been ruled by a regime that allows horrific rules and crimes to continue, often unpunished. People in their families are torn between their cultural identity and a political ideology, which is not Chinese. This is why Falun Dafa, a poorly understood spiritual and peaceful movement, is so important," he said.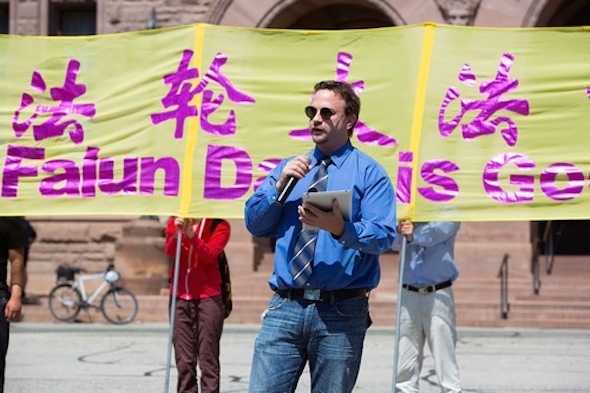 Jeff Billard, another Toronto Councilor candidate, agreed about the benefits of reviving spiritual culture. "The principles of Falun Gong are principles that I find anyone can believe in… There's a lot of persecution going on, a lot of misinformation out there. I think Torontonians, as fairly balanced people, should look at that and say that there is certain amount of social justice that should apply here."
Billard joined fellow Toronto Councilor candidate Matthew Crack in calling for an end to the brutality.
Support from the Public
The parade started at 1:00 p.m., following the rally, and proceeded from the City Hall to Chinatown, drawing much attention from onlookers.
Toronto resident Jason spontaneously joined in with parade. "I heard about Falun Gong from a friend," he said, "and I know it is a group of peaceful people who need freedom of belief. It is a tragedy that practitioners were severely suppressed in China. I support these practitioners."
Gail and her husband Martin were also outraged by the persecution. With tears in her eyes, Gail said, "I have been to China before and I know Falun Gong is banned there. It is a shame that such a group of good people are suffering so much for their belief."
Marin, a university instructor, said, "The CCP [regime] members are dictators, and they will not allow freedom of speech and belief." He said the parade was great and the persecution needed to end.
Dolores, a visitor from Virginia, USA, was watching the parade with her friend. "I have seen Falun Gong practitioners many times, but never had a chance to try it out. This amazing parade reminded me that I want to try this."