With Baby as Shield, Chinese Man Attacks Falun Gong Display in Venice [Video]
By Andrea Lorini, Epoch Times | September 23, 2014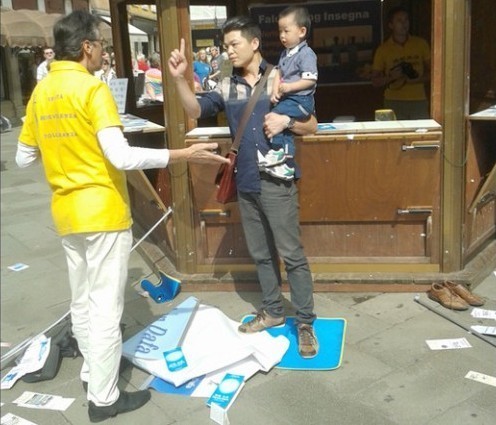 Two Chinese men, one clutching an infant in his left arm, set about roughly pulling apart a Falun Gong information booth in a central part of Venice, Italy, on Monday—the latest instance of aggression against practitioners of the discipline outside of China, where it is persecuted by communist authorities.
A man, apparently a local, who witnessed the scene became infuriated by the conduct of the men, in particular the young man with slicked back hair who was holding the baby.
"Leave the baby down. I can't touch you because you have the baby. Leave the baby down!" the man said, as shown in a video that was later posted to YouTube. "You're not a man!"
"Just because they're against violence," the man said. "You coward!" he howled again.
Falun Gong is a traditional Chinese spiritual practice that has been persecuted in its homeland since 1999, after nearly a decade of rapid and unfettered growth and mainstream popularity. The Chinese regime now promotes hatred against the practice, and violently persecutes adherents in China.
The discipline is practiced freely elsewhere in the world, but on occasion, agents of the regime, or those in its pay or sympathy, act to further the persecution of the practice.
The motive for the attack in Venice is unclear. The Chinese men with the baby owns a business in Venice, and may have a criminal record, according to a conversation he had with police that was overheard by a witness who spoke to Epoch Times.
On Monday the two men approached the Falun Gong booth and began speaking aggressively to one of the adherents who offered them a flyer.
They then smashed the mp3 player and speaker that was playing Falun Gong music and information, pulled down the banners, began tearing them up, broke an aluminum rack that a roll-up banner hung upon, and scattered fliers over the ground.
The young man had the baby boy in his arms the whole time.
Bystanders were attracted by the commotion and gathered to observe, while some of them stepped in to pick up the flyers and help the Falun Gong practitioners restore order to their booth.
The baby-in-arms technique seems to have gained some currency in Venice, given that another Chinese man attacked the same Falun Gong booth in a similar manner two weeks ago, also holding a small child all the while.
The two Chinese attackers and their companions ran away after police arrived, who heard out what had happened, and also what happens to Falun Gong in China.
Then, the Chinese man—boy still in his arms—returned, and threatened to come back next week.
.