Senators Press Obama to Help Lawyer Gao Zhisheng Reunite With Family
By Joshua Philipp, Epoch Times | October 6, 2014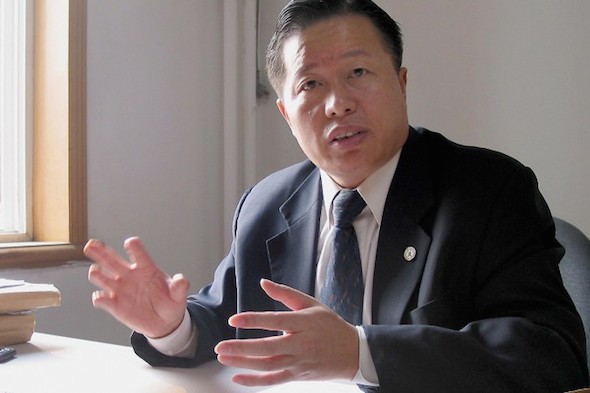 Senators are asking President Barack Obama to "engage the Chinese government at the highest levels" to bring persecuted Chinese human rights lawyer Gao Zhisheng to the United States.
Obama is scheduled to meet with Chinese leader Xi Jinping in November, and on Oct. 3, a group of 12 senators wrote an open letter urging him to request Gao's relocation to the United States for medical attention and uniting with his family.
"We are deeply concerned that Mr. Gao's health will continue to deteriorate without immediate access to quality medical attention," they state. "His wife and two children have been granted political asylum in the United States and have appealed for U.S. assistance in securing Mr. Gao's relocation to California for treatment."
Gao is a prominent human rights lawyer known for defending Chinese citizens against corrupt policies, including Falun Gong practitioners, victims of land seizures, and factory workers. He was arrested in 2006 and has been kidnapped and tortured by Chinese authorities on several occasions since then.
After Gao was released from prison on Aug. 7, his wife reported that he had been held for 5 years in solitary confinement, without sunlight, and being fed only cabbage, water, and rice.
"Since his most recent release from prison last month, Mr. Gao's family reports that he is suffering from serious physical and psychological issues, and is being denied access to critical medical care," states a press release on the website of Senators Barbara Boxer (D-CA), who co-signed the letter.
The letter adds that after Gao's recent release, "he has reported having been subjected to inhumane detention conditions, including torture, malnutrition and solitary confinement," which has caused both physical and psychological harm.
Gao is currently under house arrest, and was denied access to medical care. The senators say they're concerned about his health if he does not receive medical care soon, and are asking Obama to help bring Gao to California for treatment.
They ask Obama to "make this issue a priority as you prepare to meet Chinese President Xi at the Asia-Pacific Economic Cooperation (APEC) Summit in November."
The letter has bipartisan support. It is signed by Boxer, Marco Rubio (R-FL), Senators Patrick Leahy (D-VT), James Inhofe (R-OK), Ben Cardin (D-MD), John Cornyn (R-TX), Ed Markey (D-MA), Kelly Ayotte (R-NH), Sherrod Brown (D-OH), Ted Cruz (R-TX), Elizabeth Warren (D-MA) and Mark Begich (D-AK).