New York: Photo Exhibit at Columbia University Raises Awareness of the Persecution
October 30, 2014 | By a Falun Dafa practitioner in New York
(Minghui.org) The Falun Dafa Club at Columbia University and the university's chapter of Amnesty International held a joint photo exhibit from October 19 to 22 at its New York City campus to expose the persecution of Falun Dafa in China.
The club has hosted the the exhibit every year since 2007. The photos covered the practice of Falun Dafa itself, its acceptance worldwide, the persecution in China, and examples of lies propagated by the Chinese Communist Party (CCP) as part of its persecution campaign.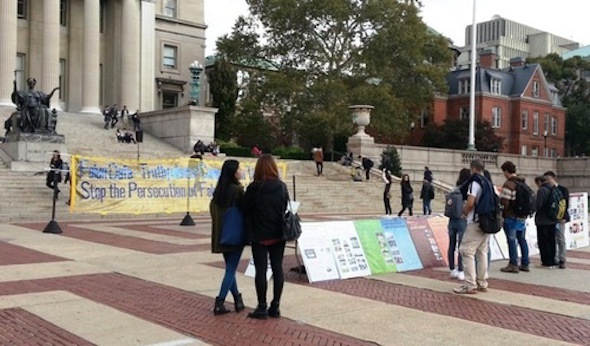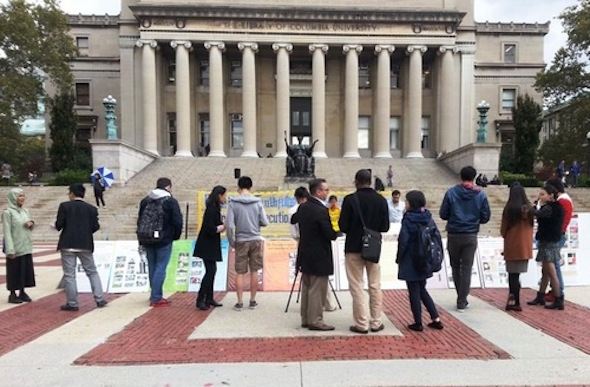 In front of Alma Mater, a symbolic sculpture on campus, the exhibit was on display from 10 a.m. to 5 p.m. for four days. Practitioners also demonstrated the Falun Dafa exercises during lunch hour.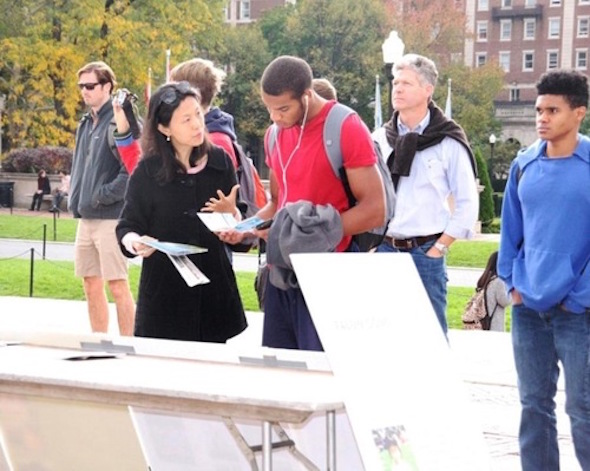 Support from Students
Many students showed interest and said that they would seek more information online or buy Falun Dafa books from Tianti Bookstore in Midtown Manhattan.
A sophomore International Affairs major, Brendan Gray expressed interest in all information related to China. He stopped by, drawn by the Falun Dafa music.
Gray said he had lived in China for four years and studied Chinese. "I've seen a similar photo exhibit in Washington D.C. before. As an American, I cannot imagine why the Communist Party would ban a spiritual group that poses no threat to its rule."
A Jewish student said the pictures reminded her of the holocaust over half a century ago. "It appears to me that a similar tragedy is going on in China," she observed. With tears in her eyes, she said she would let more people know about it so that the atrocity can be stopped.
Another student who actually witnessed the suppression of Falun Dafa during his vacation in Shanghai last year said the persecution was wrong and should be stopped. He left with some pamphlets and encouraged practitioners, "I support you. Please keep it up."
A man told practitioners he had previously heard about the harvesting of organs from living practitioners. "I was surprised and shocked to hear about it. Please tell me what I can do to help," he said. He signed a petition and said he would let more people know about this severe human rights violation.
Students: Why Did Our Chinese Classmates Attack Falun Dafa?
Three days into the exhibition, two students came by and asked, "We don't understand it. Our Chinese classmates attacked Falun Dafa and said it was very bad. They also told us that practitioners set themselves on fire. Is it true?"
A practitioner explained that when people practicing Falun Dafa outnumbered Communist Party members in 1999 (100 million vs. 70 million), Jiang Zemin, the head of the Party at the time, began a campaign to suppress Falun Dafa.
In addition to arresting, detaining, and torturing practitioners, the Party also started a nationwide propaganda campaign to incite public hatred toward Falun Dafa practitioners. One of the most infamous and widely broadcast lies was staged at Tiananmen Square in 2001, when hired actors posing as practitioners set themselves on fire.
"Thank you for telling us," one of the students said, "We'll tell the Chinese students to learn the facts and not be fooled by propaganda."
An English as a Second Language (ESL) instructor said he had had discussions with several Chinese students and realized they were confused about Falun Dafa. To find out what really happened, he asked questions, recorded the practitioner's answers, and said he would pass them on to his Chinese students.
Changes in Chinese Students
When two Chinese students talked with a practitioner, one of them said he found out about the persecution when he was in South Korea a year earlier and that his father had actually quit the CCP. The other student initially repeated Party propaganda but soon changed her attitude after learning about the persecution, especially the crime of harvesting organs from living practitioners.
A graduate student stopped by and asked many provocative questions. Practitioner Yu told him about the mind and body benefits of Falun Dafa, its popularity in China in earlier years, and the events that took place after the persecution started in July 1999.
Seeing that the student was still skeptical, Yu shared her personal story: "My younger brother and his wife are both practitioners. He was sentenced to 15 years in prison, and she was sentenced to 11 years. And this was what happened to just two people in one family out of 100 million practitioners."
"I understand it now," the student said, "I believe you." He asked Yu to help him quit Communist Party organizations and teach him the exercises.
The exhibition was well supported by the university. Security officers were on hand to prevent potential harassment from Chinese consulate agents or students acting on Party propaganda.
After learning what had happened, some Chinese students said they would tell their parents about it in hopes that they would quit the CCP organizations, too. One student from Wuhan, Hubei Province, was touched by the photo exhibition: "Everyone has the right to express his or her ideas. You have my support."