G20: Chinese Mainland Influence on NSW Police Shocks Protesters
[Note from FOFG editor: Overall, the protests by Falun Gong practitioners went well in Australia.  Please also see our next post: Australia and New Zealand: Hired "Welcomers" Fail to Block Falun Gong Protests During Chinese Leader's Visit]
By Shar Adams, Epoch Times | November 26, 2014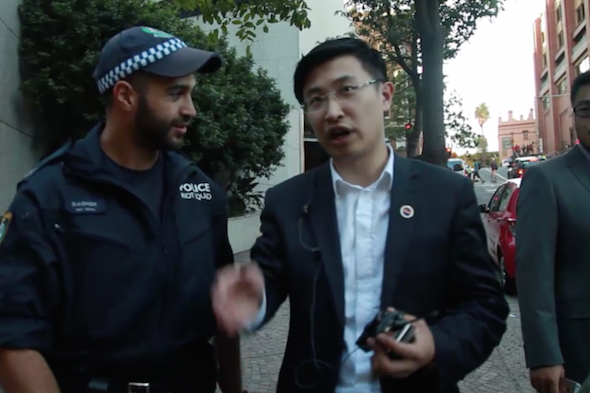 SYDNEY—Australians exercising their right to peacefully protest during Chinese leader Xi Jinping's trip to Sydney, Nov 18-19, say they were shocked to see New South Wales police do the bidding of Chinese authorities and stop people from protesting.
Luke Hughes and two friends were sitting in a park in Sydney near the Four Seasons Hotel where the Chinese leader was staying, when they were approached by police and told to leave the area. When asked why, the police indicated that it was because they were wearing yellow jackets of the exercise and meditation practice, Falun Gong.
"The police gave us a 'move on' direction and warned us that if we failed to comply it would be an offence. We questioned whether they could actually do that as we weren't doing anything wrong," Mr Hughes said.
"After some discussion the police officers agreed they had no grounds to move us on, however the orders had come from higher up. They requested we take the yellow jackets off instead."
Mr Hughes said police in the area were being directed by Chinese men in suits wearing red badges.
"It was shocking; they asked us to leave for wearing yellow jackets!" he said.
Mr Hughes was among a number of practitioners who were pushed and shoved by Chinese mainland supporters as they held banners along George St and opposite the Four Seasons Hotel during Xi's visit to Sydney after the G20 Leaders Summit in Brisbane. Falun Gong adherents abide by the principals of truthfulness, compassion and tolerance and are brutally persecuted in China for their beliefs.
Witnesses say that Chinese mainland-orchestrated crowds in Sydney did everything they could to pull the Falun Gong banners down or cover them with a sea of red.
John Deller, a spokesperson for the NSW Falun Dafa Association, said he was standing in an area approved by police when suddenly there was a lot of pushing and shoving by a bunch of "very aggressive" Chinese people carrying red flags. Mr Deller, a tall man, grabbed the middle of a banner to keep it upright as they tried to pull it down.
Mr Deller says that in the melee, a flag was wrapped around his waist and he was pulled backwards over a steel bollard. Then, as he strained to maintain his position, the jostlers let go of the flag catapulting him forward and making it look like he was causing trouble just before riot police arrived, Mr Deller explained.
He says a fellow practitioner heard one of his attackers say in Chinese: "Push them out now." Suddenly, the riot police arrived, but instead of stopping the sea of red flagged Chinese, the police told the Falun Gong practitioners to move on.
"They weren't pushing the red people at all, they were following directions from the Chinese guy and another lady," he said. "I was shocked at what appeared to be manipulation and direction by Chinese officials. It was very disappointing."
Members of the public were also upset. One woman, recorded on video, witnessed what was happening and quietly stepped up to defend the rights of the Falun Gong practitioners to protest. In the video, she was screamed at by a Chinese authority and told to go home. "I am home!" the woman says, appearing shocked to be spoken to like that in her own country.
In a response to questions about those events, New South Wales police issued the following statement: "The NSW Police Force respects the rights of individuals or groups to protest or express their opinions in a lawful manner. Should any individual believe they have been the victim of a crime, they can and should report the matter immediately to police."
Lucy Zhao, spokesperson for the Australian Falun Dafa Association, said rather than allowing the Falun Gong practitioners to express their opinions lawfully, the police threatened to arrest people for wearing yellow shirts. She was concerned that aggressive "red" groups were allowed to jostle and push around Falun Gong practitioners without reprimand, while the peacefully protesting practitioners were asked to leave.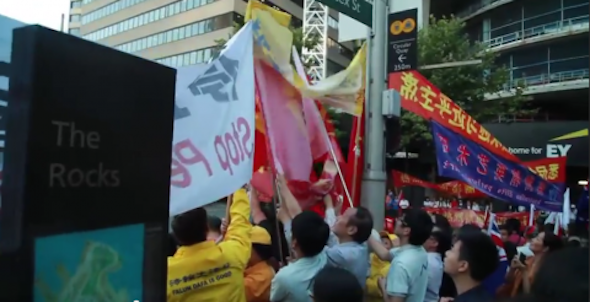 In some cases, the groups became so aggressive two female practitioners were pushed to the ground, one lady nearly falling in front of a bus. The two have filed official complaints to the police, Ms Zhao said.
Mainland-born Ms Zhao said Falun Gong practitioners had not come out to protest against Mr Xi's visit, but rather to request three things: that the persecution of Falun Gong in China stop; that forced organ harvesting, particularly from practitioners, cease; and that the main protagonists of the persecution against Falun Gong, especially former Chinese leader Jiang Zemin, be held to account for their crimes against humanity.
"We just want to send a very clear message to Xi—we are not opposing him, not opposing China, we want to stop the persecution and for the perpetrators be brought to justice," she said.
Ms Zhao said it was a common tactic of the Chinese Communist Party to send in thugs to shut down protests or to make it look like protesters are stirring up trouble. The behaviour was clearly evident in the recent demonstration in Hong Kong, she said, but it was the first time she had seen it in Australia.
"It is compromising Australian values," Ms Zhao said. "I hope the suppression of freedom in China is not exported and does not start to change this society in a subtle way before we realise it."