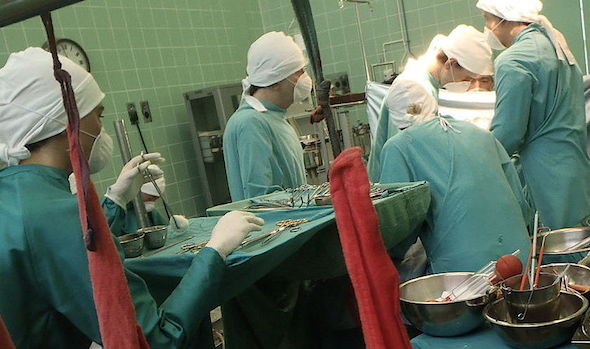 World should be skeptical of China's announcement to end organ harvesting from executed prisoners
.
WASHINGTON, Dec. 5, 2014 — Just days before International Human Rights Day on Dec. 10th, the news that the People's Republic of China will end its internationally-condemned practice of harvesting organs from prisoners by 1 January 2015 is hardly credible given the government's long history of breaking similar promises, according to the global humanitarian watchdog group Doctors Against Forced Organ Harvesting.
There is no indication that China, under the current circumstances, will be able to live up to its latest promise, which was reported Thursday in state media. The Chinese Medical Association first made this promise in 2007, a year before the Olympic Games were held in Beijing. Multiple plans to end the inhumane practice that harvests and allocates organs in secrecy—which is disproportionately aimed at political prisoners, and members of ethnic and religious minorities like the Falun Gong—have followed ever since, all of them unfulfilled.
The new policy is more likely the latest attempt by the Chinese government to stifle the growing international outcry against the practice. The Canadian Parliament's International Subcommittee on Human Rights recently passed a resolution condemning forced organ harvesting in China, and a similar bill, H.Res.281, is now pending in the U.S. Congress having reached 245 cosponsors, drawing broad support from both the Democratic and Republican parties.
The Chinese government's claim is especially difficult to accept given the logistics of organ donation in China. With an average voluntary donation rate of only 0.6 per million, China is not in the position to meet the demand for organs. Even this year's purported 1,500 voluntary donors are not enough to supply organs for its 10,000 transplants. And, the organ donation practices are murky: the Red Cross Society of China—not affiliated with the International Red Cross—is mobilizing organ donors by paying 100,000 RMB ($16,000), a practice that violates 3 of the 11 Guiding Principles of the World Health Organization (WHO). In 2013, one of China's organ donation coordinators threatened to remove a critically injured patient's breathing machine if the family refused to donate his organs if he died.
China has also attempted to bluff the international community in the past, first, in 2001, by denying the practice even took place, and then through its non-transparent China Organ Transplant Response System (COTRS). This March, a Chinese official spoke of "voluntary organ donations by executed prisoners" and the intention to enter their organs into COTRS along with regular citizens. They redefine death-row candidates as citizens who have the right to "voluntarily donate" their organs. However, this is in violation of international ethical standards for organ transplantation as prisoners are deprived of their freedom and not free of coercion, and therefore unable to give free, voluntary consent.
After years of repeated, but unfulfilled announcements, the international community cannot simply take China's word at face value. To be meaningful, a genuine, transparent verification process needs to include the following:
China must acknowledge that not only executed prisoners but also prisoners of conscience are subject to forced organ harvesting.
China must provide transparent access to its organ procurement pathways to guarantee that living prisoners of conscience are NOT forcibly enrolled in a "voluntary" organ donation system.
The widespread use of medical exams among forced labor camp workers remains a source of concern and commands transparent investigation.
International inspectors must be able to verify that the practices in China align with international ethical standards.
Contact:
Dr. Damon Noto
Spokesman DAFOH
Tel.: 917-861-7133
Email: Damon.Noto@dafoh.org