China Falun Gong Trial Lawyer Hits Out at Police Security Cordon
December 17, 2014
Authorities in the northeastern province of Heilongjiang on Wednesday put on trial four members of the banned Falun Gong spiritual movement, which the ruling Chinese Communist Party has designated an "evil cult," amid tight security that also targeted their defense lawyers.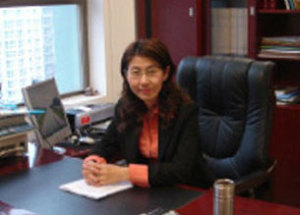 Shi Mengwen, Meng Fanli, Wang Yanxin and Li Guifang stood trial at a court in Heilongjiang's Jiansanjiang city, close to the Russian border, for "using an evil cult to undermine law enforcement," defense attorney Wang Yu told RFA.
But the trial was dogged by tight security measures and procedural issues all day, with Wang's journey to the courtroom fraught with delays and repeated security checks, she said.
"There were several checkpoints at which they checked our ID cards, but this was completely unnecessary," Wang said. "They did it deliberately, just to make the lawyers' job more difficult."
"Perhaps they wanted to prevent the lawyers from getting to the courtroom at all, or perhaps they wanted to humiliate us."
"But the biggest problem with the trial was that when the lawyers brought up some illegal procedures, they were ignored," Wang said.
Security around the courtroom was very tight, with police reinforcements drawn from the countryside around Jiansanjiang guarding the area, eyewitnesses said.
Some of the defendants' supporters who tried to attend the trial were detained, one of them told RFA.
"They didn't have enough police officers, so they brought in police from surrounding farm areas," said Pan Shurong, a former inmate of a Jiansanjiang unofficial detention center, or "black jail."
"It's not just police vehicles there; there are a lot of civilian vehicles including sedans and minibuses, and the police are hiding in those," she said.
"They are patrolling the streets, checking ID cards; if a person's ID card isn't on the list, then they detain them," Pan said, adding that she had seen two women detained near the court building.
"There were about six or seven police, and they treated them very roughly, shoving them into a police car," she said. "They were cruel."
Pan said she had tried to attend the trial without success.
"All of the intersections have checkpoints right now … and traffic can't get through; they're all sealed off," Pan said, speaking from an upstairs window near the court buildings.
"The police are driving minibuses around, detaining people … there are patrols driving around," she said.
Rights lawyers
In March, authorities in Jiansanjiang detained four prominent rights lawyers who traveled to the city to investigate claims that the Falun Gong practitioners were being held illegally in a "black jail," or extrajudicial detention center.
They were detained for more than two weeks before being released, with two of them detailing extreme physical abuse while in detention and a third describing torture while in custody.
Tang Jitian, Wang Cheng, and Jiang Tianyong were released after serving 15-day administrative detentions on charges of "using cult activities to disturb social order" after they applied to visit the "black jail" where their clients were being held.
Tang and Wang Cheng described being handcuffed, hooded, strung up with rope by their hands, and beaten while held in the Daxing public security sub-bureau.
Tang, who was tortured after refusing to sign a police report, had a tooth knocked out and also has several fractured ribs, overseas rights groups reported.
Wang Cheng was hit in the chest, legs, and back with a police baton, while Jiang, who has been charged with "possession of state secrets" and released on bail to await trial, suffered bruises and soft tissue injuries.
Wang Yu said that, so far, the authorities hadn't made any attempt to detain her, although she is being watched and followed.
"There are plainclothes police officers watching my hotel, and they were following me all the way after I left court today," she said. "Last night, nobody searched my room, but that doesn't mean they won't over the next few days," she said.
She said the defense lawyers on the case were sticking close together and checking up on each others' safety during the trial.
Disputes
Most of Wednesday's trial was taken up with procedural disputes after lawyers took issue with what they said were "illegal" procedures, Wang added.
"There were a lot of disputes about procedural matters … including whether or not the procedures they were following were legal, and … arrangements for witnesses to enter the courtroom," Wang said.
"But the judges wouldn't take the lawyers' opinions into account, and they forcibly began the trial."
She said some "very serious problems" remained, however.
"The indictment wasn't legally drawn up. The indictment the prosecutor read out in court wasn't the same as the indictment that the defendants and the defense attorneys had been given, and the evidence that it referred to was different from the evidence that we had access to."
All four defendants pleaded "not guilty" to the charges at the trial, which is set to continue, she said.
Reported by Yang Fan for RFA's Mandarin Service, and by Wen Yuqing for the Cantonese Service. Translated and written in English by Luisetta Mudie.