New Xinyi chief applauded for arrest of activists
By Chi-hao James Lo, March 7, 2014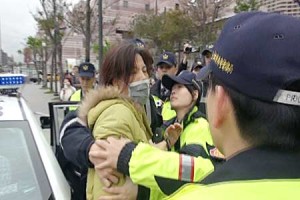 TAIPEI, Taiwan — Taipei's newly appointed –inyi District police precinct chief Wu Jing-tian (吳敬田) yesterday made a striking first impression to citizens by ordering the arrest of several pro-unification Concentric Patriotic Association of the R.O.C. (CPAROC, 愛國同心會) members as his first official command.
After formally assuming his post the day before, Wu reportedly increased the security around Taipei 101 to prevent the CPAROC from harassing Falun Gong practitioners, as the organization has been known to do.
At around 3 p.m. yesterday, three CPAROC members, including the organization's most outspoken and prominent public member Zhang –iuye (張秀葉), were arrested by officers for obstruction of justice.
Prior to taking his current office, Wu had publicly told press that he will fully commit to his appointed position and uphold the law, even toward the members of the infamous organization.
The CPAROC have been known to constantly conduct protests in small numbers at a designated spot within the premises of the Taipei 101 building. Though few in number during their appearances, the CPAROC usually make their way into national news due to their violent acts toward Falun Gong practitioners, as well as verbal abuse toward those who disagree with them. Certain members of the CPAROC have also been caught being physically and verbally violent toward the police.
Most recently, the organization caught the attention of local media again when Taipei Mayor Ko Wen-je (柯文哲) openly warned former –inyi police chief Lee Te-wei (李德威) of the latter's potential removal should violent acts from the CPAROC be caught on camera again.
As such, Wu's order to arrest the three members yesterday has been speculated to be an act aimed at impressing the mayor.
CPAROC Arrest Generally Praised
The arrest also marked the first time members of the organization have been arrested following a prolonged period of widely condemned demonstrations.
Reportedly, the three members were first warned by police that they were breaking parking regulations. However, following violent retaliation, Zhang and her fellow members were arrested by police officers from the –inyi precinct.
Though the arrest came with various theories regarding the new precinct chief and the mayor, the act was widely received positively by Taipei citizens and netizens alike.
While no passersby stopped by to help or support any of the CPAROC members, netizens flooded various forums proclaiming Wu's superiority over his predecessor. Netizens also said that Wu is a very just chief for finally apprehending a menace that has been bringing shame to the public image of Taipei for years.