Taipei: Thugs Arrested after Attacking Falun Gong Practitioners and Police
March 10, 2015 | By Zheng Yuyan
(Minghui.org) While the Chinese Communist Party (CCP) violently suppresses Falun Gong in mainland China, it also colludes with overseas groups to harass Falun Gong practitioners.
The Concentric Patriotism Association, a Taiwanese political group founded in 1993, has attacked peaceful Falun Gong practitioners and intimidated other residents in numerous incidents.
Three of its members were arrested in front of the Taipei 101 skyscraper on the afternoon of March 6, 2015. The arrested included Zhang Xiuye, Gao Shumei, and Yu Gangsheng.
After interrogation, Zhang and Yu were taken to the Taipei Prosecutors Office for humiliating and physically attacking police officers, as well as obstructing public activities. Gao was charged with disrupting social order.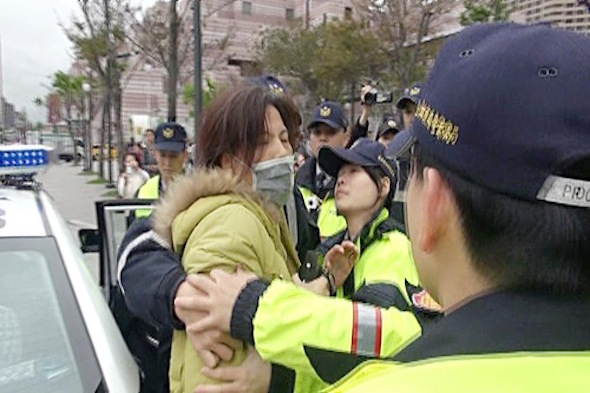 Although claiming to be a pro-Taiwan group, members of the association often publicly wave the PRC flag and voice support for the communist regime. They have verbally abused, threatened, and even violently attacked Falun Gong practitioners, as well as passersby.
When Ms. Tsai was touring Taipei 101 with her child on October 27, 2014, two association members (Zhang and Xiao Qin) struck and injured her. She was examined at a clinic and filed a police report later that day. She went to the Taipei Prosecutors Office the next day and pressed charges against Zhang and Xiao.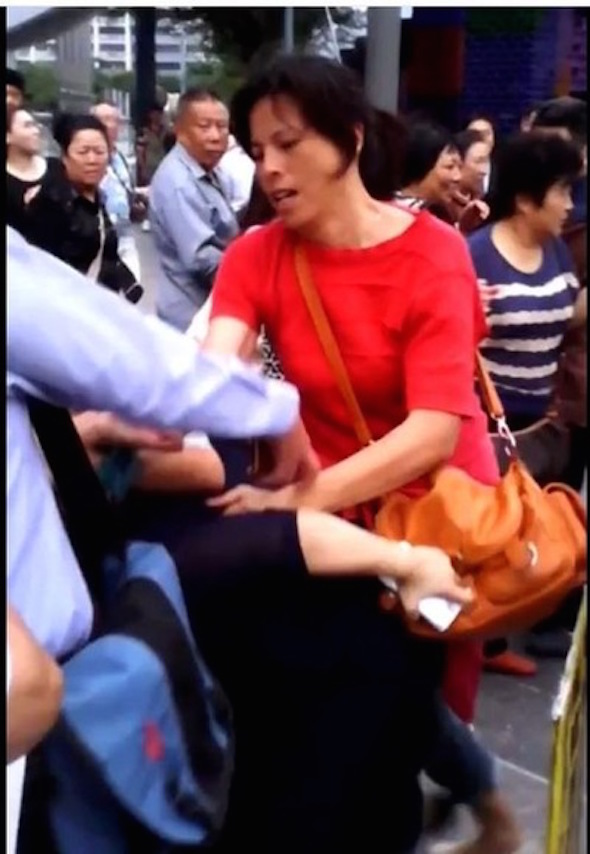 To protect peaceful Falun Gong practitioners, Taipei's newly elected mayor, Dr. Ko Wen-je, said to police chief of the Xinyi District during his inauguration on December 25, 2014, "If Falun Gong practitioners are assaulted again, I will replace you [the police chief]."
Despite the mayor's warning, Zhang and others continued to harass Falun Gong practitioners. Zhang boasted in front of Taipei 101 on January 19, 2015, "I'm a thug sent by the CCP. So what?!"
Kicking a police officer, Zhang said, "The new mayor promised to replace the police chief. Let me tell you—that won't work!"
Businessman Shen Po-sheng and about 60 residents went to Taipei 101 on January 31 to show their support for Falun Gong practitioners. One resident posted online: "From the Concentric Patriotism Association, I saw how harmful the CCP is. If we do not support you today, we will regret it tomorrow."
No association members were seen near Taipei 101 that day.
After the police chief retired on February 1, his position was filled by Wu Jing-tian on March 5, 2015. Wu went to Taipei 101 that afternoon and inspected the site.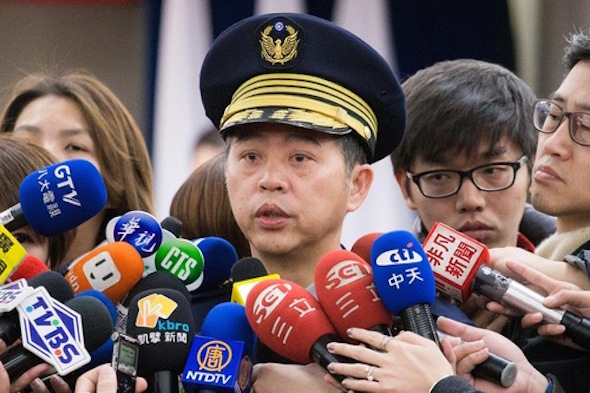 The next day, one association member stopped his van in a no-stopping zone, ignored a police officer's warning, and began to unload. The police officer issued a ticket and called for the vehicle to be towed. Zhang and other association members swore at the the female officer and attacked her with their elbows.
Numerous news media reported the arrest of Zhang and other association members, including Central News Agency, Liberty Times, United Daily News, Apple Daily, Next TV, FTV, and CTI TV. The arrest drew praise from the public: "The troublemakers are finally being held responsible," one person said. "The innocent should always be protected. This news made my day!"