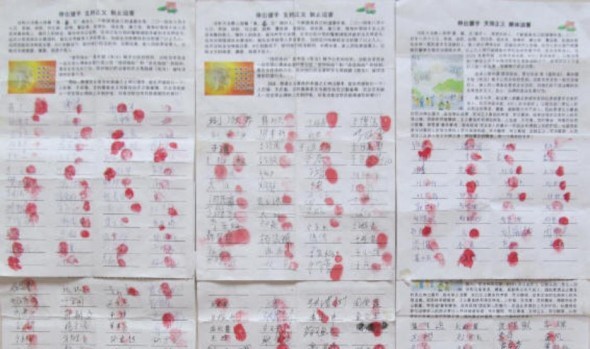 2,403 People Sign Petition Calling for Release of Nine Falun Gong Practitioners
[Photo caption: Supporters of Falun Gong sign petition]
April 21, 2015 |   By a Minghui correspondent from Hebei Province, China
Nine of the 42 Falun Gong practitioners arrested in Cangzhou, Hebei Province, last August remain detained despite their lawyers' call for dismissal of their cases.
Many local residents in the practitioners' hometowns (Tianjin and neighboring Cangzhou) expressed their outrage at the Chinese Communist Party's persecution of innocent people for their belief in Falun Gong.
They showed their support by signing a petition initiated by local practitioners. So far, 2,403 people have signed the petition calling for the release of the nine practitioners that are still being detained. A total of 2,194 of those who signed also placed their fingerprints on the petition.
A police officer signed the petition without hesitation when urged by a practitioner to show his support.
Two brothers both signed, saying they were not afraid of the Chinese Communist Party.
A man asked why the 42 Falun Gong practitioners had been arrested in the first place. The practitioner collecting signatures explained that they were seized from a private home where they had been talking about following the Falun Dafa principles to become a better person.
The man signed the petition, saying, "Anyone who has a conscience should sign!"
The nine practitioners still in detention:
Ms. Liu Lixin (刘立新) and Ms. Zhao Xiang (赵翔) from the Wuqing District, Tianjin City;
Ms. Li Li (李丽), Ms. Kang Lanying (康兰英), Mr. Xu Kai (徐凯), Ms. Cao Yanxiang (曹延香), Mr. Hou Dongliang (侯东亮), Mr. Chang Shouxua (常寿轩) and Ms. Zhao Junru (赵俊如) from Cangzhou, Hebei Province.
Related Articles:
Forty-two Practitioners Arrested at Private Gathering in Cangzhou, Hebei Province
Lawyers Request Dismissal of Falun Gong Cases – Authorities Fail to Respond