[New Zealand Foreign Minister] Murray McCully criticised over Falun Gong warning
By Tess Nichol, May 6, 2015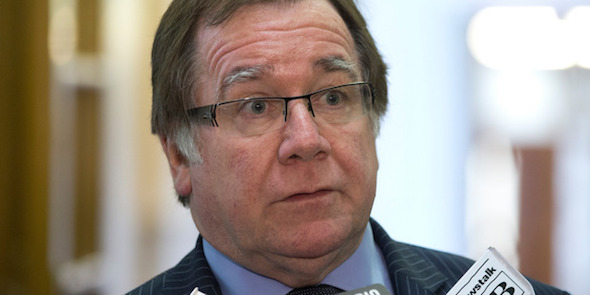 [Note from FOFG editor: This article is just one of many examples of how the Chinese Regime spreads it corruption and persecution to free countries.]
Foreign Minister Murray McCully is facing more criticism after his office sent instructions telling MPs not to attend an upcoming Falun Gong celebration to avoid upsetting the Chinese government.
The email was mistakenly sent to all Members of Parliament, instead of just National MPs.
Labour's foreign affairs spokesman David Shearer has been joined this morning by Greens MP Kennedy Graham in criticising McCully's office.
"I have a fundamental problem with the executive branch of Government … presuming to advise members of the national legislature what to do," Mr Graham said on Newstalk ZB.
In the email, Mr McCully's office noted that May 13 was World Falun Dafa Day and the office was aware of at least two celebrations for which MPs could receive invites.
"The Chinese Embassy is likely to monitor attendance at events and can be expected to protest officially should Ministers, Members of Parliament or other officials be present … Given the sensitivities of this event, [the Ministry of Foreign Affairs'] advice is Ministers and MPs should not attend World Falun Dafa Day events."
Mr Shearer said the request was disturbing given New Zealand's history defending free speech.
"It is outrageous to warn MPs off from attending events. It should not be dictated to by Murray McCully and his ministry because they feel it might upset another country."
The New Zealand Falun Dafa (Falun Gong) Association has also expressed concern over the email.
"The Chinese Communist Party has no right to tell elected Members of Parliament what they can attend.
"This is a free and democratic society, where elected Members of Parliament should be able to freely exercise their own decision making capacity."
Should New Zealand follow such instructions, it would be "in danger of becoming nothing more than a subservient colonial outpost of the Chinese Communist Party," the association said.