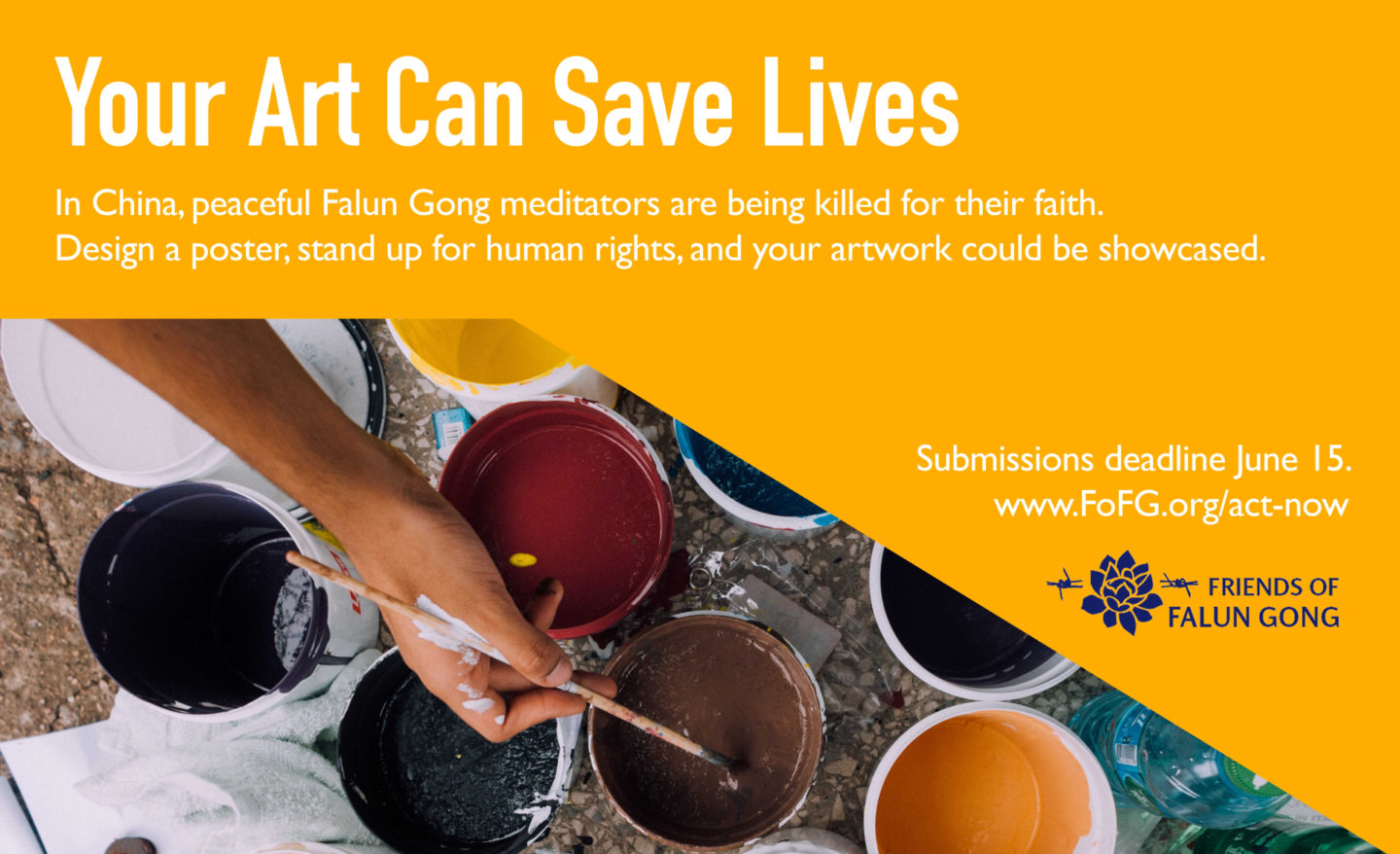 2016 Poster Competition
Update: Deadline extended until October 11, 2016!
What is this contest about?
This contest is a chance for students to get involved in advocating for one of the most pressing human rights issues of our time: The brutal persecution of the peaceful spiritual discipline of Falun Gong in China. Students will submit poster designs to be printed and showcased in Washington DC as part of events to raise awareness, and inspire people to speak out for humanity, to demand an end to this huge human rights violation.
Who can participate?
This competition is open to any student at a 2- or 4-year college or university. Arts and design background is not a requirement.
Is there class credit?
You may ask your professors if your participation in this contest could fulfill an assignment requirement.
When is the deadline, where do I submit?
Deadline is October 11, 2016. Please submit your PDF file to competition@fofg.org
What size and specification should my poster be?
We require an 11×17 inch file. The design's orientation should be vertical. Color profile RGB; file format PDF.
How are winners selected?
Winners will be selected by a jury of judges from Friends of Falun Gong (FoFG). The winning designs will clearly and effectively depict and raise awareness about the persecution, champion freedom of belief, and demonstrate a fair degree of understanding of Falun Gong, coupled with excellence in design.
What are some resources I can use to learn about Falun Gong?
When and how will winners be notified?
This year we will have three winners. Winners will be announced to all participants via email by October 20, 2016.
Is there a prize?
Cash prizes are as follows:
First prize $1000
Second prize $350
Third prize $100
What happens if I am a winner?
If you are a winner you will be notified via email. A check will be mailed out to you according to the prize you receive. Following that, FoFG may work with you to refine your design and get it ready for print. Winning designs will need to be converted to CMYK.
How do I obtain photography needed for my design?
If you need Falun Gong related images, you may use ones from online searches. If your design is selected, we will help you contact websites to get high resolution image for final version.
Do I retain the copyright to my design?
Yes, the rights to your work will remain your own.
Can I submit multiple versions of my design, or multiple designs?
Yes.
Should I put my name on my design?
You may sign your work in legible type discreetly within the design.
Where will the winning designs be shown?
Copies of the poster will be showcased on materials and campaigns such as pamphlets, sign boards, and on the FoFG website. Depending on the format we may adapt the design to different sizes.
Can I attend the events?
The candlelight vigil, rally, parade, and press conferences are free and open to all, and will take place on and around the National Mall in Washington D.C., on July 14, 2016, beginning at noon. You may contact us for more details closer to the event date.