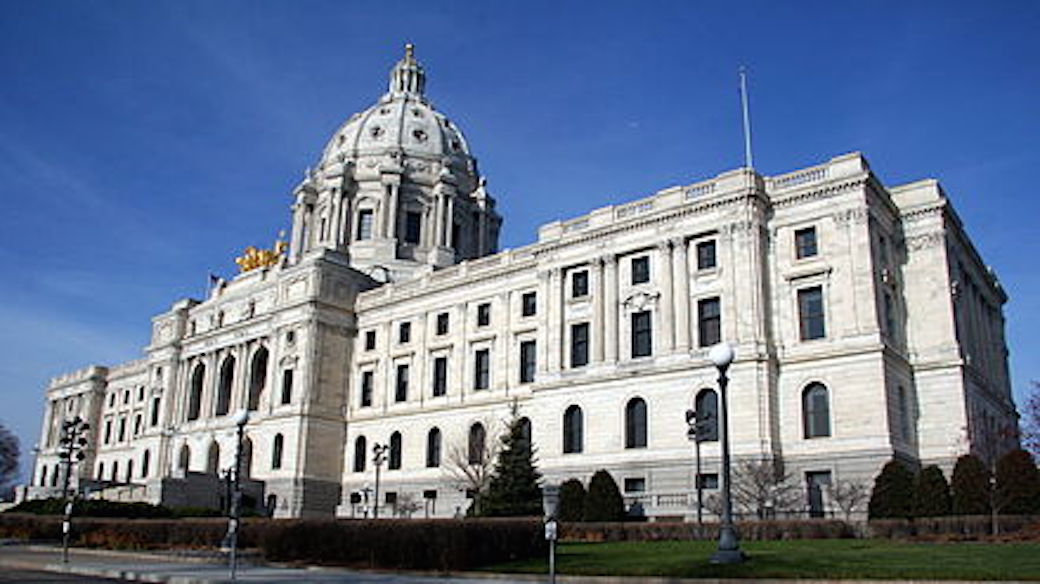 Chinese Consulate in Chicago Disseminates Hate Propaganda to Minnesota Legislators
[Photo caption: Minnesota State Capitol]
In April 2015, Representative Phyllis Kahn and Senator Alice Johnson introduced joint resolutions in the Minnesota House and Senate condemning China's practice of using prisoners of conscience as a live organ bank. Both resolutions express "… concern over persistent and credible reports of systematic, state-sanctioned, forced organ harvesting from nonconsenting prisoners of conscience, primarily from Falun Gong practitioners imprisoned for their spiritual beliefs, and members of other religious and ethnic minority groups in the People's Republic of China." The resolutions are HF 2166 and SF 2090, respectively.
Shortly after the introduction of the resolutions their chief authors and co-authors received a letter from the Chinese consulate in Chicago and kindly shared it with local Falun Gong practitioners. The letter, written on official consulate letterhead and stamped with consulate seal, simultaneously vilifies the practice of Falun Gong in a most extreme and libelous manner and falsely claims that China conducts its organ procurement and transplantation in strict accordance with World Health Organization standards.
In addition to sending the letter, members of the consulate spent several days visiting Minnesota state representatives and senators in an effort to dissuade them from supporting the resolutions. Instead of addressing the actual evidence of organ harvesting or allowing further investigation, the Chinese Communist Party (CCP) responded with hate propaganda in an attempt to deflect the issue.
The Chicago consulate's recent effort in Minnesota is not an isolated incident. Propaganda and deception have always been key ingredients in the ongoing persecution of Falun Gong and in the CCP's attempts to cover up its organ harvesting crimes from world scrutiny. According to the 2007 investigative report, "Bloody Harvest: Revised Report into Allegations of Organ Harvesting of Falun Gong Practitioners in China" (Kilgour/Matas), vilification from the CCP plays three roles: it incites hatred and persecution, it justifies persecution, and it deflects any opposition to the persecution of Falun Gong in China.
The above report also mentions how the Chinese consulates play a role in advancing the persecution of Falun Gong, stating that "incitement to hatred is most acute in China. But it exists worldwide. Chinese officials, wherever they are posted, engage in this incitement as part and parcel of their official duties. In Edmonton, Alberta, Canada, this behavior became the subject of a police recommendation for prosecution of two Chinese consular officials in Calgary for willful promotion of hatred against the Falun Gong." This behavior is now being directed at U.S legislators and citizens in the state of Minnesota.
Fortunately, Minnesota's legislators saw through the consulate's propaganda and both resolutions ended up gaining more attention and greater support. In addition, this incident highlights the importance of legislation that condemns China's organ harvesting. The CCP made efforts to deceive Minnesota's legislators because it fears exposure of its crimes. Such exposure is absolutely necessary because as more people become aware of the crime of forced organ harvesting, those responsible will inevitably face increasing opposition. This is an important step in ending the abuse.