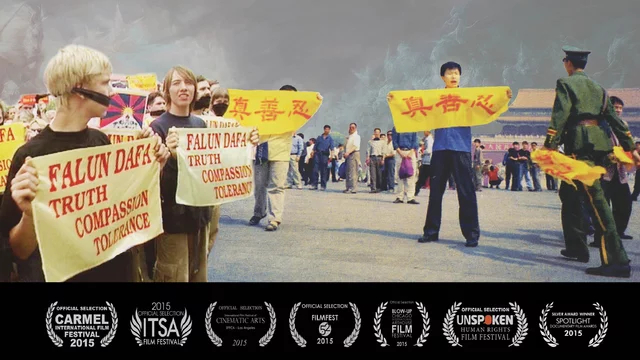 A Small Documentary About a Massive Persecution
By Larry Ong, Epoch Times | January 19, 2016
The Persecution of Falun Gong (ENGLISH) from SWOOP FILMS on YouTube.
A peaceful spiritual discipline becomes popular in China, and unwittingly incurs the wrath of the Chinese Communist Party. A suppression order is passed, and tens of millions of Chinese citizens suddenly find themselves the target of brainwashing, torture, forced labor, and even live organ harvesting.
The story of an under-reported persecution would astound and even move the average person in the street—if there was a way to fit over a decade's worth of hard facts and heartfelt personal testimonies into the smartphone swiping time of a daily commute or while waiting in line.
There hadn't been a short film made about the whole Falun Gong story before we started working on it, something people could watch during their coffee break, or in between meetings.
For two independent filmmakers, the solution was a no-brainer: produce a ten-minute documentary film.
Titled "The Persecution of Falun Gong," the film is available for viewing online in North America on Jan. 19. It has already been screened at several film festivals to positive, emotional reactions, picking up a number of awards along the way.
The two filmmakers, Mathias Magnason from Sweden and Paulio Shakespeare from New Zealand, met in New York in 2010 and worked on a number of projects together before deciding to collaborate on the short documentary.
The story of Falun Gong is "such an underrated story in media today, involving such a massive amount of people, broken families and lives" that Magnason, the director, "wasn't able to turn away from it," he said in a telephone interview.
"There hadn't been a short film made about the whole Falun Gong story before we started working on it, something people could watch during their coffee break, or in between meetings," he added. "The vast majority of people don't have time to sit down and watch a one hour documentary these days. So the idea of a shorter one came to the table."
The challenge of producing a believable, ten-minute long story that could give people an overview of the whole persecution spurred Magnason and producer Paulio Shakespeare, at least at the beginning. To achieve this, they based the documentary on interviews with actual eyewitnesses and survivors of the persecution, and incorporated grainy but authentic archival footage from China.
"We looked for people who had actual experiences from both when Falun Gong was introduced and spread in China, and later during the persecution," Magnason said. "We wanted it to be their story, not some 'expert.'"
When my family was torn apart, I felt inside, torn apart.
With an authoritative voice-over providing key facts and driving the tightly-woven narrative along, the mini-documentary breezes through in what feels like half its ten-minute duration.
Because the documentary was a side project for Magnason and Shakespeare—both have full time jobs and different schedules—piecing together the twenty-odd interviews and other footage into a coherent story proved a trying process.
"Once you find a pocket of time to work on the film, you have to refresh your mind with the content for several hours to get into pushing the story forward," said Shakespeare. And that might be the only time both filmmakers had "for another two weeks or a month" until their schedules matched again.
Getting interviews on camera was another challenge, since some persecuted Chinese Falun Gong practitioners in America were camera-shy, with good reason.
"There have been many incidents where Chinese Falun Gong practitioners living in the United States have been both threatened and physically abused for going public with their personal stories," and those with family in China didn't want to endanger them, Magnason said. "So potentially, that can still happen to anyone, as the persecution is still going on."
Still, the filmmakers managed to get about interviewing about 20 people all together—Western and Chinese Falun Gong practitioners, journalists, experts and the Falun Info Center. Fourteen of these made it into the film.
Doing the interviews and hearing the stories of persecution was a both moving experience and source of inspiration.
"From interviews we discovered that Falun Gong practitioners only had to sign a piece of paper saying they will 'stop practicing,' and the torture and abuse can stop right there and then. They would also be allowed to walk free from jail," said Shakespeare the producer.
"But because these people have experienced, what I would call health miracles, and profound spiritual changes, they don't want to go against their conscience and sign that paper."
For director Magnason, the interview with history professor He Haiying was particularly memorable. For practicing Falun Gong, He's mother, sister, and younger brother were arrested and put into prison or labor camps.
"Basically my family was just torn apart," said He Haiying in the film. "When my family was torn apart, I felt inside, torn apart."
Sometimes, the elements conspire to create seemingly fortuitous picturesque scenes.
A huge snow storm hit Manhattan when Shakespeare was filming labor camp survivor Hu Zhiming going about town. And there were icebergs floating in the Hudson River in a shot of Pan Qi, who was badly tortured at the infamous Masanjia labor camp. The icebergs helped "add to the coldness we were trying to reflect" from Qi Pan's experience, Shakespeare said.
After "The Persecution of Falun Gong" was completed in 2015, the filmmakers held private screenings on test audiences. "People would cry, they were touched by the story," Magnason recalled.
Heartened, they began submitting the piece to film festivals, where it picked up the Silver Award at the 2015 Spotlight Documentary Film Awards, and an Excellence in Directing Documentary Short Form at the 2015 International Cinematic Arts Film Festival in Los Angeles.
Magnason says that the purpose of creating the film is "to give all those people who don't have a habit of watching hour long documentaries a short overview or glimpse into one of our times' most catastrophic, yet silenced stories." He added: "It's one of the most important stories in the world right now."
Source