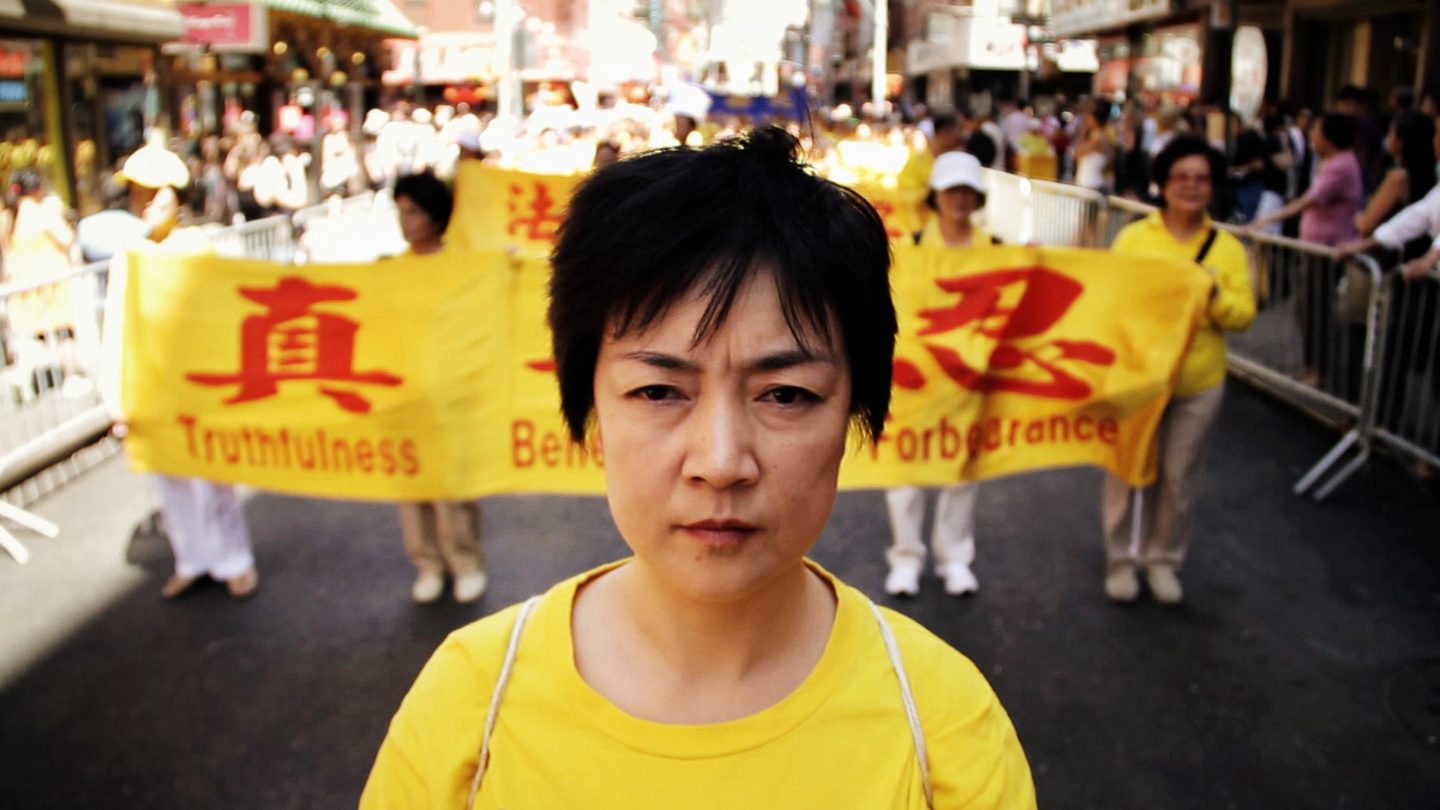 Directory of Films Related to Falun Gong
https://youtube.com/watch?v=UpqgSsH_1KY
"Free China: The Courage to Believe"
Documentary
New Tang Dynasty and Worldwide Productions, 2013
1hr, 1min
A mother and former Communist Party member, Jennifer Zeng, is imprisoned for her faith when Chinese police intercept her emails. A world away, Dr. Charles Lee, a Chinese American businessman, wanted to do his part to stop the persecution by attempting to broadcast uncensored information on state-controlled television — an effort that resulted in three years of re-education in a prison camp.
https://freechina.ntdtv.org/homepage/
"Avenues of Escape"
Documentary
Flying Cloud Productions, 2017
1hr, 5min
Amidst the decades-long Falun Gong persecution in communist China, three women must escape from prison and navigate the treacherous passageway through the Burmese jungle on their dangerous journey toward freedom.
Watch on YouTube or Amazon
"Hard to Believe"
Documentary
Swoop Films, 2016
56min
It's hard to believe that doctors would carve up innocent people so their organs could be sold. It's even harder to believe that major media are not investigating. Hard To Believe is a documentary that examines the issue of forced live organ harvesting from Chinese prisoners of conscience, and the response — or lack of it — around the world.
http://www.hardtobelievemovie.com/
"Human Harvest"
Documentary
Flying Cloud Productions, 2014
1hr, 12min
In the early 2000s, doctors around the world began to notice large numbers of their patients flying to China for organ transplants. An organ was typically ready within a week. It was rumored that hospitals were harvesting live prisoners for their organs, but could this actually be true? Nobel Peace Prize nominees David Matas and David Kilgour investigate the organ harvesting trade in China and uncover one of the world's worst crimes against humanity.
https://www.humanharvestmovie.com/
"Journey to Tiananmen"
Documentary
Legends Unfolding Films, 2017
56min
After the Chinese communist regime began persecuting Falun Gong, more than 30 Falun Gong practitioners from Western countries decided they had to act. Having never met each other before, they gathered on Tiananmen Square in Nov. 2001 to unfurl a banner with a simple, powerful message: that Falun Dafa is good.
https://journeytotiananmen.com/story.html
"Candlelight Across the Street"
Documentary
Legends Unfolding Films, 2017
1hr, 15min
For 14 years, practitioners have held a 24/7 candlelight vigil across the Chinese consulate in London. Using a small placard stand to gather petition signatures from passersby, they demonstrate immense fortitude and the power of a few individuals to move hearts, even as they face trouble from the persecution themselves.
https://legendsunfolding.com/
"Tian Guo Marching Band"
Documentary
Legends Unfolding Films
1hr, 15min
In 2005, Falun Gong practitioners established a Western-style marching band to participate in parades and public celebrations. Comprised almost entirely of amateur musicians, their performances have won the admiration of many, but not too many know their story.
https://legendsunfolding.com/
"The First Three"
Documentary
Legends Unfolding Films
46min
A man and his wife decide to sue the Chinese dictator and top cadres who launched the persecution against Falun Gong. Their efforts led to a groundswell of ordinary citizens taking China's top brass to court for human rights violations they personally experienced.
https://legendsunfolding.com/
"Ride, Ride, Ride to Freedom"
Documentary
Legends Unfolding Films
51min
A group of teenagers ride their bicycles from Los Angeles to Washington D.C. to raise awareness about orphans who have lost their parents due to the persecution of Falun Gong.
https://legendsunfolding.com/
"In the Name of Confucius"
TV Documentary
Mark Media, 2017
52min
After one unassuming Chinese language teacher defected and spoke up against the Chinese government's multi-billion-dollar Confucius Institute (CI) program, one of Canada's top 10 universities and its largest school board found themselves embroiled in a growing global controversy as scholars, parents, and officials question the CI program's political influence and true purpose.
https://www.inthenameofconfucius.com/
"Aftermath of the Gunshot"
Documentary
Legends Unfolding Films
30min
Top Chinese officials heavily involved in the brutal crackdown visit South Africa on diplomatic business. Falun Gong practitioners use the opportunity to sue them for crimes against humanity. But, while on the road, a hired gunman fires at the practitioners' vehicle with a high-velocity weapon, wounding the driver.
https://legendsunfolding.com/
"A Long Way Home"
Documentary
Legends Unfolding Films
28min
Two sisters, one in Finland and the other in Mainland China, attempt a rescue of their mother, who was unjustly arrested for her faith in Falun Gong. But in doing so, they themselves are endangered.
"Plum Blossoms in the Snow"
Documentary
Legends Unfolding Films
25min
Two extraordinary career women, one an actress and the other a web entrepreneur, meet in the unlikeliest of places: as prisoners in a Chinese women's labor camp. Together, they witnessed the most torturous events of an era and lived to tell the story.
https://legendsunfolding.com/
"Letter from Masanjia"
Documentary/ Biography
Flying Cloud Productions, 2018
1hr, 15min
An Oregon woman finds an SOS message from a Chinese dissident in a package of Halloween decorations from Kmart, setting off a chain of events that would shut down the entire labor camp system in China. For over a year, Sun Yi, the SOS writer, details his entire story on film as he revisits his torturous past at Masanjia and is hotly pursued by authorities. Secret-camera footage and harrowing glimpses of his personal life offer a rare look inside China's terrifying police state through the lens of a political dissident, showing us a true modern hero who will stop at nothing to expose the truth.
https://www.letterfrommasanjia.com/
"Split by the State"
Documentary, Short
Shakespeare, 2017
5min
A young Australian's father is locked up in China's notorious prison system, where he is brutally tortured and abused in solitary confinement. His only 'crime' being his faith in Falun Gong. The news that Australia's Prime Minister will visit China offers Eric hope, and he pleads for government intervention in his father's case. After 15 years apart, will they finally reunite?
https://www.splitbythestate.org/
"Jiang Zemin's Bloody Genocide Against Falun Gong"
Documentary, Short
Alexander Nilsen, 2017
5min
A short film shot over a 12-hour period in Sydney's central business district on July 20, 2015 — the sixteenth anniversary of the beginning of the persecution. It documents some of the activism done to raise awareness.
"Badass Beauty Queen"
Documentary
Full Stride Films, 2018
1hr, 5min
Canadian actress Anastasia Lin entered the Miss World competition to publicly advocate for human rights in her native country of China. She won the title of Miss World Canada 2015, but the celebration quickly took a turn when Chinese authorities realized what the beauty queen's message to fans was.
https://badassbeautyqueen.film/
"The Bleeding Edge"
Thriller
Flying Cloud Productions, 2016
1hr, 28min
In the early 2000s, the increasing spread of information technology was fast becoming a perceived threat to the Chinese communist regime. Western technology companies were paid large sums to develop a high-profile project dubbed "The Golden Shield Project," aimed to censor and restrict internet access as well as monitor the activities of Chinese citizens. When a young Western tech executive based in China suffers from heart failure on the job, he receives a heart transplant from an unknown donor. Once he discovers the horrific truth behind his operation, he must risk his life to help save the next victims and find redemption.
https://thebleedingedgemovie.com/
"Reunion"
Thriller, Short
Flying Cloud Productions, 2018
20min
During a violent suppression of dissidents in present-day China, a respected police officer finds that the love of his life has evidence proving the government has been committing heinous, large-scale crimes. While trying to protect her from his bloody-minded superiors, he might have led them right to her.
https://www.filmsforfreedom.com/reunion/
"Ravage"
Sci-Fi/Horror, Short
Flying Cloud Productions, 2017
8min
In a mysterious red room, a young Chinese mother must choose between her heart and her soul when she falls into the clutches of a sadistic doctor. Based on an eyewitness testimony, Ravage delves into the dark reality of China's murderous human rights record and reveals an unthinkable crime.