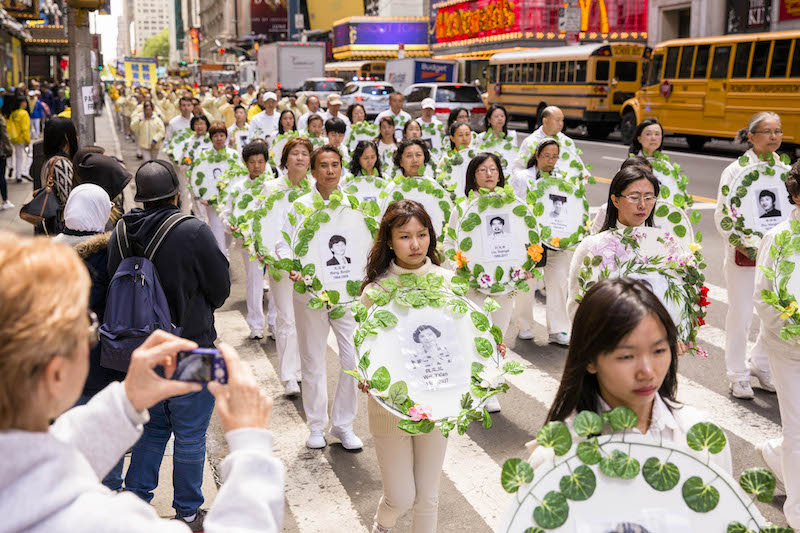 10,000 Falun Gong and Friends Gather in NYC for Celebration, Solidarity
The weekend of May 13 marked the 25th anniversary of Falun Gong's public teaching. To celebrate, 10,000 Falun Gong practitioners and their friends gathered in New York City for a weekend of rallies, a grand parade, and group meditations in parks and public squares.
The Chinese meditation practice was first brought to public in 1992 by Master Li Hongzhi. Because of its central tenets of truthfulness, compassion, and tolerance and health benefits, the practice quickly gained more than 100 million followers. Throughout the mid nineties, the Chinese state media spoke proudly of China's most popular qigong phenomenon.
But in 1999, the winds changed suddenly. Out of jealousy and paranoia, the head of China's communist party launched a nationwide persecution of Falun Gong practitioners, which it justified with falsified reports meant to make the practice appear dangerous in the eyes of the public. Eighteen years have passed while Falun Gong practitioners in China live in constant fear of being taken into secret custody, and possibly losing their lives to torture in prison.
Meanwhile, the meditation practice continued to spread worldwide, with practitioners in over 70 countries. May 13 was named World Falun Dafa Day and each year, public officials around the world issue proclamations recognizing the practice's positive effects on its practitioners, and the community's efforts to stop the persecution in China. 
Six thousand gathered on Friday morning outside the United Nations for a rally. Speakers included Miss World Canada 2015 Anastasia Lin and Friends of Falun Gong Executive Director Alan Adler.
"In the future people will look back with awe and admiration to the Falun Gong practitioners who remained true to their faith in the face of persecution," said Adler. "Protecting the rights of people to learn about and practice Falun Gong is a deeply American concern. Our founding fathers built this country on fundamental freedoms. We cannot sit idly by as we witness such a cruel act against innocent people."
Following the rally was a grand parade across Manhattan on 42nd Street. Participants wore colorful costumes from their native countries, and performed traditional Chinese drums. Many held banners calling for the end of the persecution. The spectacle sparked a lot of interest among New Yorkers and tourists, many of whom learned about it for the first time.
James Blake, a counselor at the City University of New York told the Epoch Times,
"You don't hear about this in the news. There isn't a daily briefing on CNN or anything like that." 
Blake added: "I think it's a very powerful parade in many respects, it certainly sends a message about what's happening to people outside of this country."
Images by Epoch Times and Friends of Falun Gong