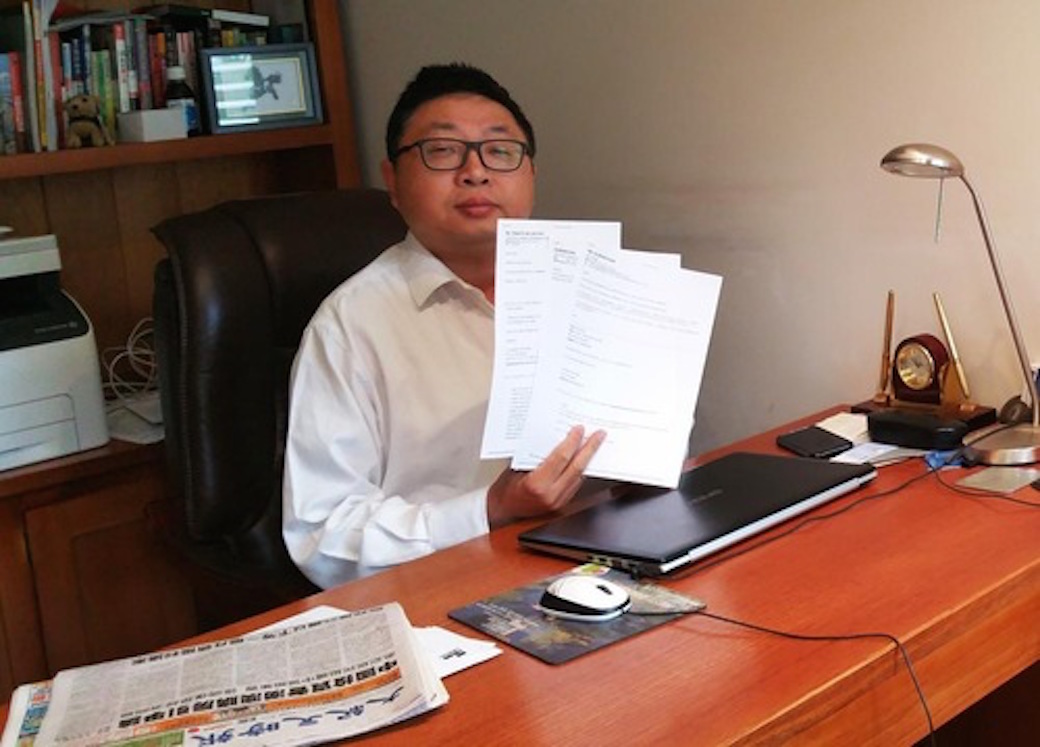 Australia: Communist Spies Posing as Falun Dafa Practitioners Send Malicious Emails to Elected Officials
By Minghui correspondent Li Zheng
(Minghui.org) John Hugh and James Shaw, two City Councillors for the City of Parramatta, Australia, recently received malicious emails from Chinese communist spies posing as Falun Dafa practitioners. The first email invited the councillors to events. But later emails sent to the councilors were threatening and even used derogatory language.
Lucy Zhao, president of the Falun Dafa Association of Australia, assured the Councillors that these emails were not from Falun Dafa practitioners. In a letter sent to Members of Parliament and City Councilors, she wrote, "These fraudulent emails are part of a broad campaign of misinformation, cyber-attacks and online espionage carried out by Chinese agents against Falun Dafa practitioners outside China. We encourage those who might come into contact with such messages to be on their guard and immediately alert us to check the authenticity of the information."
Ms. Zhao recommended that recipients of these kinds emails provide a copy to the Falun Dafa Association, so that this issue can be brought to the attention of the Australian Federal Police. "We are gathering further evidence for an investigation to stop this attack on Australians in Australia," she said.
Similar emails were also received by MPs in Canada and New Zealand at about the same time.
This isn't the first time that something like this has happened. During a rally on October 4, 2014 in support of 179 million Chinese people who quit the Chinese Communist Party (CCP) and its affiliated organizations, Parramatta City Councillor Andrew Wilson exposed defamatory emails he received that aimed to slander Falun Dafa.
"This Email Reveals Your True Identity"
City Councilor James Shaw said, "I received an e-mail inviting me to an event. The date of this e-mail was April 22, 2015. Later on the day of April 22, 2015, I received an e-mail from Ms. Wong of the Falun Gong organization that informed me these e-mails were not from Falun Gong and did not give the correct time for an event. I can only assume that this [earlier] e-mail was sent to make Falun Gong look unreliable."
But that was not the end of it. On May 15, 2015, Mr. Shaw received another e-mail entitled "Elimination" from someone calling themselves Andrew Tang. "The e-mail addressed me as 'Stupid' and informed me that I will be eliminated." Assuming that this email was meant to undermine Falun Dafa, he forwarded it to Ms. Wong, who confirmed that the email was sent with a falsified identity.
"It disappoints me that people would misrepresent Falun Gong in this fashion. I can only assume that those doing so are opponents of their campaign," wrote Mr. Shaw.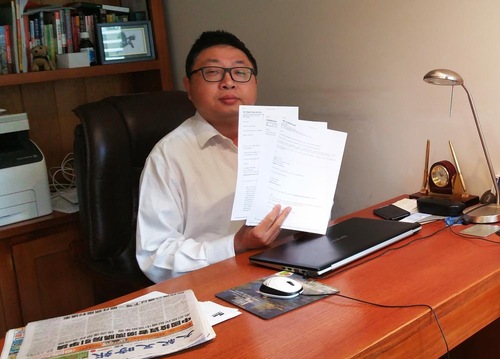 City Councilor John Hugh showing a printout of derogatory emails he received.
City Councilor John Hugh also received an email on April 22 inviting him to a candlelight vigil to commemorate Falun Dafa practitioners killed in the persecution. Mr. Hugh replied that he wouldn't be able to attend. The email sender, calling herself Amanda Chin Num, then asked for a congratulatory letter.
The request of a congratulatory letter for a candlelight vigil made Mr. Hugh suspicious. He confirmed this with Ms. Zhao, who said that there was no such event planned. Since no local practitioners knew of someone named Amanda, Mr. Hugh asked "Amanda" to reveal her true identity. The email sender then claimed she was from Taiwan, but refused to offer any contact information.
The last email Mr. Hugh received from "Amanda" was on May 15: "STUPID! You've missed the 16th World Falun Dafa Day celebration party, the last chance for you to be saved. Waiting for you will be a THOROUGH ELIMINATION!"
Knowing she was a CCP agent, Mr. Hugh replied without hesitation, "This email reveals your true identity – you are a communist spy! Go to hell yourself and your Party!"
He has not heard back from the sender since then.
Mr. Hugh said that very few people are now willing to work for the Party, let alone act as spies, given the broad exposure of the CCP's crimes committed against the Chinese nation. Over 200 million people have withdrawn from the CCP and its affiliated organizations. With such a huge number of withdrawals, Mr. Hugh speculates that the Party can only recruit people like this email sender, who do not have a clear conscience or know what he or she is doing.
"Many Emails Have Been Tracked Back to Mainland China"
John Deller, spokesperson for the Falun Dafa Association of Australia, said he was aware that similar fraudulent emails had also been sent to MPs in Canada and New Zealand. He said, "MPs in Australia who know the truth about Falun Dafa and the persecution have just deleted them."
"Increasingly, people in the West can recognize the underhanded tactics of the Communist Party's efforts to vilify Falun Gong adherents as its persecution and killing of innocent people in China is more widely exposed," added Deller.
After the offensive emails were sent to all MPs of New South Wales, the Falun Dafa Association of Australia sent a follow up notice to the MPs. "Our investigations over the past decade have found similar emails being sent to other government officials in countries around the world. Many emails have been tracked as coming from Mainland China," Ms. Zhao explained in her letter.
"As the Communist Party finds that people in the West can see through their direct propaganda and vilification of Falun Gong, it resorts to this kind of underhanded tactic to make practitioners appear irrational, to push would-be supporters away, and to indirectly justify the state-led persecution, torture and killing of innocent people in China."
Through practitioners' consistent efforts over the past 10-plus years, elected officials, community leaders, and ordinary citizens already have a thorough understanding of Falun Dafa, also known as Falun Gong. Many have expressed their support for Falun Dafa and for Dafa practitioners' ongoing efforts to end the 16-year persecution in China.
"We are lucky and fortunate in Australia to have the contribution of practitioners of Falun Gong to our peaceful multi-cultural society. It's a great pleasure to come here and celebrate today a quarter part of the century of this peaceful spiritual contribution to our planet," said David Shoebridge, a Greens member of the New South Wales Legislative Council (MLC) at a rally in Sydney's Hyde Park on May 9, 2015 to commemorate World Falun Dafa Day.