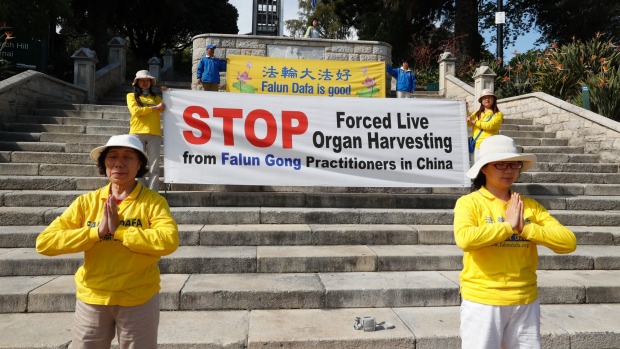 Citizen Rise Against Organ Harvesting in Canada and Oceania
Recent mentions have seen an upsurge of activities in Canada, Australia, and New Zealand aimed at promoting awareness and urging reform of China's practice of forced organ harvesting from prisoners of conscience—in particular practitioners of Falun Gong meditation.
Here's a roundup of the efforts of late.
In Canada
The Bleeding Edge, an independent documentary directed by Leon Lee that details forced organ harvesting from Falun Gong practitioners in China, was shown in screenings across Canada in November, including at the University of Toronto and as part of the Vancouver Asian Film Festival.
Also to bring awareness to organ harvesting, a group of Canadian practitioners demonstrated outside the Vauxhall town office in November, as part of an SOS Car Tour.
Perhaps the most high-profile advocacy on the topic in recent months had been two human rights investigators' presentation at a House of Commons hearing on Nov. 3 in the Canadian capital of Ottawa. The presenters were international human rights lawyer David Matas and former Crown attorney and cabinet Minister David Kilgour, who have produced methodical, research-based reports on the scale and evidence of organ harvesting in China.
In New Zealand
Falun Gong practitioners have made efforts toward enabling the different levels of New Zealand governments to recognize the Chinese government's live harvesting of Falun Gong members' organs. In late October, the group peacefully protested in front of the New Zealand city of Timaru's Visitor Centre, along with visiting the office of the Waitaki mayor.
In early November, practitioners staged a demonstration at the Church Steps in Nelson. The New Zealand government has been under fire for failing to acknowledge and condemn China's human rights violations.
In Australia
Falun Gong practitioners have become a common sight in Sydney's Chinatown, raising awareness among members of the public. China has been accepting Australian patients, who visit the country for transplant tourism.
Falun Gong practitioners also reached out to smaller communities, including Blayney, a farming town in New South Wales; and Armidale. Practitioners have also rallied in Guyra, Geelong, Glen Innes, and The Barossa Council.
One Australian man, David Yu, has pledged to tour 200 towns and cities in Queensland to share his personal story. He experienced intense torture in Chinese prisons and labor camps for holding onto his belief in Falun Gong.
Because he was sent to prison along with his wife and in-laws, his 18-month-old daughter was left at home unattended. He finds living in Australia to be extraordinarily liberating—he is able to meditate freely in public while pursuing his doctorate degree at the University of Queensland. Not taking his newly gained freedom for granted, he has been determined to share his stories with the Australian public, to prevent such tragedies as his from repeating in China.