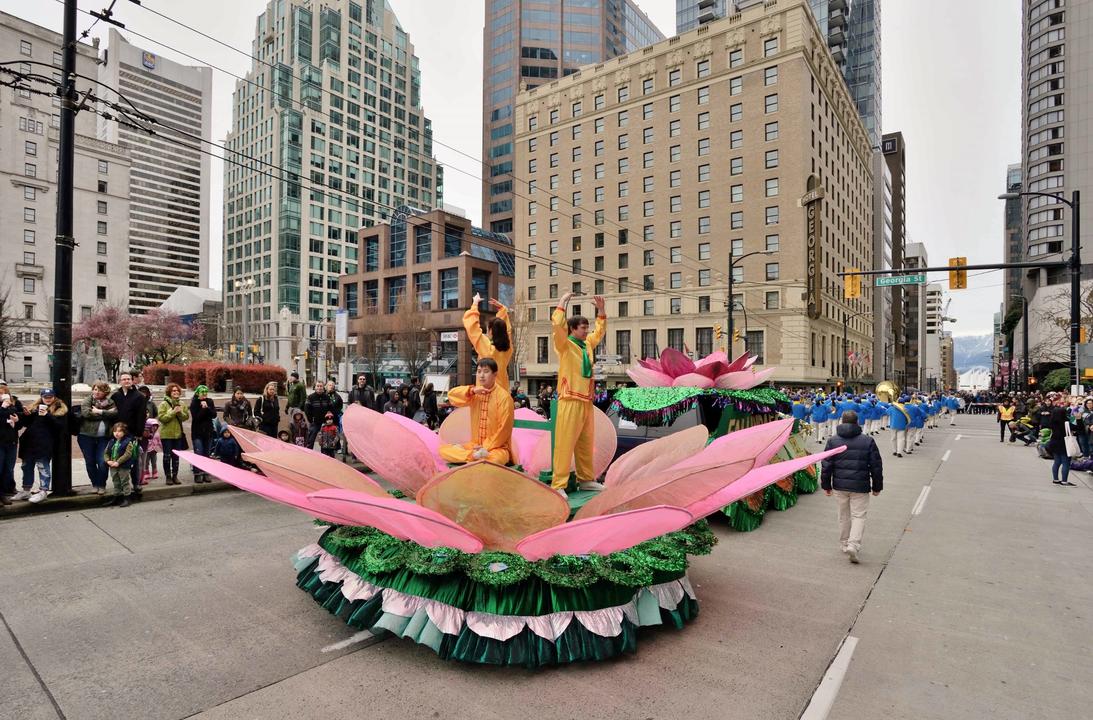 "I Admire Those Who Follow Their Principles" – Vancouver St. Patrick's Day Parade
(Minghui.org) Falun Dafa practitioners once again joined the annual St. Patrick's Day Parade on March 13, 2016 in Vancouver, Canada. The practitioners' Divine Land Marching Band and waist drum team took part in the community celebration, along with a float with practitioners demonstrating the Falun Dafa exercises.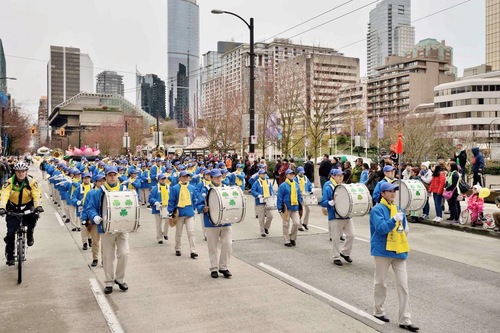 Many spectators said they were impressed by the happiness and positive energy exhibited by the practitioners. Bob, who has enjoyed seeing the practitioners at the event for several years, applauded their performance: "I'm always delighted to see them. They bring us wonderful music. This is an amazing group, and it is a great addition to the event."
Mr. Li, a Chinese who emigrated to Canada six months ago, said he found the practitioners' performance outstanding. "I've never seen a march like this before—it uplifts your spirit and make you feel good. I admire those who follow their principles."
A Great Moment
The principles of Truthfulness-Compassion-Forbearance are cherished by Falun Dafa practitioners in over 100 nations. However, the peaceful meditation practice has been violently suppressed by the communist regime in China since 1999.
Pertricia Hillary was watching the parade with her family. She kept waving to greet practitioners and said that this was a great moment for her. "I'm Irish, and I love the St. Patrick's Day Parade," she said, adding that the celebration extends beyond the Irish community and has attracted people from all backgrounds.
"I like these performances very much, especially the band and the waist drum team," she added, "we're so happy for the traditional Chinese culture that Falun Dafa practitioners have brought to us."
Jack from Montreal said he and his girlfriend have been to St. Patrick's Day Parades in numerous cities. "We just arrived here this morning. This parade brings happiness and bright colors. It's an awesome welcome gift for us," he commented. He said the Falun Dafa group is extraordinary because he could feel warmth and hope from their performance.
Peace and Happiness
Coming from mainland China, Mr. Li said he was very familiar with the propaganda from the Chinese regime attacking Falun Dafa. "But in front of such a grand performance, none of the lies can stand anymore," he said.
Mr. Li observed that the Falun Dafa practitioners were the only Chinese group who participated in the event. "Practitioners have endured so much in China, but nothing can stop their belief. I can see peace and happiness on their face—something very important for our society," he said.
Source