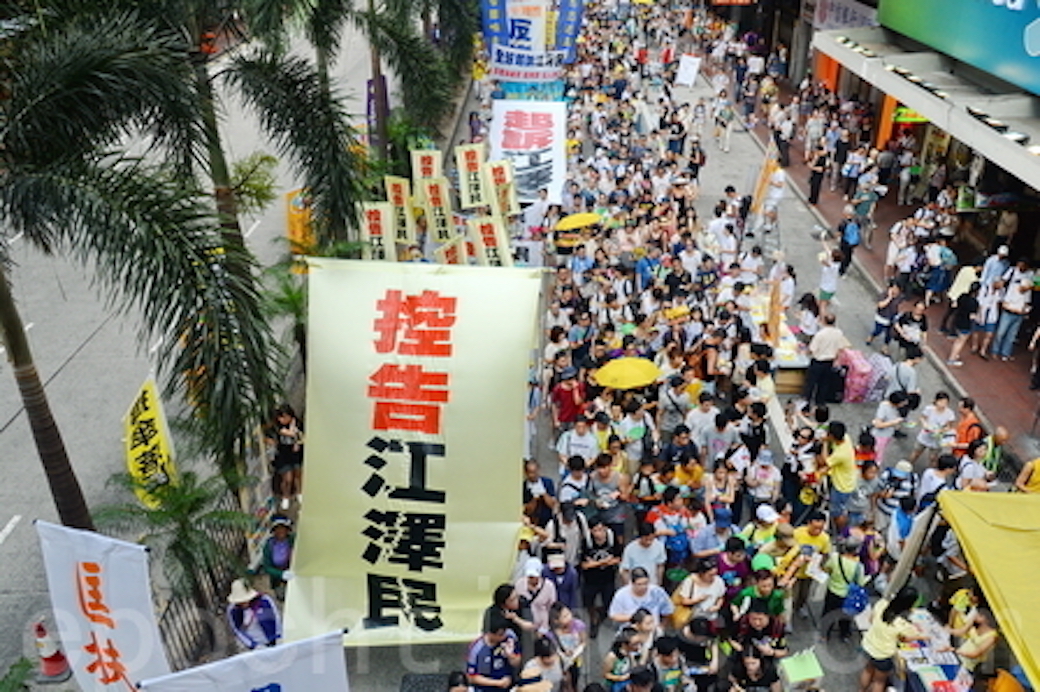 Nearly 10,000 Chinese Have Filed Legal Complaints Against Former Party Leader
[Photo Caption: Parade in Hong Kong. The most prominent banner says 'Sue Jiang Zemin' in Chinese.]
By Larry Ong,  Epoch Times and Matthew Robertson,  Epoch Times
First they came in a trickle, then a flood: complaints by persecuted Chinese citizens, submitted through the regime's own legal channels, accusing the former leader of the Communist Party, Jiang Zemin, of crimes against humanity and genocide.
Whether the authorities act on them will be another matter, but the development marks a distinct turn in what has been one of the Chinese Communist Party's largest security mobilizations against a target population in living memory.
The rush of criminal complaints also dovetails with a parallel development over the last two years: the body blow dealt by Party leader Xi Jinping to the political network affiliated with former leader Jiang, through the sweeping anti-corruption campaign.
Jiang initiated the persecution of Falun Gong in 1999. This included a hate campaign, the detention of hundreds of thousands at a given time, forced ideological transformation, torture to disfigurement and death, and organ harvesting. Minghui, a Falun Gong website, says that over 3,800 are confirmed dead through torture, while researchers suspect that tens of thousands have been killed for their organs.
Falun Gong, a form of qigong, had attracted between 70 and 100 million adherents by the end of the 1990s, and Jiang feared and loathed both its cross-social appeal (including to many Party members) and its immense popularity. Its teachings recalled China's spiritual traditions in ways that were anathema to the Communist Party's Marxist doctrine of historical materialism.
Even after he stepped down as Party chief and then as head of the military, in 2002 and 2004 respectively, Jiang ensured that the campaign against Falun Gong continued by installing a host of cronies in key posts. Among the more prominent of these was Zhou Yongkang, who headed the security apparatus until 2012. Last month, he was placed in jail for life on charges of corruption by Xi Jinping.
Until Xi Jinping's campaign to purge the Party of Jiang's influence, it was largely inconceivable for Chinese citizens to lodge criminal complaints against him. The cases when people have tried are instructive. In August 2000, for example, Zhu Keming and Wang Jie, two Chinese who practice Falun Gong, made the attempt. Wang was tortured to death in jail a year later; Zhu spent five years in prison, during which time he lost all his teeth.
But now, things are different.
On May 26, for example, Zhang Zhaosen, also a practitioner of Falun Gong, handed a criminal complaint against Jiang to a public prosecutor. The remarkable aspect of the case was not merely that he handed over the complaint, but that he walked away after doing so.
In other cases, Falun Gong victims in China have been submitting complaints by express mail. Typically, they photograph the mail receipts and upload them to the Internet. By the end of May, Minghui, a website that carries news and information about Falun Gong and its persecution, received reports of complaints from 232 people. On June 11, there were 3,987 complaints filed. At the end of the following week, an additional 5,761 were submitted, bringing the total figure to nearly 10,000.
These complaints were sent to China's highest legal institutions—the Supreme People's Court and the Supreme People's Procuratorate—from within the country and abroad: United States, United Kingdom, Canada, Australia, France, Malaysia, Thailand, Japan, South Korea, and Hong Kong. The plaintiffs hail from all walks of life: judges, soldiers, police officers, academics, workers, farmers.
By themselves, the complaints are merely representative of popular will; whether Jiang Zemin is actually indicted would depend on the Supreme People's Procuratorate, China's public prosecutor. Cases involving current or former Communist Party leaders are deeply political in China, so any such decision would likely only come as part of a deeper political shift by the Communist Party and the status of the campaign against Falun Gong.
Along with reports about Jiang's lavish lifestyle, and arrests of key members of the 610 Office ( the secret Party taskforce he set up to persecute Falun Gong), Radio France International cited the lawsuits as one example of how Jiang's political influence was on the wane.
A recent change in how courts in China register cases also likely offered encouragement to the plaintiffs. A number of Falun Gong practitioners report actually getting receipts from the Supreme People's Procuratorate, something mandated by a new rule rolled out by the Party that demands that courts and the procuracy accept all legal complaints and explain in writing why any were rejected. Before this change, courts were able to simply ignore any complaint they wished.
While the flood of complaints may not result in an indictment in the immediate future, Chinese scholars, lawyers, and former Party officials have praised the attempt, as a form of public pressure on the authorities, and an attempt to exercise the legal rights that the Communist Party says every Chinese citizen is entitled to.
"I believe suing Jiang Zemin is very appropriate from both the standpoint of the law or justice," said Zhang Zanning, a law professor at Southeast University in Nanjing City, Jiangsu Province. He said he and colleagues find it "very encouraging."
Zhong Weiguang, a scholar of totalitarianism based in Germany, compared the campaign to lawsuits against Nazi dictator Adolf Hitler.
Han Guangsheng, a former Party official who defected to Canada in 2001, said with a flourish that the complaints were "an unprecedented phenomenon."
Bao Tong, the former secretary of the late, liberal Chinese premier Zhao Ziyang, told the Epoch Times: "As citizens, people can supervise and scrutinize former and current leaders … If one has grievances, he makes them known. This is how a normal society works."
He advised that the regime should deal with the matter "in accordance with the law."