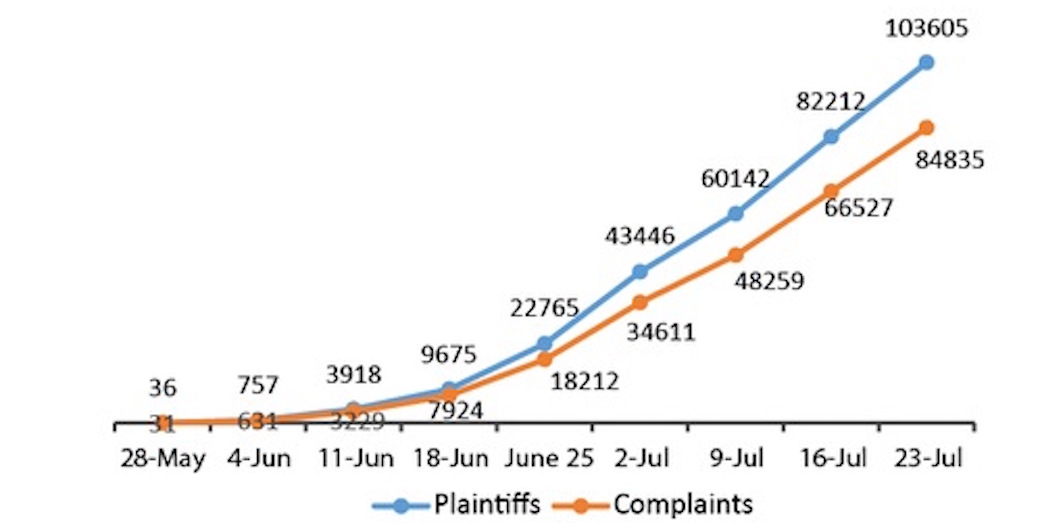 Over 103,000 People File Complaints Against Jiang Zemin
By a Minghui correspondent
(Minghui.org) Over 103,000 people have filed criminal complaints against Jiang Zemin, the former head of the Chinese Communist Party, between the end of May and July 23, 2015. They urge the Supreme People's Procuratorate and the Supreme People's Court to bring Jiang to justice for his abuses of power in orchestrating the persecution of Falun Gong in China.
The complaints charge Jiang with unlawful imprisonment, depriving citizens of their constitutional right to freedom of belief, abuse of power, and many other crimes. Jiang initiated the persecution of Falun Gong on July 20, 1999, and created the 610 Office, giving it the power to override the police and judicial system to carry out his directive.
Over the past 16 years, more than 3,800 Falun Gong practitioners have been confirmed tortured to death. The actual toll is likely higher, because such information is tightly censored in China.
Copies of 18,306 complaints from 21,389 people were submitted to the Minghui website in the past week, between July 17 and 23.
In total, copies of 84,835 complaints from 103,605 Falun Gong practitioners and their family members were submitted to the Minghui website from the end of May to July 23.
Among the plaintiffs, 1,078 are Falun Gong practitioners who left China to avoid the persecution and are currently living in 24 different countries. They also filed complaints against Jiang to the Supreme People's Procuratorate.
Lawsuits against Jiang Zemin have grown significantly since the end of May 2015.
Distribution of the plaintiffs in the provinces and municipalities.
People Using Real Names to File Complaints
Falun Gong practitioners and their family members describe how they have benefited from practicing Falun Gong and how they have suffered as a result of the brutal persecution. They use their real names despite the ongoing persecution in China. The plaintiffs include governmental officials, managers, technical personnel, doctors, lawyers, professors, laborers, farmers, and business owners.
Among the over 103,000 complaints:
• 2,721 became handicapped or had family members tortured to death• 13,058 had multiple family members persecuted• 465 were incarcerated in mental hospitals• 37,633 were detained in detention centers or brainwashing centers• 19,590 suffered economic losses due to extortion, loss of employment, or having their salaries or pensions reduced or suspended• 5,523 had family members who lost their jobs, were expelled from school, had mental breakdowns, or passed away as a result of the persecution.
Impact of the Wave of Lawsuits Against Jiang in China
The widespread filing of lawsuits against Jiang has brought the persecution of Falun Gong to the public eye and caused a stir.
A local administrator in Maoming, Guangdong Province visited a Falun Gong practitioner on July 17, 2015 to ask about his lawsuit against Jiang. Many people came with him, including police officers. The practitioner explained to them the reason for his complaint. The administrator asked for a copy of Zhuan Falun, the main book of Falun Gong, from the practitioner.
After reading a few pages, he said, "If everyone could be kind, people would live and work in peace, and morality would improve." The administrator asked, "Can you lend me the book?" The practitioner agreed.
A practitioner in Henan Province was taken to a police substation recently for distributing Falun Gong informational materials. He told the officers, "Falun Gong is a righteous practice. In history, those who have persecuted righteous practices were all punished. I hope you don't stand on the wrong side." Some nodded and did not ask any questions. Later, an officer told him to go out to have lunch by himself. He came back after lunch. The officer barked at him, "I said go out for lunch!" and then said in low voice, "and don't come back!"
Eight practitioners in Weiliang, Gansu Province–Zhao Zengcheng, Xu Jinbiao, Wu Jiamiao, Lei Penghe, Wu Lanfang, He Cunmei, Tai Meihua, and Bai Qunying–who had been held in a detention center for 13 months, were released on July 17, 2015. It was originally said that they would be sentenced to prison.
Voices of Support for Lawsuits Against Jiang Zemin
Representative Ted Poe (R-Texas) speaks on the West Lawn of the US Capitol in Washington, DC on July 16, 2015.
Representative Ted Poe (R-Texas) said that the right to believe and practice one's faith is a basic human right, and that there is nothing more important. He commented on protesters' signs regarding bringing Jiang Zemin to justice: "From what I know about Jiang, he needs to be in jail, not Falun Gong." Rep. Poe served as a judge before he was elected to Congress.
About 700 Falun Gong practitioners held a march in Hong Kong on July 18, 2015 to protest the persecution and support the lawsuits being filed against Jiang. One person who watched the march said, "He should be brought to justice soon."
Falun Gong practitioners march in Hong Kong on July 18, 2015 to protest the persecution in China and support the lawsuits against Jiang. The large banner says "Support 80,000 Chinese Who Have Sued Jiang." The large characters say, "Sue Jiang."
Hong Kong lawmakers, including Wu Chi-wai, Leung Kwok-hung, Lee Cheuk-yan, Leung Yiu-chung, and Albert Chan, expressed their support for the lawsuits.
More than 2000 practitioners in Taiwan marched on July 18, 2015 to support the wave of lawsuits in China, attracting attention from many residents and tourists.
5,000 Falun Gong practitioners in Taiwan rally on Ketagalan Boulevard in front of the Presidential Office Building to support the lawsuits against Jiang in China. The large banner says, "Support the 80,000 Who Have Filed Criminal Complaints against Jiang for the Persecution of Falun Gong."
Ontario MPP Jack MacLaren addressed a rally in front of the Chinese embassy in Ottawa, Canada on July 15, 2015. He said, "[Practitioners] have been imprisoned and tortured and suffered death, even organ harvesting, a heinous crime. It is the most outrageous of human rights abuses that we can find anywhere in the world."
Ontario MPP Jack MacLaren speaks at a rally in front of the Chinese embassy in Ottawa, Canada on July 15, 2015.
Australian media outlets have begun to pay more attention to the persecution of Falun Gong in China. The AAP report on complaints against Jiang filed by Falun Gong practitioners in Australia was quickly reprinted by many outlets, including The Australian, The Daily Telegraph, The Daily Mercury, Gold Coast Gazette, Cairns Post, Herald Sun, Geelong Advertiser, The Advertiser, and The Sunday Times newspapers, as well as TV networksThe Nine Network and The Seven Network. The majority of the outlets called the report "breaking news." It was also listed under "most read news of the day" on news.com.au.