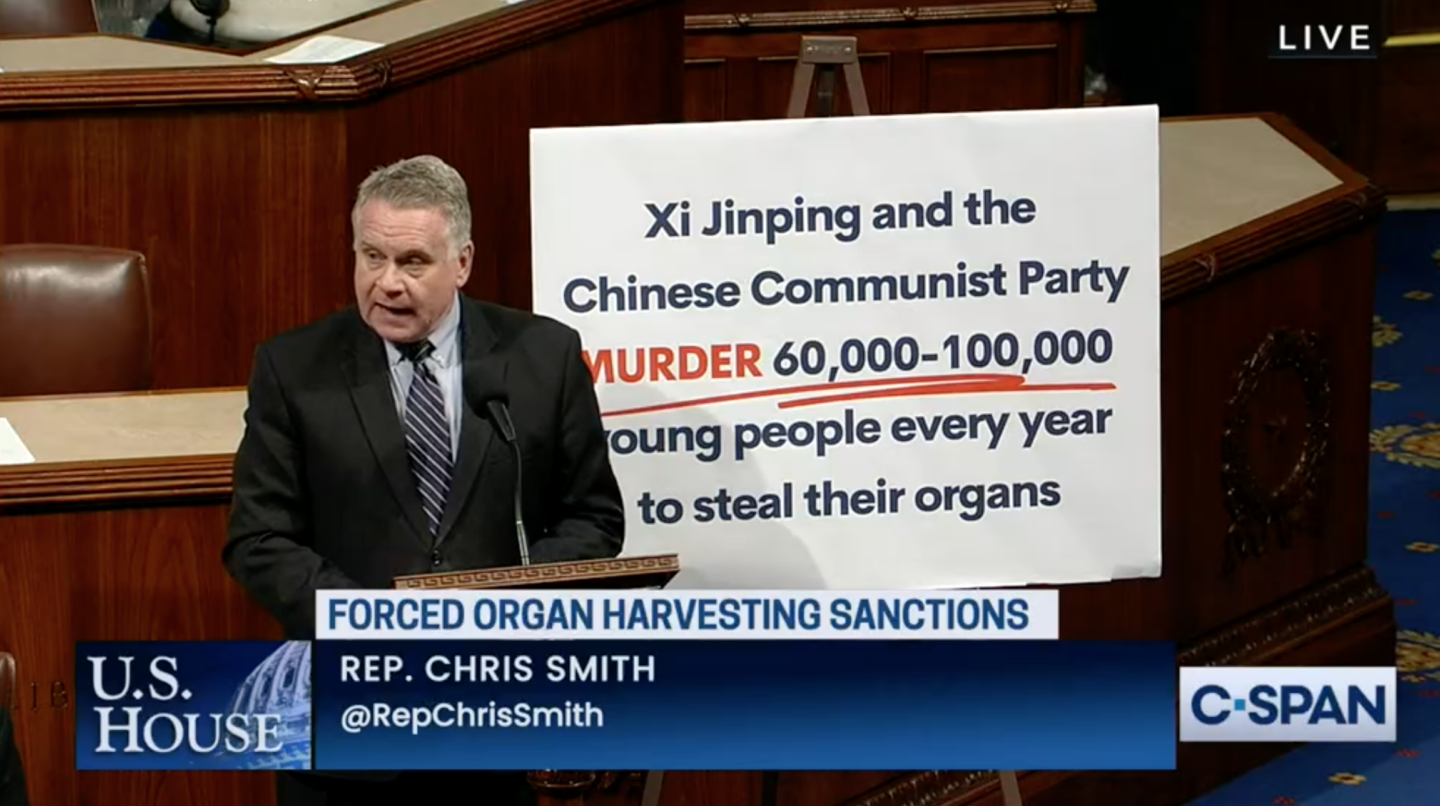 Stop Forced Organ Harvesting Act of 2023 Passes House
A landmark bill taking action against the perpetrators of forced organ harvesting in China has passed the U.S. House of Representatives and was referred to the Senate on March 29, 2023.
The Stop Forced Organ Harvesting Act of 2023  "imposes sanctions on individuals and entities involved in forced organ trafficking and authorizes the Department of State to revoke the passports of individuals convicted of certain crimes related to organ trafficking," the bill states. Civil penalties include a fine of up to $250,000; and criminal penalties include a fine of up to $1 million dollars and imprisonment up to 20 years.
Forced organ harvesting is primarily perpetuated against spiritual groups in communist China, who are targeted by official police for kidnapping, brainwashing, forced labor, and torture. Members of the Falun Gong meditation practice are the largest population of spiritual adherents subject to persecution. Since 1999, Falun Gong members have been victims of systematic crackdown, with the earliest report of forced organ harvesting in the early 2000s, brought to light through the investigative work of David Matas and David Kilgour.
Survivors who were imprisoned for practicing Falun Gong reported being blood-typed while in prison and being subjected to other physical exams not part of a routine checkup, suggesting that the prison hospitals were checking their suitability as unwilling donors. Since forced organ harvesting fueled the transplant tourism trade in China, other religious and minority groups have also fallen under the knife. The China Tribunal, which took place in 2019-2020, heard the testimonies of many such survivors, and concluded beyond reasonable doubt that forced organ harvesting is a widespread problem in Mainland China.
According to researcher Ethan Gutmann, to maximize the viability of the organs, they are harvested when the victim is still alive. Multiple Chinese surgeons have come forward to testify that they have been ordered to perform extractions on living "donors." Chinese communist officials are often the recipients of such transplants.
H.R.1154's language specifically calls out the Chinese Communist Party for these abuses. In its Statement of Policy, the bill reads: "(4) to hold accountable persons implicated, including members of the Chinese Communist Party, in forced organ harvesting and trafficking in persons for purposes of the removal of organs."
This bill is the strongest piece of legislation taken against forced organ harvesting to date. Introduced by Rep. Christopher Smith of New Jersey in February, it gained bipartisan support in the House, and has 12 cosponsors.
Watch the House session here.