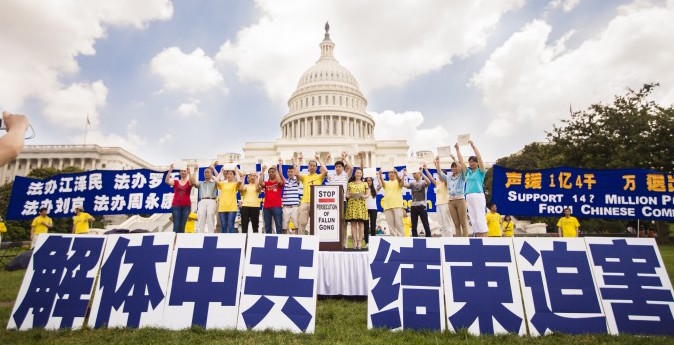 Members of US Congress Rally to End Persecution of Falun Gong
Faith and human rights groups join in condemning Chinese regime's human rights abuses
By Gary Feuerberg,  Epoch Times
WASHINGTON—On a sweltering day with a temperature of 96 and heat index of 106, members of Congress and representatives of faith and human rights organizations gathered on the west lawn in front of the Capitol and spoke forcefully in calling for an end to the persecution of Falun Gong in China. The Chinese Communist Party's campaign to eliminate this spiritual discipline began 14 years ago, on July 20, 1999.
"These communist thugs have a particular interest in repressing Falun Gong practitioners who pursue 'truthfulness, compassion, and tolerance,' the antithesis of what China's rulers stand for," said Congresswoman Ileana Ros-Lehtinen (R-Fla.) in her speech to the rally.
On June 27, Ros-Lehtinen and Congressman Robert Andrews (D-N.J.) together introduced House Resolution 281, which calls upon the People's Republic of China to end organ harvesting from prisoners of conscience, most of whom are Falun Gong practitioners.
Rep. Andrews expressed his hope in a letter read at the rally that this bipartisan resolution would expose the atrocities taking place in China and garner international pressure to end them.
Congressman Ted Poe (R-Texas) said that no government should use violence against a peaceful movement to change its members' beliefs. "That is wrong. It's immoral."
Poe's point resonated with Kelley McLean, representing Jubilee Campaign USA, advocacy organization for the human rights and religious liberty of ethnic and religious minorities around the world.
Mclean described the "Reeducation through Labor" camps for Falun Gong members and Christians where "horrendous forms of torture to recant their faith" are used. "This coercion is sickening," she said.
'Evil Group'
Suzanne Scholte, president of the Defense Forum Foundation, a non-profit that regularly holds forums for Congressional staff about defense and human rights issues, gave an example of this coercion.
Scholte spoke movingly of the torture of Falun Gong practitioner Wang Chunying, who was held for over five years in the notorious Masanjia women's labor camp and on one occasion handcuffed between two bunk beds for 16 hours. She said the police increased the pain by kicking the beds apart and tightening the handcuffs which already touched the bone.
"As a Christian, I am greatly inspired by your resolve to respond to the horrific crimes being committed against you through peaceful means and steadfast advocacy," Scholte said.
Dan Fefferman, president of International Coalition for Religious Freedom, also underscored the evil nature of the CCP's policy. "The Chinese policy is coldly calculated. I myself heard a Chinese diplomat here in America actually brag to one audience about how effective the Chinese policy had been in reducing the numbers of Falun Gong practitioners. It made me sick," he said.
"I'm here today to acknowledge the atrocities committed against Falun Gong practitioners in China, and call upon the United States Congress, Senate, and the public to help end the persecution and criminalization of a peaceful practice and innocent Falun Gong practitioners in China immediately," said Robert Baltazar, the principal at the law firm JRBCAI.
Li Dayong, CEO of the Global Service Center for Quitting CCP, said Nine Commentaries on the Communist Party had revealed the true nature of the CCP and its deception. The Nine Commentaries was an Epoch Times editorial series serialized in the fall of 2004 and since published as a book.
The Nine Commentaries is credited with sparking a movement in China to renounce, withdraw, or quit the CCP or its affiliated organizations, which the Global Service Center tallies.
"Now we know that the CCP is not a normal organization. It is an evil group against humanity." Li said that the CCP deceives the world about its intentions by using special phrases such as "peaceful rising" and "not intervening with other country's internal affairs."
Li announced that the number of people who have quit the CCP or its affiliated CCP organizations has reached 142 million.
Rong Yi, president of the Global Service Center for Quitting CCP, spoke as well. The crowd applauded as she handed out certificates for renouncing the CCP to 19 individuals who came up on the dais.
Retribution
The World Organization to Investigate the Persecution of Falun Gong (WOIPFG) has been recording the names and deeds of individuals responsible for human rights crimes in China.
Zhiyuan Wang, the organization's spokesman, said that in March WOIPFG had published the 6th update of the "organizations and individuals who are suspected to have participated in the persecution of Falun Gong."
"Many Chinese Communist Party officials whose names are on the list contacted WOIPFG to provide more information in exchange for their names being removed from the list," said Wang.
He said that they have recognized their faults and agreed to secretly aid the investigation in order to receive a lesser punishment in any future accounting of the crimes done during the persecution.
Wang compared the CCP's human rights abuses to those committed by the Third Reich, and said that the Party's violent and destructive behavior poses a challenge to the world.
Congressman Poe expressed his faith that the CCP's victims will serves as witnesses to its crimes.
"Let me tell you something. In my opinion the Communist government has blood on its hands of the innocent," Poe said. "But let me tell you something. Those people [who were persecuted to death]—they still speak from the grave about what has happened."
Commerce Over Rights
Speakers mentioned how the desire to promote trade with China has weakened the U.S. government's response to human rights abuses, and how the people of the United States have been willing to accept cheap goods from China without considering the cost in human suffering.
"In a nation such as ours where people are happy to buy Christmas lights made in prison labor camps rather than pay more for those made by free men, the process of causing change is made very difficult in China," said William Murray, chairman of the Religious Freedom Coalition.
He added that the political powers in Congress are unwilling to do anything that will harm relations with the biggest U.S. trading partner, China.
Greg Autry, co-author (with Peter Navarro) of Death by China, said it is wrong to sell goods made by Falun Gong practitioners and others who are virtual slaves in prison. And he examined the consequences of decisions made by big companies to invest in China.
"CEOs of large, wealthy corporations think they are acting in the best interest of their shareholders by sending capital investment to China," Autry said. "What that does is prop up the regime in China and legitimizes totalitarianism around the world."
T. Kumar, International Advocacy Director at Amnesty International USA, said there is no reason for sending peaceful people to labor camps. He called for the United States in its Human Rights Dialogue with China to place the persecution of Falun Gong at the top of its agenda.
Representatives and Senators Speak Out
Several U.S. senators made strong statements in letters to the rally. Senator Tom Coburn, MD (R-Okla.), wrote that the Chinese regime's stance against the "peaceful practice of Falun Gong practitioners" violates basic human rights. "The oppression of peaceful followers of Falun Gong is a clear indication that human rights abuses are omnipresent throughout China."
Other U.S. senators who sent letters were Ron Johnson (R-Wisc.), Roy Blunt (R-Mo.), and Pat Toomey (R-Pa.). Jenipher M. Camino Gonzalez, Legislative Correspondent for Sen. Robert Menendez (D-N.J.), spoke at rally expressing the senator's support.
Reps. Tom Petri (R-Wis.), Zoe Lofgren (D-Calif.), Rush Holt (D-N.J.), Randy Neuegebauer (R-Texas), Rob Bishop (R-Utah), Reid Ribble (R-Wis.) Doug LaMalfa (R-Calif.), and Paul Tonko (D-N.Y.) also each sent letters.