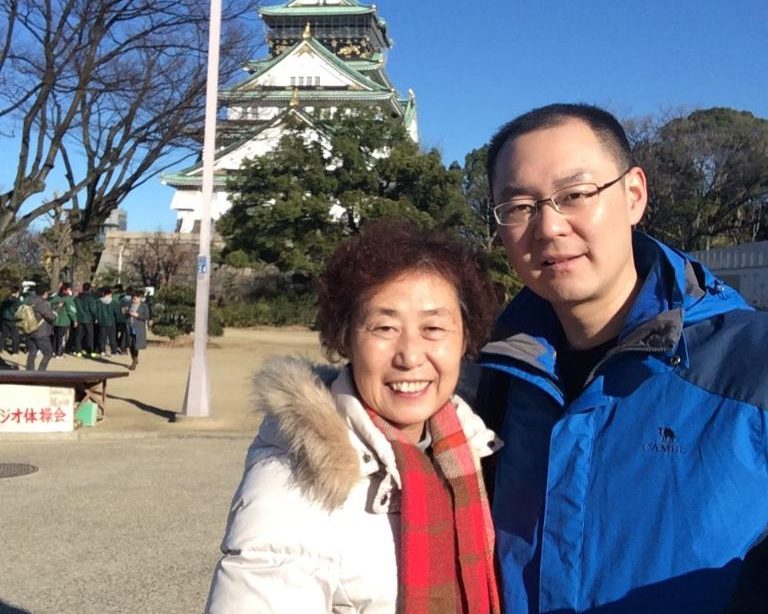 A New Yorker's SOS Letter for His Mother
Dear Congressmen / Congresswomen,
My name is Zhang Yi. I am from Shengli Oilfield, Shangdong Province, China. Before fleeing to the United States in July 2016, I was persecuted by the Chinese Communist Party in China because of my belief in the spiritual practice of Falun Gong. I currently reside in Flushing, Queens, New York.
I am writing to you to ask for help with rescuing my mother, also a Falun Gong practitioner, who is currently detained in China for her belief. My 65-year-old mother, Aili Zhang, was unlawfully detained by the Dongying City Public Security Bureau of Shandong Province on November 25, 2018 and has since been detained in Dongying City's detention center. On December 29, 2018, the local security bureau arrested her with the charge of "organizing and using cult organizations to undermine the implementation of national laws." Since then, my mother has been detained for nearly three months.
My mother started to practice the meditation exercise of Falun Gong (also known as Falun Dafa) since 1995. Before taking up the practice, she was diagnosed with pyelonephritis and Meniere's syndrome among many other diseases. Furthermore, one of her kidneys had lost full functionality, further deteriorating her poor health condition. In 1991, my father died of an accident, which hit my mom very hard. My mother did not remarry afterward and raised me all by herself. However, since my mother started to practice the meditation of Falun Gong in 1995, she realized the meaning of life and thus her mental condition greatly improved, restoring her physical health.
Nonetheless, in 1999, the Chinese Communist Party launched its heavy persecution of Falun Gong practitioners in China. In order to help people learn about the truth of Falun Gong behind the false propaganda, my mother and I, along with fellow Falun Gong practitioners in our local area, printed and distributed materials to local residents about the ongoing persecution of Falun Gong and the truth about the practice. Meanwhile, for doing so, my mother and I were arrested several times by the local police.
In July 2015, I was arrested by the Binhai Public Security Bureau (Binbei Branch) of Shandong Province. I was later detained for a total of two months in the detention center of Binhai and the Shengcai brainwashing center at the Shengli Oil field.
From May 16 to May 26 in 2017, my mother was detained by the Binhai Public Security Bureau's Shengli Police Department. After being released from the detention center on May 27, my mother was immediately taken to the Jishu Brainwashing Center at the Shengli Oil Field and was detained there for the next 20 days.
On November 16, 2017, my mother was arrested and detained in the Jishu Brainwashing Center at the Shengli Oil Field until being released 45 days later on December 29, 2017. The police also threatened my mother verbally, saying that they would surely arrest me and once I return to China.
On November 25, 2018, my mother was again arrested and has been since detained in the detention center of Dongying City without being released.
Every time when the police broke into and searched within our home, they always unlawfully confiscated all our personal items, including our desktop, laptop, iPad, printer, as well as materials related to Falun Gong that we had owned since taking up the exercise in 1995.
Currently, my mother is still being detained. And every day, she is forced to perform physical labor, deprived of sleep, and given poor food. In the meantime, the local police and prosecutors are still working to look for so-called "evidence" in order to sentence her to prison.
Therefore, I hereby plead with you and other congressmen and women to rescue my mom by pressuring the Chinese authorities to release her from the detention center as soon as possible and to return all the materials related to Falun Gong that they have unlawfully taken from our home.
Respectfully,
Zhang Yi (son of Zhang Aili)
February 15, 2019
New York
Following is a list of individuals and local agencies involved in the persecution of my mother:
Liu Jiayi 刘家义
– (Secretary of the Shandong Provincial Party Committee and Director of the Standing Committee of the Provincial People's Congress)
Gong Zheng 龚正
– (Deputy Secretary of Shandong Provincial Party Committee and Governor)
Zhang Jiatian 张甲天
– (President of Shandong Provincial Court)
Chen Yong 陈勇
– (Procuratorate of Shandong Provincial Procuratorate Zhang)
Li Kuanduan 李宽端
-(Secretary of Dongying Municipal Party Committee)
Wang Kede 王克德
-(Deputy Director of Dongying Public Security Bureau, Director of Dongying Branch of Dongying City Public Security Bureau, Secretary of Party Committee)
Zhang Hongjun 张红军  
-(Dongying City Public Security Bureau Dongying Branch Deputy Director and Party Committee Member)
Zhang Yunjiang 张云江
-(Dongying City Public Security Bureau National Insurance Detachment Team Leader)
Wang Xinjian 王新建
-(Dongying City Procuratorate Secretary, Procurator-General: Zhang Aijun Dongying City Procuratorate Procurator)
Zhao Zhiyuan 赵志远
-(Deputy Secretary of Dongying Municipal Party Committee, Mayor and Party Secretary)
Qi Siyu 戚思宇
-(Deputy Mayor of Dongying City, Director of Municipal Public Security Bureau)
Cui Jiangxi 崔江西
-(Procurator-General of Dongying District Procuratorate)
Yang Xiulin 杨秀林
-(Director of Dongying City Detention Center)
Han Hui 韩辉
-(Deputy Researcher of Dongying City Justice Bureau)
Liao Weizhong 廖伟忠
-(President of Dongying Intermediate People's Court)
Xie Xuming 解旭明 Li Aiqun 李爱群
-(Presidents of Dongying District Court)