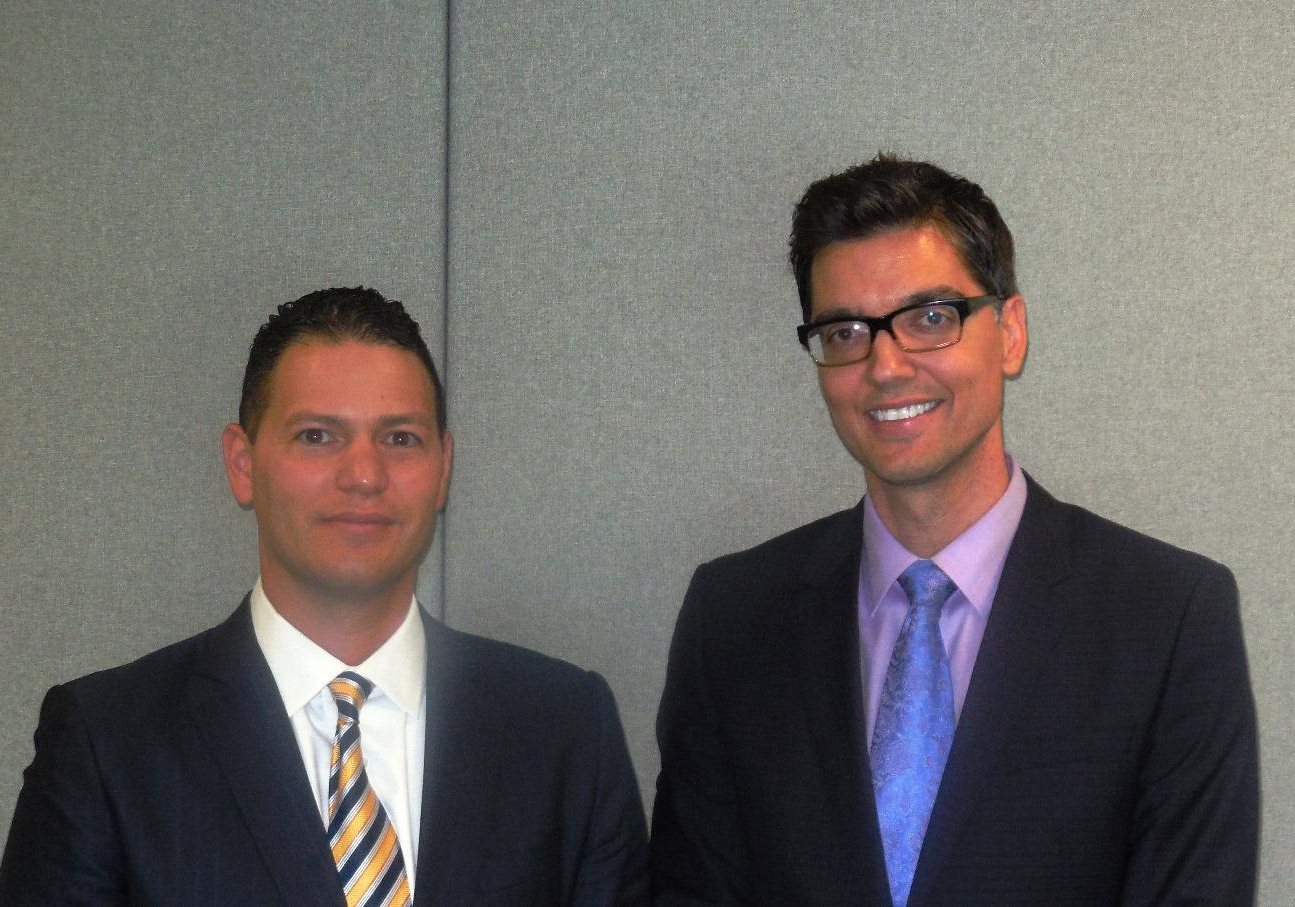 Oncologist Helps Turn the Tide Against Forced Organ Harvesting
[Photo Caption: Doctors Against Forced Organ Harvesting Spokesman Damon Noto, MD (left) and Deputy Director G. Weldon Gilcrease III, MD (right).]
When Glynn Weldon Gilcrease III, MD found Falun Gong in 2000, his first impression was that truthfulness, compassion, and tolerance are universal truths, qualities that all of us can adapt into our lives.
"As soon as I read Zhuan Falun [Falun Gong's main book of teachings], I essentially knew that for all the deepest questions I had, the answers lay there," Dr. Gilcrease says. "There was no doubt in my mind."
In 2005, news emerged of Chinese hospitals acting under state sanction to remove and sell healthy organs from living Falun Gong practitioners in custody. Dr. Gilcrease remembers the reaction he had when he heard the news:
It was so jarring and shocking to my sense of humanity that a part of me didn't believe it. They do these procedures without anesthesia. But then I realized, it's really happening: a genocide carried out by colleagues who have taken an oath to care for others.
As a gastrointestinal oncologist at the University of Utah School of Medicine, Dr. Gilcrease knew that he had to do something.
Today, Dr. Gilcrease is the Deputy Director of Doctors Against Forced Organ Harvesting (DAFOH), a consortium of physicians who gather to raise awareness and advocate for the end of such brutal practices. This year, DAFOH has been nominated for a Nobel Peace Prize.
DAFOH supports House Resolution 343 to end forced organ harvesting, and further encourages citizens to write to their senators and the United Nations.
Above all, DAFOH works to let people know that forced organ harvesting exists.
Dr. Gilcrease recalls a particular awareness-raising event:
After a talk at the Rotary Club, I had an ophthalmologist approach me with dismay and concern that he had trained a few dozen Chinese physicians to do cornea transplants. This was a man who, like every doctor, had taken the Hippocratic oath. Medical science has been hijacked by the Chinese Communist Party. The hope is to let everyone know that this is not something we stand for.
Personal Changes
While the persecution of Falun Gong practitioners thrust Dr. Gilcrease into the role of advocate, the practice itself made him a better man and a more effective physician. Most of the patients he handles are in advanced stages of stomach, liver, pancreas, or colon cancer. With the immense emotional and financial strain that terminal illness puts on patients and their families, they sometimes lash out, saying things they don't mean; doctors often bear the brunt of these emotional outbursts.
"Today during rounds, we had a woman who was dying, and her husband was very upset," Dr. Gilcrease recounts. "She had been bedridden for many years, and her husband was understandably scared; he said some ugly things out of anger."
When patients are screaming at you while you're doing your best to provide care, every day is an exercise in self-restraint. As a self-described formerly argumentative person, Dr. Gilcrease said his behavior would have been very different if he hadn't practiced Falun Gong.
Falun Gong (also known as Falun Dafa) is a self-cultivation practice that requires practitioners to follow the principles of truthfulness, compassion, and tolerance in their day-to-day lives.
When asked how Falun Gong has impacted his career, Dr. Gilcrease says:
When you're trying to improve your heart and your depth of compassion, it allows you to understand that the physical part is merely one small part of someone's journey with cancer, but there's a whole other part. It's my job to put that person first. It's not about my feelings, my time, being right or wrong. That's easy to say, but when your name and reputation are on the line, when someone is attacking you and your colleagues, it's hard for your first instinct to put others first.
Sometimes he "passes the test," and sometimes he doesn't; but, if Dr. Gilcrease's excellent patient reviews are any indicator, the fact that he tries doesn't go unnoticed.
"As physicians, we have a strong voice, and it's important to use that voice for good. The death toll from the genocide is extraordinary, up to hundreds of thousands," Dr. Gilcrease says. "I took a Hippocratic oath to care for my patients, and taking a step back to see the bigger picture, it's important to care for humanity in general."