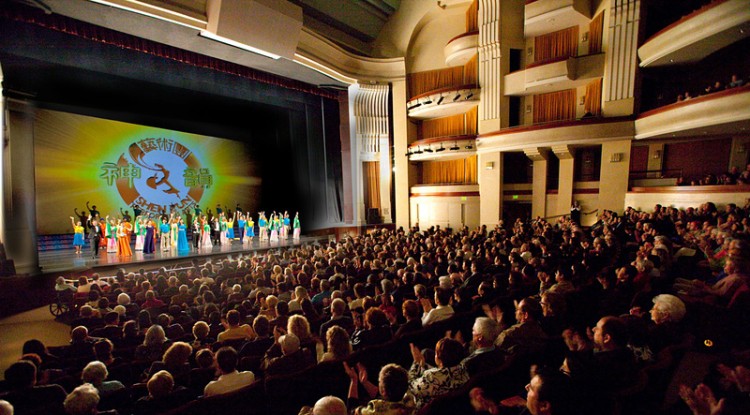 Shen Yun's Display of Traditional Chinese Culture Scares Chinese Regime
Chinese consulate sends letter to discourage support from Seattle council member
Most recently, Gao Zhansheng, the Chinese consul general in San Francisco, asked a Seattle City councilor in a letter dated Jan. 18 not to provide a proclamation or letter of support for Shen Yun, not to attend the performance, nor give interviews to media about Shen Yun. The council member's name is being withheld at the councilor's request. (Letter published below)
Shen Yun is scheduled to perform in Seattle's Marion Oliver McCaw Hall on Feb. 7 and 8, and is being presented by the Washington State Falun Dafa Association. The association's president, Ms. Zhiping Kolouch, Ph.D., says the consul general's letter is part of a long-standing campaign by the communist regime.
"The communists are atheists," Kolouch said, "and since they took power, they have sought to eliminate every bit of China's traditional culture."
The Chinese regime representatives' actions reflect a 'deep-seated fear, paranoia, and sense of inferiority.'

— George Mason University Professor Zhang Tianliang
In writing letters such as that sent by the San Francisco consul general, the Chinese regime representatives reflect a "deep-seated fear, paranoia, and sense of inferiority," says George Mason University's Professor Zhang Tianliang, in a 2010 article published in The Epoch Times.
"What the regime fears most is that Shen Yun, which has swept across Europe, the Americas, Australia, and Asia, will eventually clear the clouds of deceit spread by the communist regime, and the vulgarity and ugliness of the Communist Party culture will only become more apparent."
Pattern of Harassment
Since Shen Yun first began performing in 2006, the Chinese regime has sought to interfere. On a blog titled "Who's Afraid of Shen Yun?" Leeshai Lemish, an emcee for the performance, has documented 46 cases of interference in 20 countries that have taken place since 2008. The incidents run the gamut from the slashing of bus tires in Ottawa to the threat to withhold loans promised by the Chinese regime to the Moldovan government.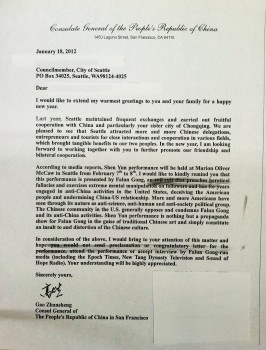 Lemish believes that the Chinese regime seeks to block the performance because Shen Yun typically includes one or two acts that depict the persecution of Falun Gong (also known as Falun Dafa) in modern-day China.
"PRC 'diplomats' have been engaging in covert action in North America, Europe, Australia, and, really, wherever they are found, to try to sabotage any activity that exposes persecution in China," wrote Lemish.
Kolouch agrees with Lemish.
The Falun Dafa Association of Washington is bringing Shen Yun to Seattle. The association's president, Ms. Zhiping Kolouch, Ph.D., agrees with Lemish.
"The performance tells the truth about what happens in China—that you can't follow your own spiritual path," said Kolouch. "Right at this moment you have millions of people in China who stand to lose everything they have because of their beliefs."
It is outside of China that Shen Yun's artistic creators have the ability to freely express themselves and their ancient culture, says the company's website. Their courage to speak up is an integral part of Shen Yun's spirit, the website says.
National Sovereignty
When elected officials around the world have received letters such as that sent by Consul General Gao, they have often reacted with outrage at the intrusion on national sovereignty and the importation of censorship.
"I was quite outraged by it," said Dr. Cathy Casey, an Auckland, New Zealand City Council member in February 2011 in a phone interview with The Epoch Times, commenting on a letter from the Chinese consul general in Auckland that curtly requested she not attend Shen Yun. "I'm really upset that the consulate should think it can influence elected members in a host country, where they're our guest."
"This consul general has no right to tell me not to go to a production in Auckland. How dare they? It's completely inappropriate behavior as a diplomat in this country," said Casey. "I resent the intrusion of the consul into my political life and the political life of the Auckland Council."
New Zealand MP Keith Locke received a letter similar to that addressed to Casey.
"It's unacceptable that Chinese government representatives in New Zealand put pressure on people, particularly elected politicians, not to attend a cultural performance," said Locke in a phone interview in Feb. 2011. "It's the sort of censorship that goes on in China but it's not the sort of censorship we should have in New Zealand, and I strongly object to it."
"A foreign government can't tell another country's government what to do," said Kolouch. "The Chinese consular officials forget they are working in a country that actually has a constitution that protects freedom of expression."
Discredited Propaganda
The San Francisco consulate general's letter begins by stressing "friendship" and "bilateral cooperation" with the Seattle councilor. The letter continues by complaining that the Shen Yun show in Seattle is presented by Falun Gong, and goes on to repeat stock propaganda phrases the Chinese regime has used to attack Falun Gong in and out of China for many years.
That propaganda has long been discredited by human rights groups. Human Rights Watch in 2000 wrote, "Falun Gong members are peaceful, law-abiding citizens, and there is no excuse for the human rights violations they have endured."
Amnesty International, also in 2000, wrote, "The crackdown is politically motivated."
An NGO, International Educational Development (IED), declared in a testimony before the U.N. Human Rights Commission in August 2001 that an incident of self-immolation that the Chinese regime used to claim Falun Gong was an "evil cult" was in fact staged by the Chinese regime itself.
Falun Gong involves five sets of meditative exercises and follows moral teachings based on the principles of truthfulness, compassion, and tolerance.
In 1999 then-CCP President Jiang Zemin feared that too many people were following beliefs outside of CCP control and that the Chinese people would prefer the beliefs of Falun Gong to CCP doctrine. According to Chinese state estimates in early 1999, about 100 million people were practicing Falun Gong. In July 1999 he ordered a campaign to "eradicate" the practice.
Free Advertising
Kolouch said that Chinese Consulate officials have sent letters similar to the one in Seattle to government officials in other cities in the United States, Canada, Australia, and New Zealand. She is not concerned the letter will damage either Shen Yun or Falun Gong.
"They are trying to destroy us and they just help us by doing more advertising," Kolouch said.
Previous examples bear her out. Lemish's blog points out a recent case in which the efforts by Chinese Consular officials to shut down a January 2011 performance in Busan, Korea, caused such a media frenzy that it easily sold out.
Kolouch says Seattle ticket sales are going well.
"The American people realize Shen Yun is a very beautiful thing that uplifts people's spirit and gives them a good education about China's authentic, traditional culture."
___________________________________________________
To read the original article on The Epoch Times website, click here.