Moscow, Russia: Introducing Falun Dafa on Red Square (Photos)
(Minghui.org) On May 27, 2012, Falun Dafa practitioners in Moscow, Russia were invited to participate in a large sports celebration event, which attracted 100,000 people. The event took place on Red Square, right next to the Kremlin, the site of the Russian government.
Practitioners were invited to take part in the celebration by the conductor of the Moscow Police Orchestra. The policeman who hosted the event introduced practitioners as the "great and powerful Falun Dafa!"
This was the first time Russian practitioners were invited to participate in such a large-scale public event in the heart of Moscow. Over the years, the Russian government, under the influence of the Chinese communist regime, frequently suppressed Falun Dafa practitioners, restricting their ability to hold public events and large gatherings. The police also visited practitioners' homes to harass them. The main text of Falun Dafa, Zhuan Falun, has been banned in Russia since 2008.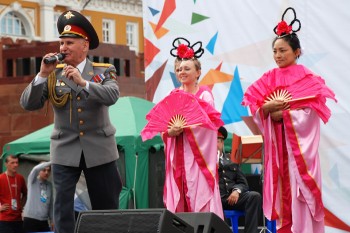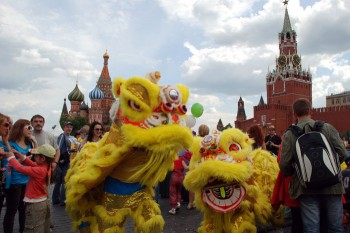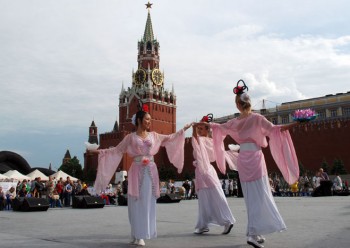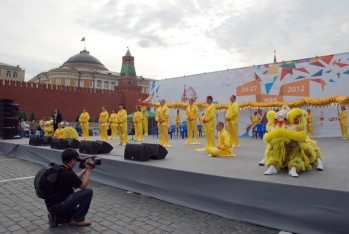 Thus, practitioners saw this unprecedented opportunity to introduce Falun Dafa to the public on the Red Square, and they put in great effort to prepare for the event.
Practitioners' waist-drum team, dressed in traditional yellow costumes, played for four hours while walking around the Red Square. Other practitioners performed a lion dance and traditional Chinese dances, as well as demonstrated the Falun Dafa exercises on the main event stage.
Practitioners also set up 15 tables where people could learn how to fold paper lotus flowers and get more information about Falun Dafa. A great number of people were eager to learn more about the practice and the ongoing persecution of Falun Dafa practitioners in China. Thus, the tables were very crowded throughout the event.
Falun Dafa practitioners from other parts of Russia also supported the event. They sent boxes of lotus flowers with train conductors traveling to Moscow, so that practitioners in Moscow would have enough for all of the people attending the event.
______________________
To read this article on the English Minghui website, click here.