Falun Dafa art exhibit in Garapan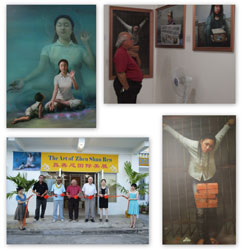 Marianas Variety
BY JUNHAN B. TODENO – REPORTER
AN artwork titled "Stirred by Her Song" is one of the 28 Falun Dafa paintings now on display at the Phoenix Art Studio just next to the Family Bldg. on Garapan St.
"Stirred by Her Song" depicts a young woman arrested for protesting on China's Tiananmen Square, telling her story to her captor.
This week, visiting Falun Dafa international artist Xiaoping Chen opened her art exhibit "The Art of Zhen, Shan, Ren (Truth, Compassion, Tolerance)".
The exhibit was first held in 2010.
"I used art to tell people about the truth. It is my duty to save more people in China who were being persecuted by their government because of their involvement in the Falun Gong," she said.
Chen, who lived on Saipan for 10 years, now teaches painting in New York. She's on island to visit her mother and friends.
A Falun Dafa practitioner, she is hoping that their art exhibits, which are held in 200 cities and 50 countries around the world, will help stop persecution in China.
She said the art exhibition in Garapan displays many pieces of artwork by renowned painters, including Qing Xin and Xiaqiang Dong.
Chen said the Chinese government continues to persecute Falun Gong practitioners.
She said when their arts club held a show in New York, they received death threats. The Chinese government doesn't want its people to know the truth, she added.
"But I'm not threatened, and I am not afraid," she said, adding that she will come back to the island in September to continue speaking out, through art, about the atrocities committed against Falun Dafa members by their own government in China.
The art exhibition in Garapan will continue after the Liberation Day celebration, she said.
Lino M. Olopai, a long-time friend of Chen, is hoping to see more island artwork from her.
He said some of Chen's works, especially those that depict the island, are displayed in various stores and offices on Saipan.
Another friend of Chen, Jeff Schorr, the field representative of the Office of Insular Affairs-Department of the Interior, said her artwork inspires people, including aspiring artists.
Saipan Mayor Donald G. Flores, who attended the opening of the art exhibit and was moved by the paintings he saw, said: "I hope the persecution in China would stop."