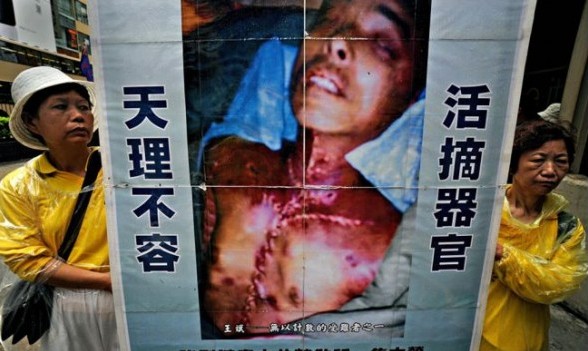 Falun Gong: China's other oppressed spiritual movement
November 15, 2012
TAIPEI, Taiwan — Along with China's new leaders came talk of possible reform.
That has died down since their names were announced this week. Most of the seven Politburo members, including incoming President Xi Jinping, are remnants of old regime — terrible news for many, but especially the minority groups that say they're being oppressed by the government.
Prominent among them is Falun Gong, a spiritual movement that melds meditation and slow-moving exercises with teachings on compassion and humility, and has accused the Chinese government of torturing members for decades. It says their persecution has intensified because of the Party congress.
"It's always been severe, but now it's getting worse," Theresa Chu, a Falun Gong spokeswoman and human rights lawyer, said earlier this month.
"Any event like this in China leads to more persecution, not just for us, but for everybody," she added. "This week has been very tough for Falun Gong practitioners because more of them are being locked up."
Chu says she has no expectations for political reform. "Unfortunately, this persecution won't end until the CCP collapses."
James Liu and several of his Falun Gong friends stand outside Taipei 101, until recently the world's tallest building, silently holding huge signs depicting scenes of torture. One picture shows an emaciated victim with a massive abdominal scar, which Liu says is the result of organ harvesting. Other images show people who appear to have undergone electrical burns and savage beatings.
He says the scenes are proof the Communist Party aims to eradicate Falun Gong.
"We want to inform Chinese tourists to Taiwan about the brutal repression of the Falun Gong in China," he said. "The Communist Party has unleashed so much misinformation about us. It's important they know the truth."
In fact, the truth is murky. Falun Gong has been criticized for exaggerating its claims in the past. But the persecution, extra-judicial jailings, beatings and torture of its members are a matter of public record, at least according to the European Union, the United Nations and US Congress.
A recent report by the US Commission on International Religious Freedom, an independent government body, says Beijing has created "an extrajudicial security apparatus" known as the 6-10 office, which runs special facilities known as "re-education centers" that are trying to "stamp out" the Falun Gong.
The report states "large numbers of practitioners" are being jailed and that those who refuse to renounce their beliefs are "subject to torture, including credible reports of deaths in custody and the use of psychiatric experiments."
Exact figures for the number of Falun Gong practitioners in custody are hard to come by. However, the US State Department last year said that Falun Gong practitioners make up at least half of the 250,000 officially recorded inmates in "re-education through labor" camps.
The UN Special Rapporteur on Torture estimates Falun Gong members make up two-thirds of the alleged torture victims in custody, and has called for an independent investigation into allegations of state-sanctioned organ harvesting.
Falun Gong has always fallen outside China's five officially sanctioned religions — Buddhism, Daoism, Catholicism, Protestantism and Islam. But the movement wasn't always attacked.
Once welcomed by Beijing, Falun Gong included many Party officials. In the 1990s, some estimates put its membership in the tens of millions.
But when the state placed restrictions on the group in 1999, Falun Gong members rallied in Tiananmen Square. After the protest, China outlawed the movement and branded it a heretical "evil cult."
Rights groups say the authorrities cracked down on the group because they wanted to control civil society and feared large independent organizations.
In the years following the ban, Falun Gong has pushed itself to the front of the Chinese dissident community, advocating political reforms, human rights and the end of Party rule.
The watchdog Freedom House says "Falun Gong" is among the most censored words and phrases on the internet in China, along with "Tiananmen" and "Tibet."
John Xi, one of the first Chinese students allowed to study in Taiwan since a thaw in relations between the two sides, says he's spent part of his time on the island researching modern Chinese history.
"I've been reading a lot about Tibet and Tiananmen Square, which you can't access online in China," said John, who asked to use a pseudonym for fear of being identified by authorities. "It's pretty obvious the rest of the world's version of what happened is different from my government's."
"Taiwan can be a model for change at home," he added. "It was a one-party state that controlled everything from media to the economy. The similarities are definitely there, but look at it now. People have the freedom to choose which leaders they want, what they want to read and write, and what they want to protest."
Protests, particularly peaceful ones, are commonplace in Taiwan, the Chinese-speaking world's first real democracy. James Liu and his Falun Gong friends have been holding silent demonstrations at 50 sites in Taiwan since the island republic's President Ma Ying-jeou lifted a travel ban on mainland Chinese tourists in 2008.
"If we were protesting in Beijing or Shanghai," Liu said, "we'd be arrested within minutes."
However, most tourists don't pay much attention, he added. They scurry by, barely looking up as they head for the elevators inside Taipei 101.