Rabbi calls for protests on behalf of Falun Gong
By Aryeh Savir, April 9, 2014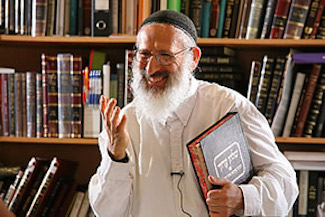 JERUSALEM (TNA) – Under the title "Why does the Chinese Government abuse many of his citizens?" Rabbi Shlomo Aviner, one of Israel's leading rabbis, attacked on his website the Chinese Government for its persecution of Falun Gong practitioners in China. Rabbi Aviner writes that he believes that even though this persecution is carried out far away from Israel, the Jewish Nation must cry out and voice opposition.
"On one hand, our President (Peres) is traveling today to China for an official visit," writes Rabbi Aviner, "On the other hand, Passover's message of the exodus from Egypt is still relevant, as there is still slavery in the world. Unfortunately, with regard to China, this is an understatement, because for many years the Chinese government has been persecuting the Falun Gong practitioners with cruelty, claiming that they are a dangerous cult. But from what the UN and other organizations for Human Rights have investigated, it appears that the objective of this innocent group is to gain physical and mental health, through all kinds of exercises generally accepted in China for many years. Its members practice various exercises of gentle and slow movements and cultivate virtues of truthfulness, compassion and tolerance. They put others interests before their own, they do not refrain from society; on the contrary, they share the burden, they are responsible to their family and friends. The practice is popular and free of charge, and donations are not accepted. They have no religious rituals of any kind; they have no other formal ceremonies. All the material regarding Falun Gong is available in all languages on their internet site, and to date we have not heard that it is a manipulative or harmful cult."
Rabbi Aviner wrote that at the beginning, the Chinese government had a great appreciation for the Falun Gong and gave them various awards. But when their numbers grew to tens of millions, the government began to fear their power and started to persecute them via derogatory articles, arrests, declaring them outlaws, getting Chinese citizen to sign a petition against them, banishing them from their homes and more. The government organized a provocative event claiming that Falun Gong practitioners encourage suicide, but it turned out that the event was staged. The next stage of the persecution was the government throwing them into concentration camps where they suffered electric shocks, had their hands and feet bound in a painful position for weeks, had acids forced down their nose, women were sexually abused and more.
"Such is the plight of thousands and thousands of people in these concentration camps, all in the name of "re-education", where they suffer unbearable physical and mental abuse, torture and humiliation," says Rabbi Aviner. "Moreover, they harvest their organs for the purpose of transplants using partial anesthesia, and then throw the half dead corpses to be cremated. All this remind us of our own persecution in the Diaspora, and especially during the Holocaust," he says.
"In China many more injustices are carried out," points out Rabbi Aviner, "Uprooting of millions of people from their homes with no prior notice, without any compensation, and the brutal killing of dissidents. There is an estimate that 80 million people have been killed since the Chinese Communist Party has come into power. This evil situation of organ harvesting and trading is of major centrality because it is done in partnership with people from the West who opt to buy those organs and pretend that they do not know and do not see the source of these organs."
Quoting important and leading rabbis, Rabbi Aviner rules that it is forbidden to buy organs from China. The Israeli law was changed in 2008 and no longer enables official financing by medical companies of organ transplants in China.  "But it is not enough," says Rabbi Aviner, "We must protest against this phenomenon that claims a great number of victims a year – it is not yet clear how much."
"Certainly we must begin at home, certainly we still have much to correct in our own backyard and have a lot more work to do in our country; but the one does not come at the expense of the other. Do not forget the Chinese. They are human beings created in the image of God. Of course, we are a small nation and we can't fix the whole world, but we must protest; experience shows that our protest has a great impact."
Ending on a hopeful note for the future, Rabbi Aviner says: "Three times a day we conclude our prayers with a verse relating all of mankind: "to perfect the world under the kingdom of the Almighty… when thou wilt turn unto thyself all the wicked of the earth."
Rabbi Aviner concluded with the verse from Psalms: "The Lord is good to all; and His tender mercies are over all His works."
*
Aryeh Savir is a staff writer for the Tazpit News Agency in Israel.  He may be contacted via en@tazpit.org.il