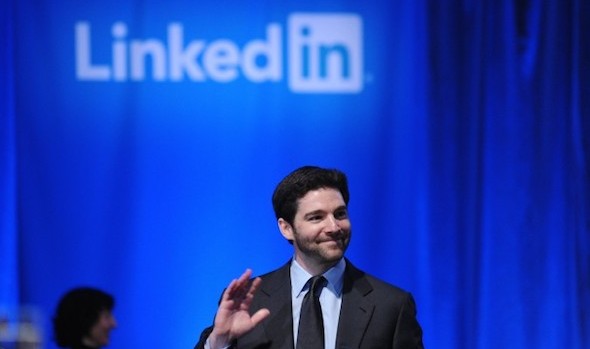 LinkedIn Connects With Beijing, Censors Falun Gong
By Joshua Philipp, Epoch Times
[Photocaption: Linkedin CEO Jeff Weiner hosts a town hall meeting in Mountain View, Calif., on Sept. 26, 2011. LinkedIn has been censoring user profiles on behalf of the Chinese regime. (Mandel Ngan/AFP/Getty Images)]  
LinkedIn confessed in June to having blocked in China information users posted about the Tiananmen Square massacre. Epoch Times has learned the world's largest social media platform for connecting professionals around the world is also censoring another topic the Chinese regime considers "sensitive"—Falun Gong.
Suman Srinivasan, a senior analyst developer at Goldman Sachs who had previously worked as a Web developer for Epoch Times, received an email from LinkedIn recently saying his profile is no longer viewable in China. It remains visible in the rest of the world.
The user profile is key to the networking service provided by LinkedIn. In it, a subscriber provides information about job experience and personal interests, the essential information for building a web of personal relationships that is the core of LinkedIn's business.
In a phone conversation with two company representatives Srinivasan was told the problem lay in his LinkedIn profile mentioning the Chinese regime's persecution of Falun Gong, a traditional Chinese spiritual practice based on truthfulness, compassion, and tolerance.
"They told me if I removed language that is critical of the Chinese regime, they would unblock my profile," Srinivasan said.
This offer made by LinkedIn represents a softening of their policy regarding discussion of Falun Gong. Srinivasan was told that formerly LinkedIn had blocked all mentions of the practice.
Srinivasan practices Falun Gong and wants to let others know how people who do the same meditation practice as he does are treated in China.
"The persecution in China is horrendous," Srinivasan said. "I feel I have to do whatever I can to try to stop it."
Three other users—two of whom work for Epoch Times—also received emails from LinkedIn saying their profiles are censored. Two of the profiles mention the persecution of Falun Gong, one simply mentions she practices Falun Gong.
The emails state "due to the presence of specific content," their profiles, comments, and anything they share can no longer be viewed by LinkedIn users in China.
'Common Trend'
The world first became aware of LinkedIn's censorship policy in early June, after LinkedIn censored posts on the Tiananmen Square massacre, ahead of the 25th anniversary of the Chinese regime's mass killing of democracy activists.
When LinkedIn's censorship of the massacre was broadly reported by the media, representatives from the company gave long and detailed phone interviews.
In response to an inquiry from Epoch Times concerning the censoring of Falun Gong, they gave a one-paragraph statement.
Doug Madey, LinkedIn corporate communications manager, reiterated that in February when LinkedIn launched its website in simplified Chinese characters used in the mainland, they were aware that to do business with China, they would need to censor content according to the Chinese regime's wishes.
He said in an email, it was "clear to us that in order to create value for our members in China and around the world, we will need to implement the Chinese government's restrictions on content, when and to the extent required."
Jillian York, the Electronic Frontier Foundation's director for international freedom of expression, said U.S. companies censoring on behalf of foreign governments is an unfortunate, yet common trend.
The implications of censorship are serious, she said. "What can you accomplish without free speech?"
"I don't really care about the business interests of U.S. companies," she said. "My concern is that they respect the principles of free expression."
"If companies are given the choice between being censored or being blocked, I think they should choose being blocked," York said.
Silenced Voices
Details are still vague on the full extent of LinkedIn's censorship policy. LinkedIn responded with a one-word answer to an email requesting information about what keywords or phrases trigger the process that leads to blocking individual users, "No."
LinkedIn is known to have censored two of the Chinese regime's five main targets for suppression: democracy activists and Falun Gong practitioners.
The other three groups typically singled out in Chinese censorship are Tibetans, Uighurs, and advocates for Taiwan independence.
Representatives from Tibetan and Uyghur human rights groups said by email that, as far as they've seen, their members have not been censored by LinkedIn.
Michael Courter, a therapist at Therapeutic Solutions in California, had his LinkedIn profile censored since it mentions the persecution of Falun Gong.
He said the censorship really brought home the realities of China's persecution. He said while it's nice LinkedIn is at least being open about its policies, "this is one of the first times I've been directly singled out that way."
"It's the same old thing," Courter said. "The Chinese regime is trying to control the information their own population is allowed to see."
"It's the same reason they censor their own news," he said, referring to China requiring LinkedIn to censor its users. "Not only do they want their own propaganda to be very prevalent, but they also don't want other people's opinions to be available."