Former Security Head Zhou Yongkang Investigated in China
Biggest 'tiger' taken down so far
By Stephen Gregory, Epoch Times | July 29, 2014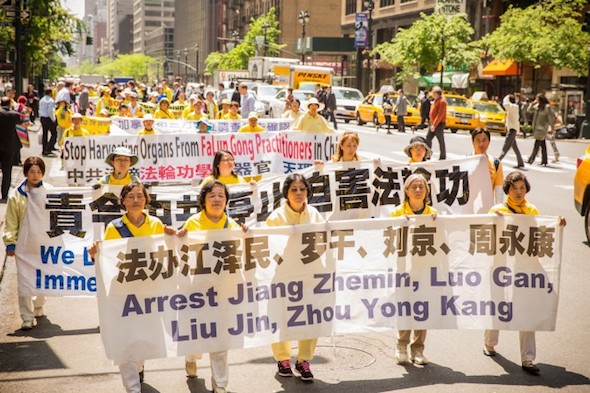 Zhou Yongkang, one of the most powerful figures in the Chinese Communist Party and one of those most responsible for the persecution of the spiritual practice of Falun Gong, is now officially under investigation.
In a brief article published on Tuesday the state-run news agency Xinhua announced that the Central Committee had begun an investigation of Zhou Yongkang for "grave violations of discipline."
Zhou Yongkang is the biggest "tiger"—top ranking Party official—to be brought down by Party leader Xi Jinping's "anti-corruption" campaign, which has purged over 400 officials to date.
Zhou is the highest-ranking Party official to be formally investigated.
This investigation breaches an unwritten rule that members of the Standing Committee of the Politburo—the small group of men who sit atop the Party hierarchy—could not be arrested.
In addition to serving on the Standing Committee from 2007-2012, Zhou was at or near the top of the Chinese regime's public security and legal apparatus for ten years. His power was such that commentators have described him as heading a second center of power in the Party that rivaled the authority of the general secretary.
The announcement followed a week of rumors that swirled around the Party leadership. After Xi Jinping's return on July 25 from a trip to South America, the other members of the Standing Committee were not seen in public.
Reports circulated that they were at the leadership's summer beach resort of Beidahe, where they and influential retried Party leaders were said to discuss Zhou's case.
"The time to formally announce must be agreed to by the members of the Standing Committee," said China expert (and Epoch Times columnist) Heng He in a phone interview. "They had to make the decision formally. If something happens later, everyone has signed and everyone is responsible. Having a scapegoat is ruled out."
In the days just prior to the arrest, China's military conducted exercises of unprecedented size. The exercises were meant to send a message, in Heng He's view.
"The exercises gave a warning to whoever might want to challenge Xi Jinping, whether openly or secretly." Heng He said. "The exercises show who is the boss."
Attempted Coup
While the decision to announce the arrest of Zhou Yongkang may have been made in the last few days at Beidahe, Zhou's fate was probably sealed on Feb. 6, 2012 when Chongqing police chief Wang Lijun fled to the U.S. Consulate in Chengdu, China.
Wang was the right-hand man and chief henchman of Bo Xilai, the Party boss of the southwestern mega-city of Chongqing. Their relationship was strained when the Party's disciplinary body began taking a look at Wang. Bo Xilai lost confidence in him, and Wang feared for his life.
According to sources in the CCP, when the U.S. Consulate turned Wang over to Beijing officials, he revealed a plot organized by Bo, Zhou Yongkang, and other members of the faction loyal to former Party head Jiang Zemin.
Xi Jinping was scheduled to be installed as head of the Party in November 2012. Bo Xilai and Zhou Yongkang planned to remove him from that position soon afterwards.
The coup was, according to Party insiders, meant to ensure that Jiang Zemin's faction would avoid the possibility of being held accountable for crimes committed in Jiang's campaign against Falun Gong.
In July 1999, Jiang Zemin ordered the Party to "eradicate" the spiritual practice of Falun Gong. Jiang feared how large numbers of Chinese—between 70 and 100 million according to official reports—had taken up the practice. He also feared that the traditional moral principles of Falun Gong posed a challenge to the Communist Party's ideology.
Investigations
The Party leadership has pushed back against Jiang's faction and built a case against Zhou Yongkang patiently and systematically.
In April 2012, the then-Party head Hu Jintao removed Bo Xilai from his Party positions. In September 2013, Bo was found guilty of corruption, embezzlement, and abuse of power.
Epoch Times reported that in May 2012 Hu Jintao launched an investigation of Zhou Yongkang, although the investigation was not announced.
"Zhou is a such big tiger, it is not easy to put him away. Plus, he has other powerful figures, such as Jiang Zemin, supporting him," Heng He said. "Xi Jinping had to make the case solid and be sure to put him away."
Under Xi Jinping, the Party has for the past year conducted serial investigations of Zhou's cronies and former subordinates, rolling up the networks loyal to him.
Zhou had three sources of power. Earlier in his career he played a leading role in the oil industry. He became the Party head of Sichuan Province in 1999, and in 2002 he began taking leading positions in the security apparatus.
In the investigation into Zhou Yongkang, individuals of substantial power in their own right have been targeted, such as the oil executive Jiang Jiemen, the deputy minister of Public Security Li Dongsheng, and the number two man in Sichuan Province, Li Chuncheng.
One month ago, six of Zhou Yongkang's former secretaries were arrested.
"His secretaries know every detail of Zhou's crimes," Heng He said. "Once they were arrested, one knew Zhou's turn would come soon."
Crimes
Like Bo Xilai and other Party leaders brought down by Xi Jinping, Zhou Yongkang will no doubt be tried for corruption.
While Zhou's corruption is believed to have been vast, that is not the reason Xi Jinping is moving against him.
"Xi Jinping cannot avoid arresting Zhou Yongkang," Heng He said. "If Xi Jinping shows any weakness toward Zhou, he will be eaten alive."
The indictment against Zhou will not mention his gravest crimes, those committed during the persecution of Falun Gong.
In 2002 Jiang Zemin plucked Zhou Yongkang from his position as head of Sichuan Province and made him the minister of Public Security. Zhou had 30 years experience in the oil industry, but zero experience in police work.
In 2004, Jiang made Zhou the number two in charge of the Politics and Law Committee, the Party organ that had authority over nearly all aspects of law enforcement, including the police, armed police, courts, procuratorate, labor camps, and prisons.
In 2007, even though Jiang had been retired for years, he managed to have Zhou advanced to the head of the Politics and Law Committee and given a seat on the Politburo Standing Committee.
The rapid advancement of Zhou Yongkang parallels other cases of other Jiang Zemin loyalists. The career tracks of Bo Xilai and Li Dongsheng, for instance, also show a very quick climb up the Party's hierarchy and a leading role in persecuting Falun Gong practitioners.
According to Heng He, Zhou Yongkang has the principal responsibility for the persecution of Falun Gong practitioners from 2002 to 2012.
"He had so much power," Heng He said. "And he used it to drive forward the persecution."
According to the Falun Dafa Information Center, the press office for Falun Gong, since the persecution began in 1999, at any one time hundreds of thousands of practitioners have been detained.
Those detained have often been subjected to brainwashing and torture. According to the Information Center, over 3,700 cases have been confirmed of practitioners being killed from torture and abuse. Because of the information blockade maintained by the Chinese regime, the true number of deaths is estimated to be several times higher.
In addition, researchers estimate that tens of thousands of practitioners have been killed in the process of having their organs harvested for transplantation.
Now that charges are being prepared against Zhou, a guilty verdict is, under the CCP's system, all but assured.
That verdict will not end Xi Jinping's campaign against Jiang Zemin's faction.
"Jiang Zemin has sought ever since he left office to influence the Party, and he still has a faction loyal to him," Heng He said. "In the case of Jiang, Xi doesn't need to arrest him. He simply has to strip every bit of power away from him."