Chinese Rights Lawyer Gao Zhisheng Freed From Prison, but Not Yet Free
By Matthew Robertson, Epoch Times | August 7, 2014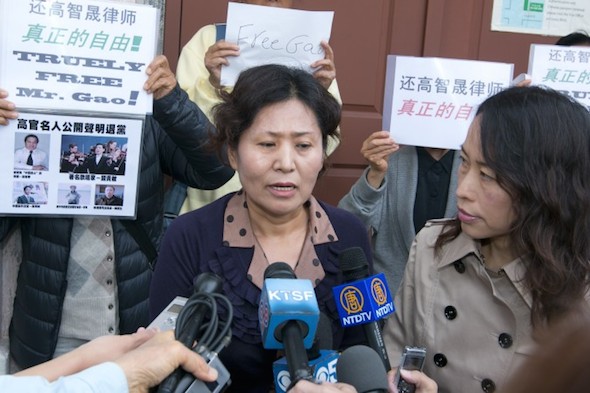 After close to five and a half years in detention, some of it in mountain torture chambers, anonymous apartment buildings cut off from his family, and most recently in a remote prison, one of China's most prominent human rights lawyers, Gao Zhisheng, has been released.
The news trickled out on Twitter soon after his brother, Gao Zhiyi, collected him from the Shaya Prison in Xinjiang Province on Aug. 7. Both the men appear to be accompanied by security agents who continue to surveil and limit their movements.
When a reporter with Voice of America attempted to speak to Gao Zhisheng on the phone, he only had the chance to say a few words before his sister said "someone's coming," and quickly took the telephone away from him.
After years of mistreatment in prison, Gao Zhisheng's lower teeth are loose and his upper teeth hurt to eat food, his family said. Gao Zhiyi will first accompany his brother to a dentist to repair the teeth.
Gao's wife and two children live in California and have not seen their husband and father since they hastily fled China in January 2009.
"I spoke to my husband for the first time in four years. While the conversation was brief, I could tell that he wasn't the same. I am deeply concerned that he has been seriously tortured in custody," said Geng He, his wife, according to Freedom Now, a human rights advocacy group based in Washington, D.C. She held a press conference for local media in the Bay Area, California, in the morning and took interviews throughout the afternoon.
Veneer of Due Process
Gao is being released after completing a three-year prison term that was widely seen to be imposed arbitrarily.
The sentence was the authorities' first attempt to add a veneer of due process to its punishment of Gao, which they had carried out in secret and with extreme brutality since 2006, following advocacy on what the Chinese regime has regarded as the most sensitive issue.
In 2004, Gao began representing Falun Gong practitioners, and then in 2004 and 2005 he published three open letters to the Communist Party's leadership demanding an end to the persecution of Falun Gong. In late 2005 Gao published an open letter withdrawing from the Chinese Communist Party (CCP).
The prison sentence was widely seen as no more than a continuation of the same, long-running violent farce. It earned this reputation because it was couched as a punishment for the crime he had originally been charged with in 2006, "inciting subversion of state power."
He was originally given a three-year prison sentence that was suspended for two years, meaning he did not actually go to prison in 2006. Even though he was not held in prison, from 2006 onwards he was primarily in the captivity of the authorities. When the time for the suspension of the sentence was set to expire in 2011, security authorities hastily threw him in jail, claiming Gao had violated the terms of his parole.
In his periods in and out of detention in China, accounts by Gao describe in detail terrible torture and physical and psychological abuse. One noted letter, written in 2007, titled "Dark Night, Dark Hood and Kidnapping by Dark Mafia," says that he was tortured for 50 days, including with an electric batons, cigarettes held to his eyes, and toothpicks inserted into his genitals.
'Not yet free'
The news of Gao's release has met with both wariness and relief by observers. His family lives abroad, but observers think it is unlikely that Gao will be allowed free passage to the United States in order to reunite with them.
"While Gao has been released from prison, it is abundantly clear he is not yet free," said Jared Genser, Gao's pro bono legal counsel with the group Freedom Now. "Until he is reunited with his wife and children, our work will continue. I call on the Chinese government to remove the security cordon around Gao, to let him speak freely and meet with anyone he chooses, to allow him to travel freely, both in China and abroad."
Rep. Frank Wolf (R-VA), a longtime supporter of Gao Zhisheng, who took on his cause as part of a human rights project, said he was "relieved to hear that Gao has been granted his freedom from torture and seclusion, though I fear that he may not be truly free outside prison." Rep. Wolf added, in the statement: "I hope that, if he chooses to apply, he will be granted asylum in the United States."
After years of running a successful legal practice in Beijing, defending minority groups, abused workers, and house Christians, Gao's law firm was suspended in November 2005, after he began taking on the cases of persecuted Falun Gong practitioners and writing two open letters urging an end to that persecution.
After Gao's law firm was closed, he penned an open letter to the head of the CCP and China's premier in which he described in detail the torture suffered by Falun Gong practitioners. Then, a few days later, he released his letter withdrawing from the CCP.
"Over a dozen days' close touch with Falun Gong believers was a shocking experience to my soul," he wrote in the letter, based on his time living with and interviewing Falun Gong practitioners in China about their persecution.
"I had lost my hope for the Chinese Communist Party (CCP) completely. This CCP has employed the most barbarous and most immoral and illegal means to torture our mothers, our wives, our children, and our brothers and sisters. It has made this kind of torture part of the Party member's job and raised the political standing of torture," he wrote in the letter.
Gao continued: "From now on, Gao Zhisheng, a Party 'member' who hasn't paid the membership fee for a long time and has been absent from the "Party activities" for many years, declares that he quits the cruel, untrustworthy, inhumane, and evil party."
"This is the proudest day of my life."