Toronto School Board Delays Partnership With Confucius Institute
More information needed on Beijing-backed program, trustees agree
By Omid Ghoreishi, Epoch Times | June 19, 2014
Last Updated: October 14, 2014 2:17 pm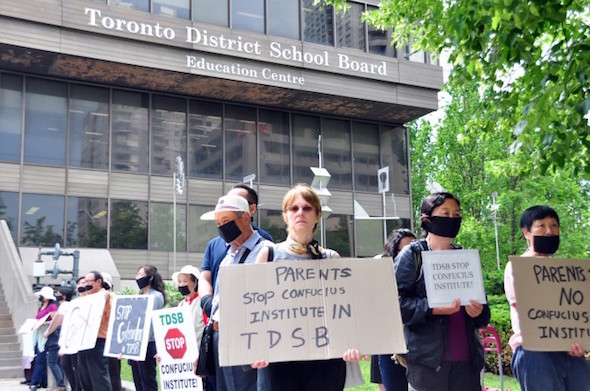 Trustees of the Toronto District School Board, the largest in Canada, have overwhelmingly voted to delay the implementation of the Confucius Institute in schools until they have more information on the controversial institutes.
The trustees said during a committee meeting Wednesday evening that many parents are concerned about the program, which was scheduled to begin in Toronto schools in September.
Confucius Institutes (CI) are branded as promoting Chinese language and culture, but have been cited by intelligence agencies as organizations used by the Chinese communist regime to extend its "soft power." The institutes are funded and controlled by the Chinese regime.
TDSB trustees had originally voted to sign a deal to work with the institute in Toronto, an initiative that had been in the works for a few years and championed by former TDSB chair Chris Bolton.
However, due to an outcry by many parents and human rights activists, the TDSB decided to revisit the issue, and on Wednesday voted to delay implementing the CI until trustees have more time to look into concerns raised.
Trustee Mari Rutka, who was elected as the new chair on Wednesday after Bolton resigned last week, said the delay "will give us time for the due diligence we should have done in the first place."
"I believe that's the responsible thing to do, and I believe we have serious concerns and we've got to address them," trustee Shaun Chen, who was voted to take Rutka's old position as vice-chair, told the board during the meeting.
Bolton, who spearheaded the CI partnership, resigned suddenly on June 13, two days after a TDSB committee originally voted to suspend the implementation of the CI pending further investigation.
Hundreds Protest
Hundreds of concerned parents and human rights activists demonstrated outside of the TDSB while the board was meeting, protesting any partnership between TDSB and CI. Many wore black tape over their mouths to symbolize the Chinese regime's censorship, which they say finds its way into the curriculum taught in the institutes.
Michael Craig, China coordinator with Amnesty International Canada and chair of China Rights Network, who also came to the protest, said he doesn't want his four grandchildren be exposed to China's propaganda through the institute.
"I am very alarmed that a number of senior administrators, and Chris Bolton, and at least one other trustee, have made their way to China in order to be sold on the idea of the Confucius Institute," said Craig, a former Toronto board trustee.
"It is quite obvious that they are a propaganda arm of the Chinese government that will whitewash everything that is going on in China," he said.
Urgyen Badheytsang, national director for Students for a Free Tibet Canada, said the Chinese regime uses CIs to influence the opinions of Canadians and academic freedom.
He says he and people from his community experienced CI interference first-hand a few months ago, when they wanted to bring a Tibetan flag to represent their culture to an event organized by Brock University, which hosts a CI.
University staff consulted the CI, which directed them not to allow the Tibetan flag at the event, Badheytsang said.
"They took the Confucius Institute's opinion on whether or not we should be allowed to bring the Tibetan flag," he said.
Epoch Times had reported previously that in 2008, when Chinese paramilitary troops were sent to quash Tibetan protests, a University of Waterloo CI instructor rallied her students to condemn "anti-China" reports in the Western press, leading one Canadian television network to apologize for its reports.
The same year, Tel Aviv University shut down a student-led art exhibition depicting the oppression of Falun Gong in China out of fear of losing its CI and other perks supported by the Chinese regime. An Israeli judge later ruled that the university had violated the students' freedom of expression.
Epoch Times reported in 2011 that Sonia Zhao, who came to Canada from China to work at the McMaster University CI, was required to sign a contract promising not to practice the spiritual discipline Falun Gong, which is repressed and persecuted in China.
McMaster eventually closed its CI early last year due to dissatisfaction with the institute's hiring practices in China.
A stipulation in the requirements for CI teaching candidates wanting to come to the Toronto CI listed on the website of the Hunan City University in China says that "candidates will be assessed to ensure they meet political ideology requirements."
Earlier this week, the American Association of University Professors joined their Canadian counterpart in urging universities not to partner with CIs.
"Confucius Institutes function as an arm of the Chinese state and are allowed to ignore academic freedom," the AAUP said in a statement.
Last year, the Canadian Association of University Teachers, which represents 70,000 academic professionals, called on Canadian universities and colleges to cut their ties with CIs, calling them "political arms" of the Chinese communist regime.
Mike Lewis, a Toronto parent who launched the online campaign SayNoToCIs.com to protest TDSB's partnership with CI, said the campaign will continue until TDSB cuts its ties with the institute.
The Confucius Institute of Toronto did not respond to requests for an interview.
Additional reporting by Allen Zhou